Presser Questions of Cincy Zoo Director Seem Wrong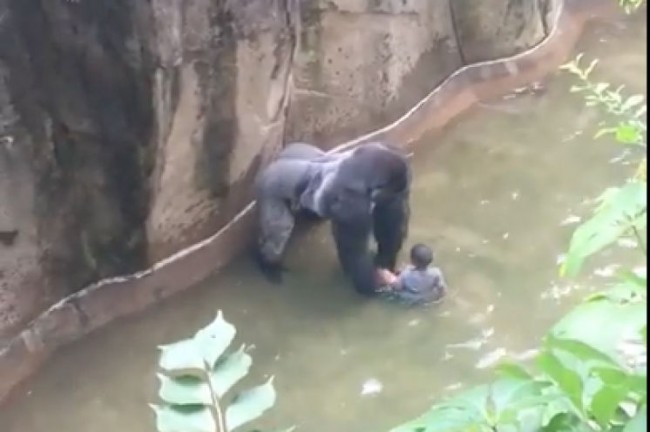 Thane Maynard, the director of the Cincinnati Zoo, has been subjected to a grilling during a press conference dealing with the events at the zoo yesterday.
One cable network trailed a headline beneath Maynard, as they carried the event live: "Zoo Director Takes Questions on Decision to Take Life of Gorilla."
It feels like some in the media are in persecution mode with this story.
Maynard, who has hosted a radio spot called 'The 90 Second Naturalist' on public radio for years, has an obvious love for the animal world and has served as director of the Cincinnati Zoo, one of the best such institutions in the world, for a long time. The zoo has an impeccable record for keeping safe all those who come to see and learn about the animal world, as well as for giving proper care and respect to its animals.
But Maynard was peppered with endless questions that seemed to impugn the integrity and the record of both the zoo and himself. He endured it patiently, which, of course, he needed to do. Otherwise, he would be susceptible to charges of cover-up and obfuscation. It still seems like over-the-top treatment of a man and a zoo with well-earned reputations.
Some questions are needed, of course.
But the whole approach of the media to this story, as evidenced by the treatment given to Maynard, seems wrong to me. The necessity of taking the gorilla's life is obvious. The fact that this is an accident for which the zoo bears no blame is clear too. Maynard and the handlers at the zoo should be applauded for the decision they made to end the gorilla's life, not treated as suspects in a murder investigation.
Shouldn't that headline have been something more like: "Zoo Director Takes Questions on Decision to Save Child's Life"?
I think so.
[By the way, the web site of Cincinnati's channel 12, placed the story of Maynard's press conference under the headline: "WATCH: Full press conference on child falling into zoo's gorilla enclosure." That seems more like it.]
[Blogger Mark Daniels is the pastor of Living Water Lutheran Church, Centerville, Ohio.]