Presidential Farewells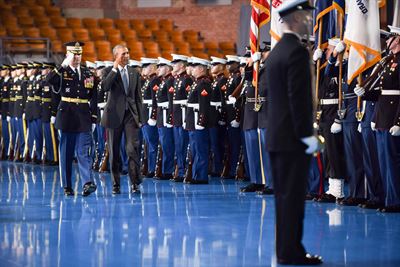 After eight years of commanding the world's mightiest and finest military, how does the commander in chief say farewell to the nearly one-and-a-half million men and women who have served under him?
Well, departing President Barack Obama did just that at a memorable armed forces full honor review and farewell ceremony today at Joint Base Myer-Henderson Hall, Va., where service members from across the services took part along with Vice President Joe Biden, Defense Secretary Ash Carter, the chairman of the Joint Chiefs of Staff and many other government and defense leaders.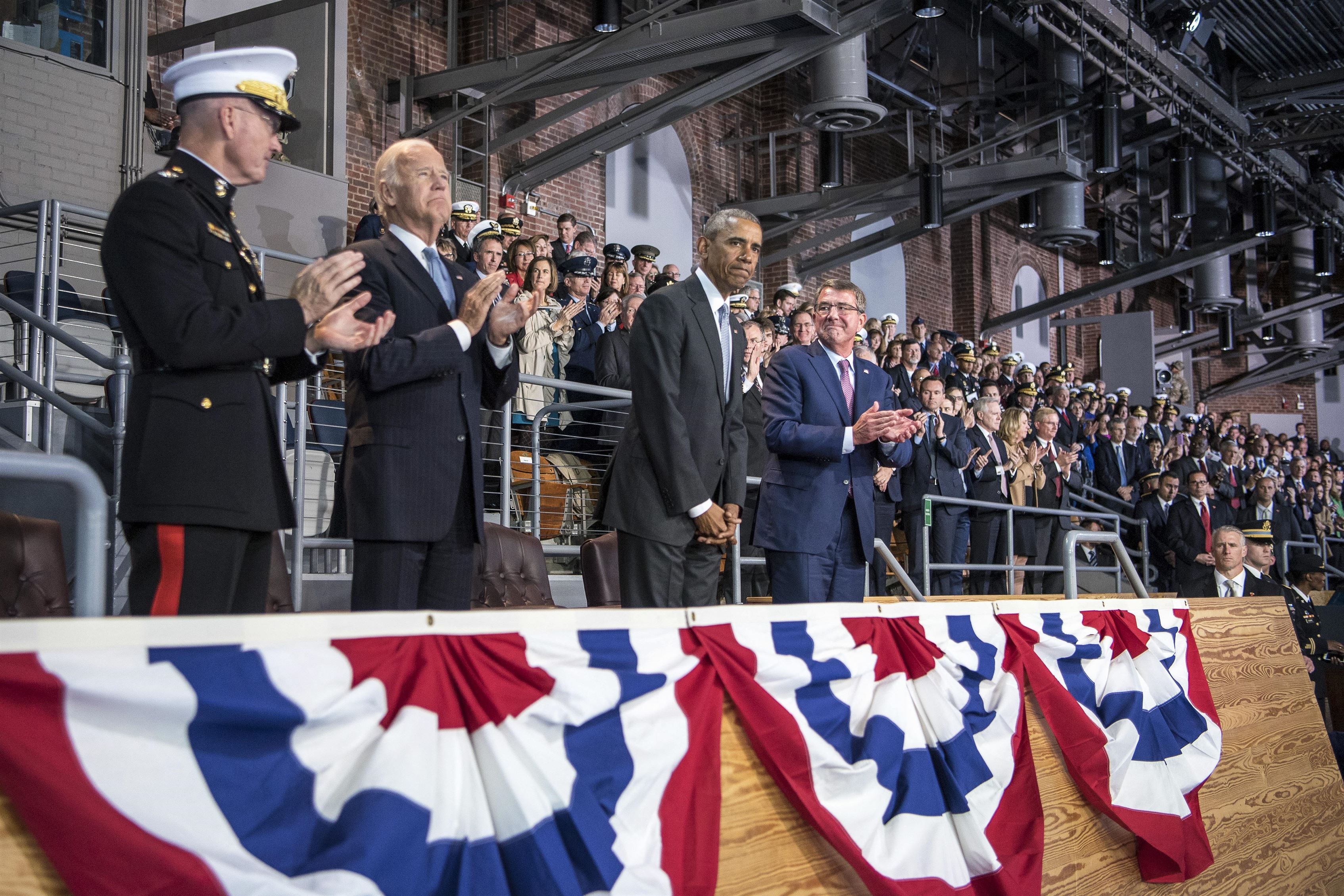 Defense Secretary Ash Carter, right, and Marine Corps Gen. Joe Dunford, chairman of the Joint Chiefs of Staff, host a farewell ceremony to honor President Barack Obama as Vice President Joe Biden looks on during the armed forces full-honor review. DoD photo by Army Sgt. Amber I. Smith
The Commander in Chief thanked and praised the troops who "have selflessly served and sacrificed around the world, as they protected the nation in the best fighting force in the world.
"I can stand before you today and say that there has been no greater privilege and no greater honor, than serving as commander in chief of the greatest military in the history of the world," Obama said.
Some of his remarks:
You've shown that when it comes to fighting terrorism, we can be strong and we can be smart. Not by letting our forces get dragged into sectarian conflicts and civil wars, but with smart, sustainable, principled partnerships. That's how we've brought most of our troops home — nearly 180,000 troops in Iraq and Afghanistan down to 15,000 today. That's how, even as we've suffered terrible attacks here at home, from Boston to Orlando, no foreign terrorist organization has successfully planned and executed an attack on our homeland these past eight years.
::
The world has seen your compassion — the help you deliver in times of crisis, from an earthquake in Haiti to the tsunami in Japan. Think of Ebola and the countless lives this Armed Forces saved in West Africa. It was you that set up the architecture and set the example for the world's response. One woman in West Africa said, "We thanked God first and then we thanked America second for caring about us." That's the difference you make — you continue to make — in the lives of people around the world.
The President recalled his frequent visits to our Wounded Warriors:
As you know well, with service comes great sacrifice. And after 15 years of war, our wounded warriors bear the scars — both seen and unseen. In my visits to their bedsides and rehab centers, I have been in awe, watching a wounded warrior grab his walker and pull himself up and, and through excruciating pain, take a step, and then another. Or hearing troops describe how they grappled with post-traumatic stress but summoned the strength to ask for help. As a military and as a nation, we have to keep supporting our resilient and incredibly strong wounded warriors as they learn to walk and run and heal…
And to Dover:
And then you have not seen the depths of true love and true patriotism until you've been to Dover, when our troops receive our fallen heroes on their final journey home; until you have grieved with our Gold Star families who've given a piece of their heart to our nation — a son or a daughter, a father or mother, a husband or wife, a brother or a sister. Every one a patriot. Every single one of these American families deserves the everlasting gratitude and support of our entire nation.
The President concluded:
So my days as your Commander-in-Chief are coming to an end, and as I reflect on the challenges we have faced together and on those to come, I believe that one of the greatest tasks before our Armed Forces is to retain the high confidence that the American people rightly place in you. This is a responsibility not simply for those of you in uniform, but for those who lead you. It's the responsibility of our entire nation.
And so we are called to remember core principles: That we must never hesitate to act when necessary to defend our nation, but we must also never rush into war — because sending you into harm's way should be a last and not first resort. It should be compelled by the needs of our security and not our politics. We need to remember that we must not give in to the false illusion of isolationism, because in this dangerous time, oceans alone will not protect us, and the world still seeks and needs our leadership as the one indispensable nation.
So we can't say it enough and we can't show it enough. Thank you for your patriotism. Thank you for your professionalism. Thank you for your character in representing the very best of the American spirit. Our nation endures — we live free under the red, white and blue — because of patriots like you.
It has been a privilege of a lifetime to serve with you. I have learned much from you. I'm a better man having worked with you. I'm confident that the United States and our Armed Forces will remain the greatest force for freedom and security that the world has ever known.
After eight years of leading the world's greatest nation, how does the President say farewell to the more than 300 million Americans who he served?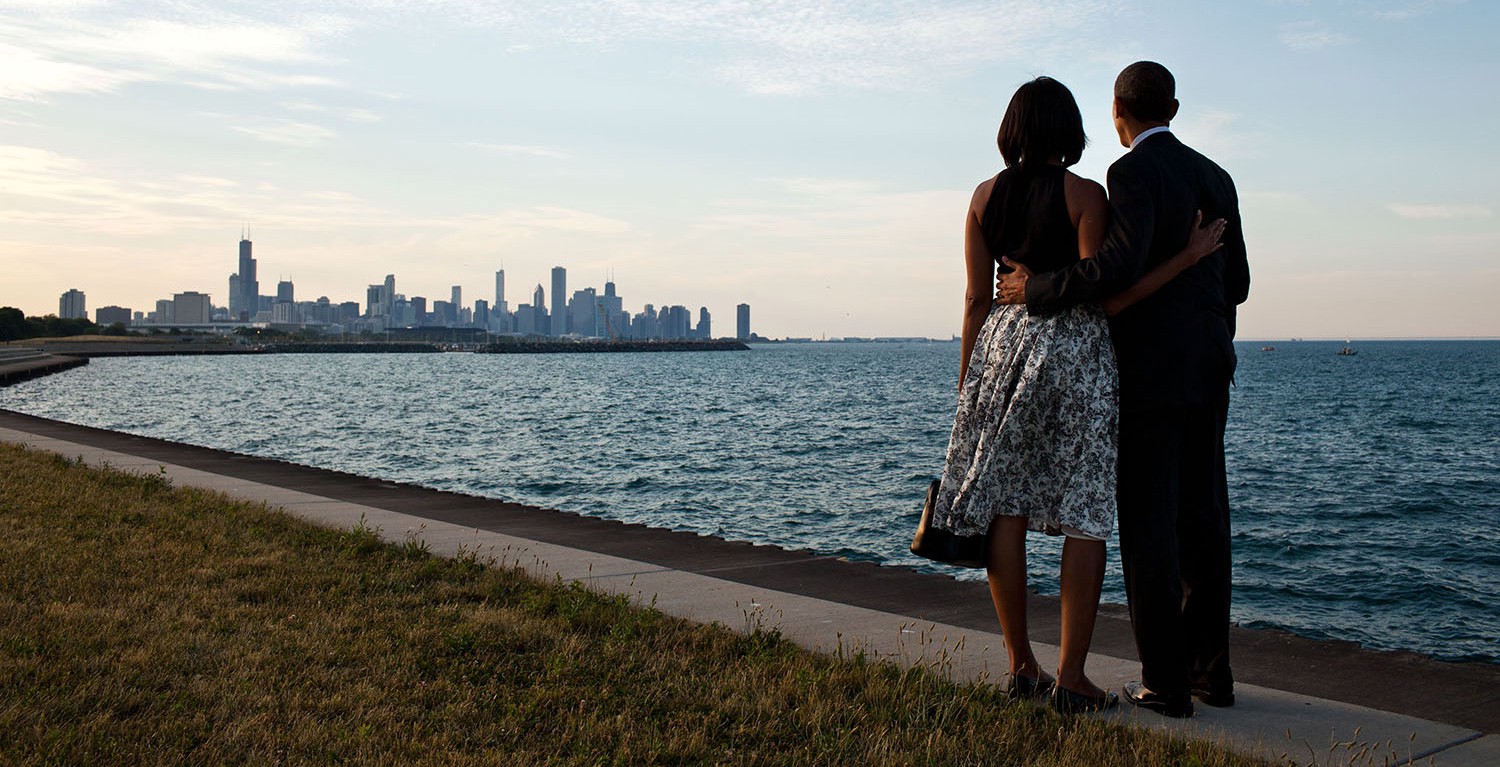 White House photo
Well, President Obama plans to follow a tradition established by our first President in 1796 by penning a "grateful farewell address" to the American people which he will deliver on Tuesday, January 10, at McCormick Place in his hometown Chicago, Illinois.
In the president's own words:
I'm just beginning to write my remarks. But I'm thinking about them as a chance to say thank you for this amazing journey, to celebrate the ways you've changed this country for the better these past eight years, and to offer some thoughts on where we all go from here.

Since 2009, we've faced our fair share of challenges, and come through them stronger. That's because we have never let go of a belief that has guided us ever since our founding?—?our conviction that, together, we can change this country for the better.
Lead Photo: Departing commander in chief, President Barack Obama, salutes the troops during an armed forces full honor farewell ceremony at Joint Base Myer-Henderson Hall, Va., Jan. 4, 2017. Army photo by Pvt. Gabriel A. Silva