February 16, 2017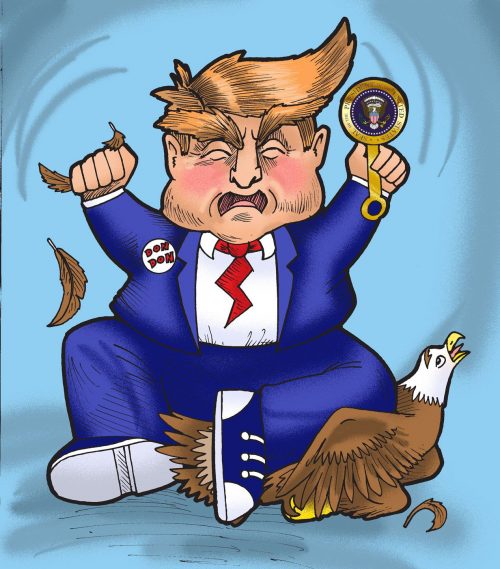 Note to readers: This is the latest entry in Super Baby DonDon's diary. The series imagines that President Donald Trump has the emotional make-up of a five-year-old and confides his deepest thoughts—such as they are—to Andrew Feinberg, and to readers, every day. In his private moments, he always thinks of himself as Super Baby DonDon.
So I picked Vice Admiral Robert Harward to succeed Mike Flynn as my national security adviser—Flynn had been on the job for quite a while and felt he needed to spend more time with his family—and he turned me down! Privately, he called the position a "shit sandwich."
Hey, that's exactly what I tried to feed the media during my 77-minute press conference today but they didn't seem to like the taste. Stupid media dogs, you were so mean to Super Baby DonDon today. Just because I accused you of spreading fake news all the time. Lying, stinking vermin.
Super Baby DonDon is so upset he may try a new approach. How about cute? Will cute work for you?
No? I didn't think so. Rabid lying weasel dogs.
Until we meet again.
Andrew Feinberg is the author of Four Score and Seven (https://www.amazon.com/Four-Score-Seven-Andrew-Feinberg/dp/0692664009), a novel that imagines that Abe Lincoln comes back to life for two weeks during the 2016 campaign and encounters a candidate who, some say, resembles Donald Trump. He also writes an anti-Trump humor page at www.babydondon.com or https://www.facebook.com/MeBabyDonDon.
Click here for reuse options!


Copyright 2017 The Moderate Voice