Obama: An American Anomaly? – Folha, Brazil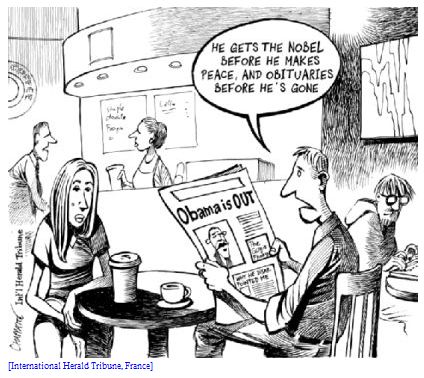 Continuing with our global survey of reaction to the 2010 midterm elections, which is more out of place, the Republican midterm election landslide, or President Obama's huge victory in 2008? After some soul searching, Folha columnist Clovis Rossi suggests that the 2010 U.S. elections may just be a sign that things in America are getting back to normal.
For Folha, Clovis Rossi writes in part:
Those of us who think "we know more" and ridicule the Tea Party didn't realize that, actually, the North American agenda, or at least the agenda of half of America, is the agenda of the Tea Party.

On Thursday, the first signs of the swinging of the pendulum back to the conservative side was already on display: Spencer Bachus, the Republican who will in theory preside over the House Financial Services Committee, wrote a letter published in the Financial Times warning that certain kinds of financial regulation [the Volcker Rule] that were included in the Obama package would cause tremendous damage to North American banks.

John Boehner, who will be the new House Speaker under the Republican majority, has already called the health care reform, Obama's greatest victory of his two years in office, a "monstrosity," even though it was watered down by the opposition, which wasn't only Republican, but Democratic as well.

Put another way: the two "interventions" by the president which made the most sense are starting to get blown up. Or, looking at things the other way around: the electoral anomaly wasn't the Republicans' victory in 2010, but Obama's in 2008.
READ ON AT WORLDMEETS.US, your most trusted translator and aggregator of foreign news and views about our nation.