Military Weekend: It's 'Touch 'n Go'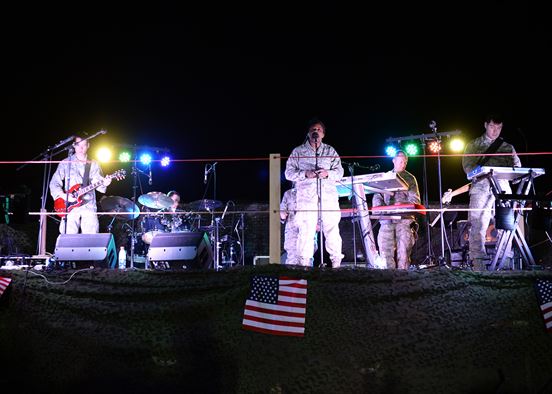 It has been a rough week all around.
So, with the weekend around the corner, here is some lighter stuff, courtesy of one of the lesser-known — yet very popular and professional — military/Air Force bands and ensembles.
The U.S. Air Force Rock/Pop ensemble "Touch 'n Go" is based at Ramstein Air Base, Germany, part of the United States Air Forces in Europe Band. It was formed almost 50 years ago and "has thrilled millions, performing throughout Europe, Scandinavia and southwest Asia, providing troop support and theater engagement in public concerts, festivals, and at embassy and military functions."
Today, one can add to the list countries such as South Africa and Niger, regions such as the Middle East and an entire continent — Africa. To the good work they already do, one can add the support for and morale boosting of military kids overseas and their families.
The lead photo shows the Touch 'n Go ensemble performing on March 10, 2017, for airmen and members of the Forces Armées Nigeriennes at Nigerien Air Base 201, Agadez, Niger, and for U.S. Airmen deployed to Niger. (U.S. Air Force photo by Senior Airman Jimmie D. Pike)
The video below recaps some of the more recent accomplishments of Touch 'n Go.
Finally, enjoy the band's performance a few years ago of "Say" by John Mayer as a tribute to the hard work and sacrifices military kids and their families," part of the "Music In Our Schools Month" tour for DoD's students in Europe.
Have a great weekend.