Memorial Day 2017 (Updated)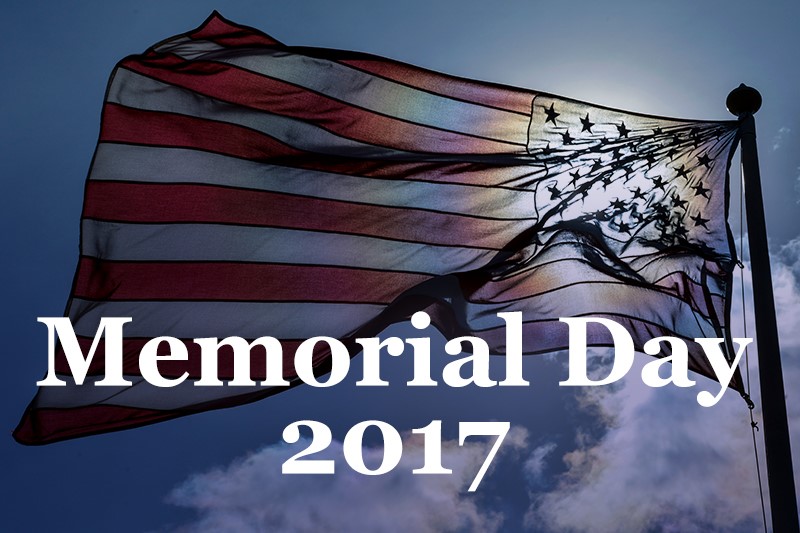 Update:
Today, Marine Corps General Joseph F. Dunford, Jr., Chairman of the Joint Chiefs of Staff — the highest-ranking military officer in the United States Armed Forces and the principal military advisor to the President, the National Security Council, the Homeland Security Council, and the Secretary of Defense — delivered remarks at Arlington National Cemetery in honor of those who gave the ultimate sacrifice.
The Chairman started his address "in remembrance and reflection" and continued:
Since the founding of our Republic, more than 42 million Americans have stepped forward to serve their country in uniform.
Their story is one of selflessness, it is one of courage and it is one of sheer commitment. But their story is also one of extraordinary sacrifice. More than one million Americans who have answered the call of duty gave the last full measure of their devotion so that fellow citizens could live in freedom and raise their children in peace.
Today, we honor the fallen from battlefields that serve as waypoints in our history; From Saratoga to Gettysburg, Belleau Wood to Midway, Chosin to…
Please watch and listen to the full address below.
General Dunford was appointed Chairman of the JCS by President Obama on Oct. 1, 2015, and continues to serve under the present president.
Original post:
Enjoy the holiday, fire up the grills, spend precious time with friends and family…
But also remember the day's deeper meaning: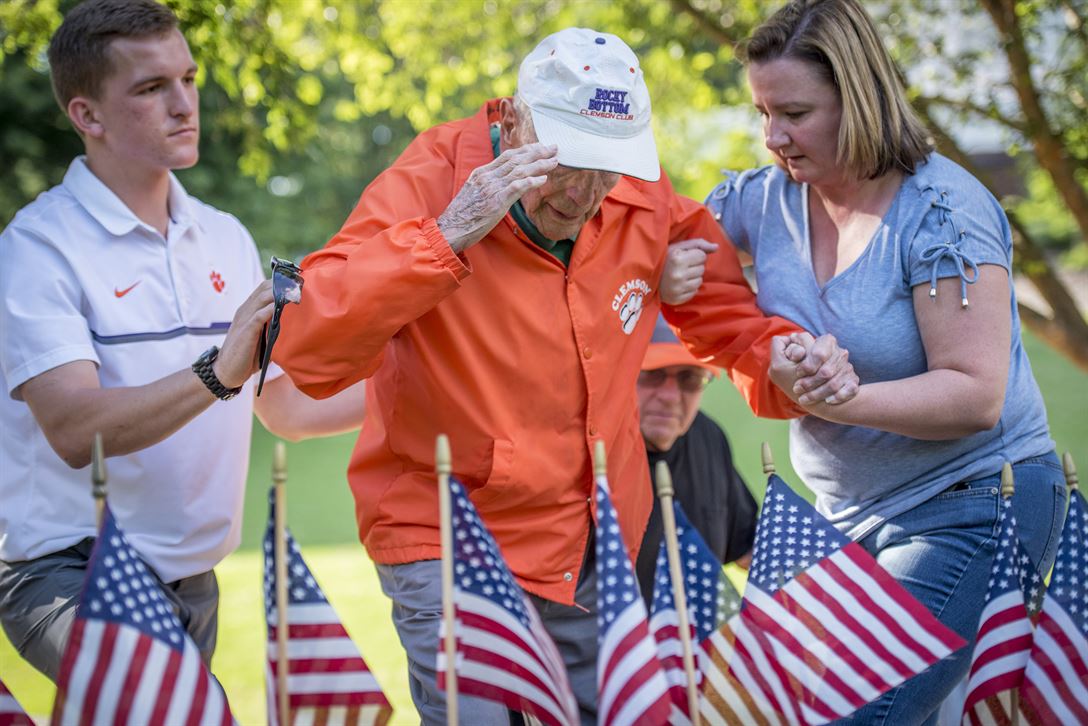 Army Col. Ben Skardon, 99, a survivor of the Bataan Death March, salutes Henry Leitner's headstone in Clemson University's Scroll of Honor during a flag-placing ceremony in preparation for Memorial Day observances, May 25, 2017. Leitner and Skardon, both Clemson alumni, survived the infamous Bataan Death March and were prisoners of war together. Army Reserve photo by Staff Sgt. Ken Scar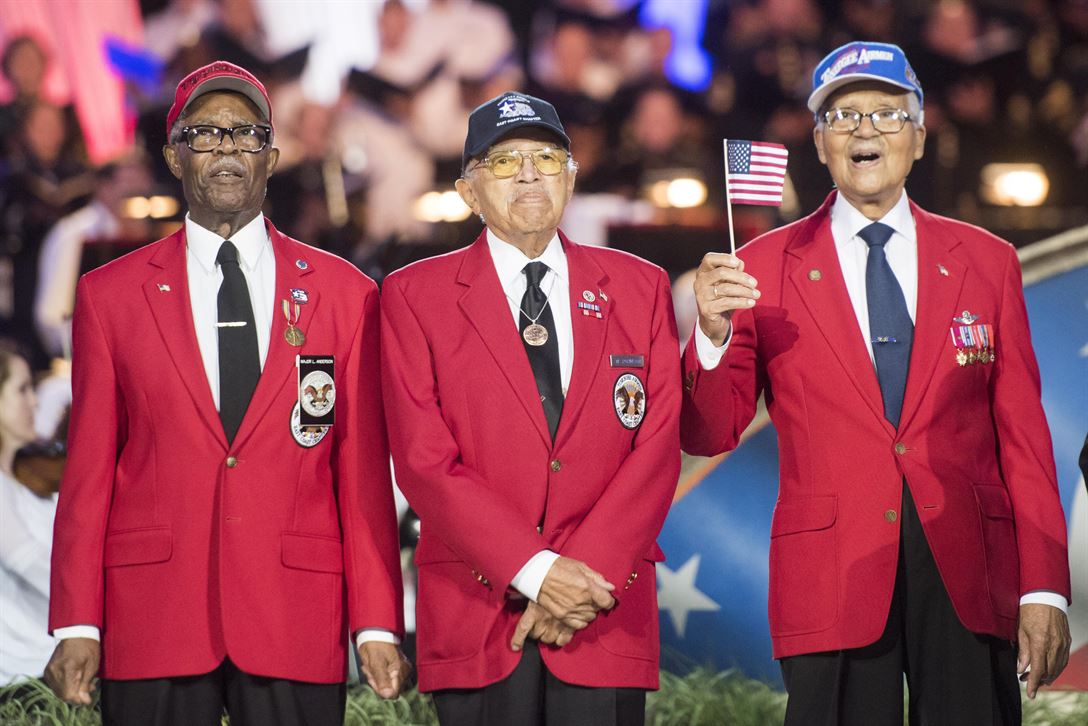 Tuskegee Airmen walk onstage during the National Memorial Day concert on the west lawn of the U.S. Capitol in Washington,D.C., May 28, 2017. DoD photo by Navy Petty Officer 2nd Class Dominique A. Pineiro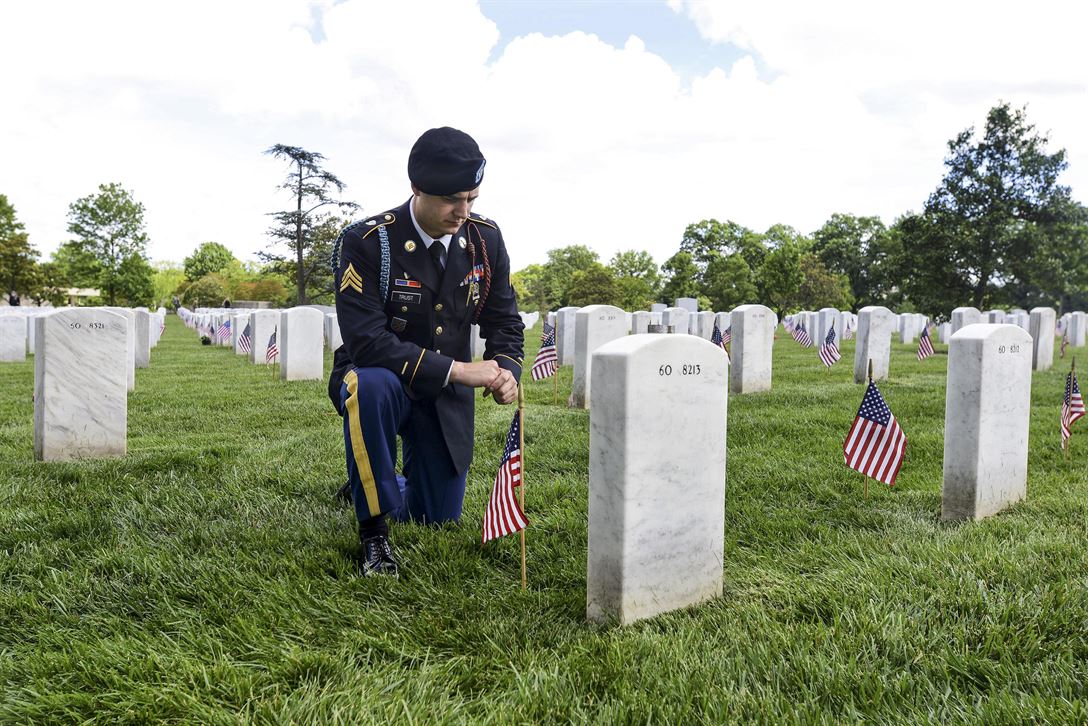 Army Sgt. Daniel Trust pays respects to his close friend, Army Capt. Jeremy A. Chandler, who was killed in action during Operation Enduring Freedom during the Flags In ceremony at Arlington National Cemetery in Arlington, Va., May 25, 2017. DoD photo by Sebastian J. Sciotti Jr.
Soldiers place American flags in front of headstones during "Flags In" at Arlington National Cemetery in Arlington, Va., May 25, 2017. The soldiers, assigned to the 3rd U.S. Infantry Regiment known as "The Old Guard," placed more than 284,540 grave markers to honor every individual buried at Arlington National Cemetery. DoD photo by Sebastian J. Sciotti Jr.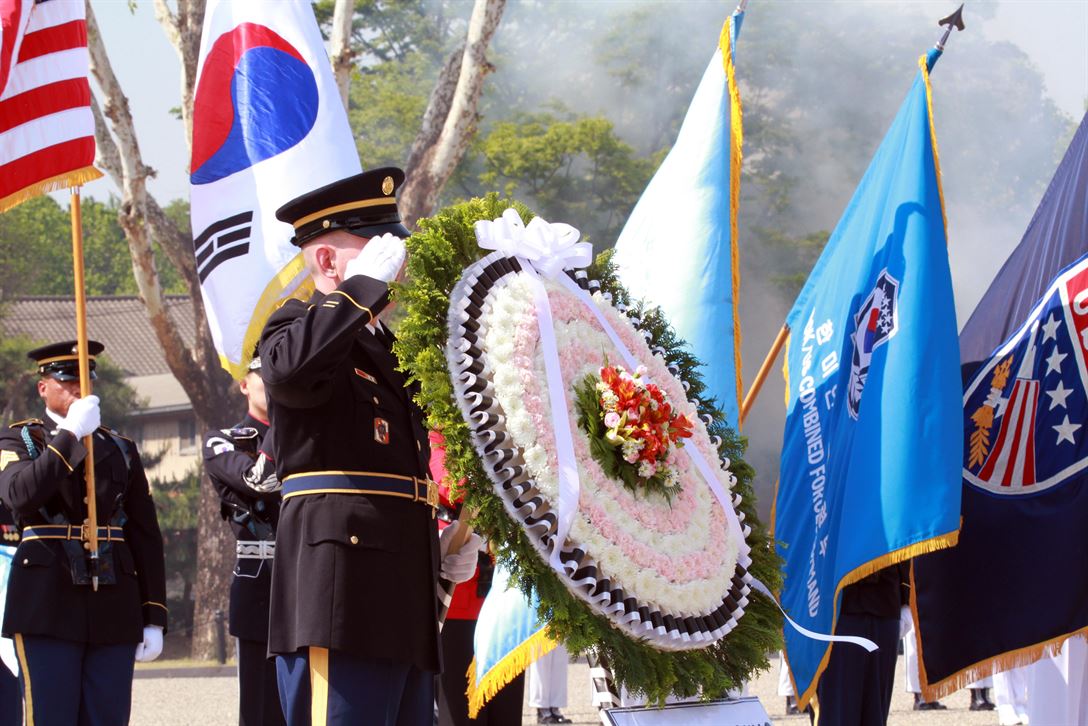 Members of he United Nations Command Honor Guard take part in a 21-gun salute to honor those who made the ultimate sacrifice in defense of the United States and South Korea during a Memorial Day ceremony near Seoul, South Korea, May 25, 2017. The ceremony recognized all fallen service members but focused on the sacrifices made in the defense of South Korea. Army photo by Staff Sgt. Steven Schneider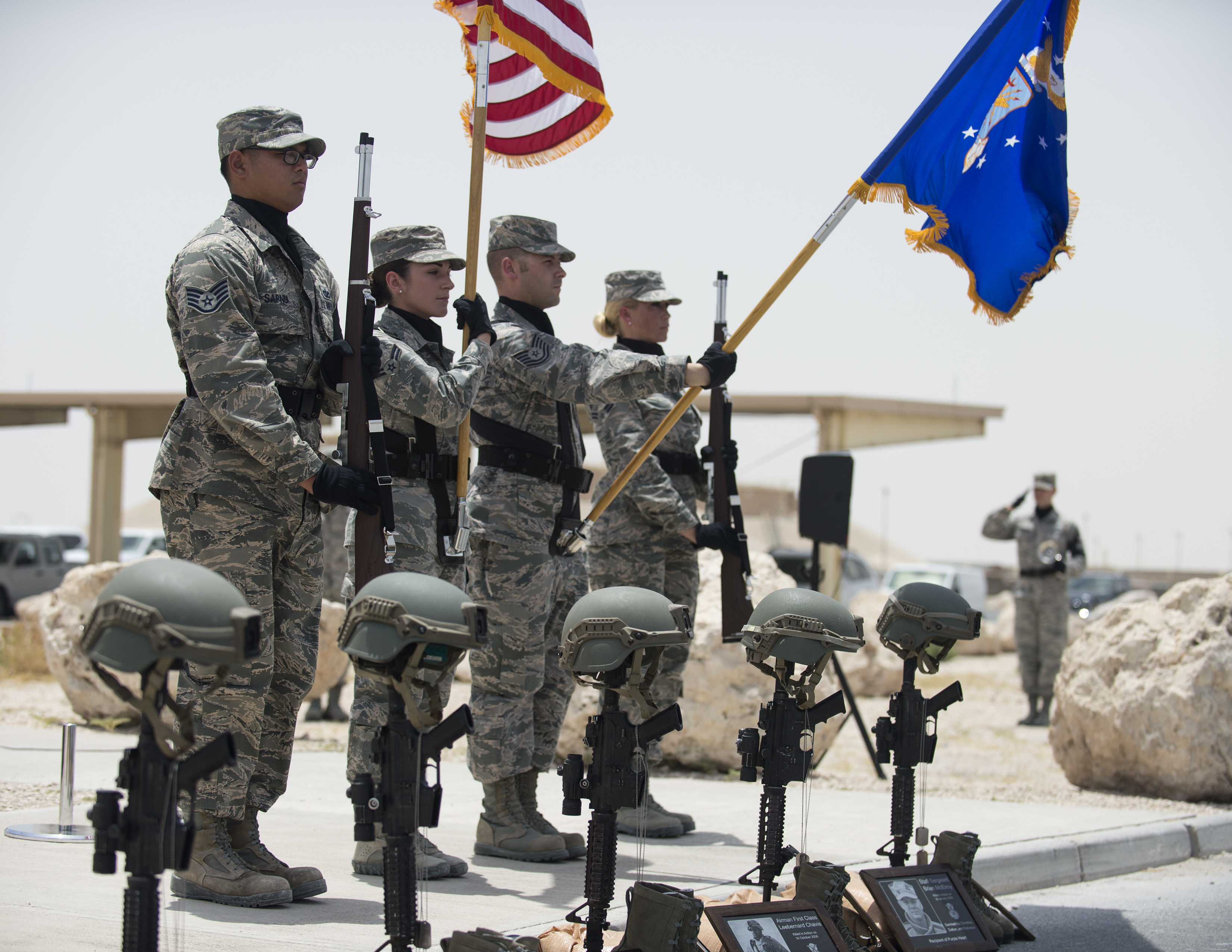 Airmen with the Al Udeid Air Base honor guard present the colors for the final guard mount ceremony at Al Udeid AB, Qatar, May 19, 2017. The final guard mount ceremony is a tradition where all members of 379th Expeditionary Security Forces Squadron pay tribute to fallen security forces Airmen and Air Force Office of Special Investigations agents who died in the line of duty by calling out their names as the flight sergeant conducts roll call. (U.S. Air Force photo/Tech. Sgt. Amy M. Lovgren)
Finally, a salute to those left behind, especially the Gold Star families: