McCain's Big Convention Bounce: 10 Points Higher Than Obama Among Likely Voters
A new Gallup Poll finds that Republican Presidential candidate Sen. John McCain more than matched Democratic Presidential candidate Sen. Barack Obama's campaign bounce — and that McCain now has a solid lead among likely voters while his running-mate pick of Gov. Sarah Palin has virtually erased the important "enthusiasm" gap between the two parties.
If this holds over the next few weeks, it means that all previous assumptions about the race and this being the Democratic Party's White-House-win year need to be swept off the table. It would mean that once again the U.S. would be faced with two parties evenly matched on several fronts battling tooth-and-nail to secure their party bases, peel off and independent voters and raise each others' negatives. Another also notes another shift: more people now think McCain will win in November.
Gallup reports:
As the remarkable two-week stretch of back-to-back presidential nomination conventions ends, a weekend USA Today/Gallup Poll finds that the John McCain-Sarah Palin ticket has more than matched the Barack Obama-Joe Biden ticket's convention bounce of last week with a "rebound" bounce, and in the immediate aftermath of the GOP convention McCain and Palin now have a slight edge over their opponents.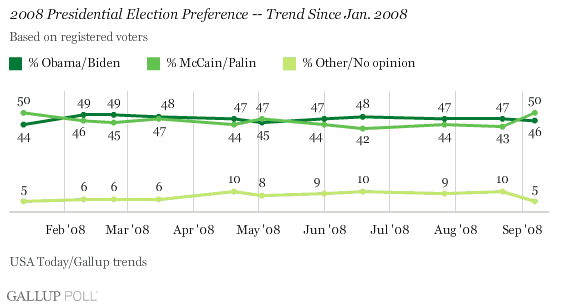 Obama's lead has now disappeared totally, and McCain sits on a 4-point advantage among registered voters in the Friday through Sunday poll. That's the largest advantage for McCain in either USA Today/Gallup Polls or Gallup Poll Daily tracking since May. The convention and/or McCain's selection of Sarah Palin as his vice presidential running mate not only had the effect of moving the horserace needle in McCain's direction, but also increased several measures of enthusiasm for the GOP.
And the enthusiasm gap? Democrats had been ahead 19 percent on this –and now it's down to 7 percent, Gallup reports. But this is the one part that should concern Democrats:
The gap between registered voters and likely voters has once again enlarged in the McCain-Palin ticket's favor in this poll. While the Republican ticket leads by 50% to 46% among registered voters, that lead stretches to a 54% to 44% lead among those Gallup sees as most likely to actually turn out and vote.
Meanwhile, a Survey USA Poll finds an important perception shift — important because it shows a shift in the conventional wisdom — that McCain will win the election in November.
To put all of this in context, be sure to check the list of polls at Pollster.com and at Real Clear Politics, which has McCain leading by 1.2 percent in its composite of polls.
UPDATE: The excellent poll analysis site FiveThirtyEight says poll watchers should be a little patient since bump polls reflect the fact that most people will react to the last big political event:
Among the many difficulties that we face in this unique election cycle is figuring out exactly how long one should expect a convention bounce to last. Under ordinary circumstances, bounces are actually fairly persistent, lasting for perhaps several weeks…

…Intuitively, that feels somewhat wrong to me. Most conventions are held over the summer, when the news cycle is much slower, and the convention gets to linger for longer as the last thing on voters' minds. This does, however, raise an important point: political time is relative rather than absolute. If it feels like the Democratic Convention was a month ago — well, in political time, it might as well have been a month ago, since Sarah Palin and the Republican Convention displaced it as the first thing that voters will recall when they think about the election.

What I am saying, then, is that we should evaluate the robustness of the Republican bounce by how well it holds up to the currents of political time, rather than any specific date on the calendar. Specifically, I would want to see how the bounce holds up to the next major development of the campaign, particularly if it is a pro-Obama development. For example, let's say that Colin Powell endorses Obama tomorrow morning. I might expect a fairly strong reaction to this in the polls, not because the endorsement is all that important unto itself (most endorsements aren't), but because it displaces the GOP Convention as the most recent event of the campaign — it pushes political time forward. And if the polls didn't move in reaction to such an endorsement, I'd think Democrats would have reason to worry.
And, Nate Silver adds, if there isn't much real news the next few weeks McCain's convention bounce could last.
The bottom line remains: this race is not the same as it was a few weeks ago. Reasons include the Palin pick, the reunification and re-energization of the Republican party and the continued inability to Democrats to completely unify (polls show more Republicans will vote for their party than Democrats and surfing around the Internet there are several pro-Hillary Clinton sites that make it clear that some Democrats want to see the Obama ticket defeated.)