Karzai Win By Default Ensures Long Term Multi-Fronted Afghanistan Controversy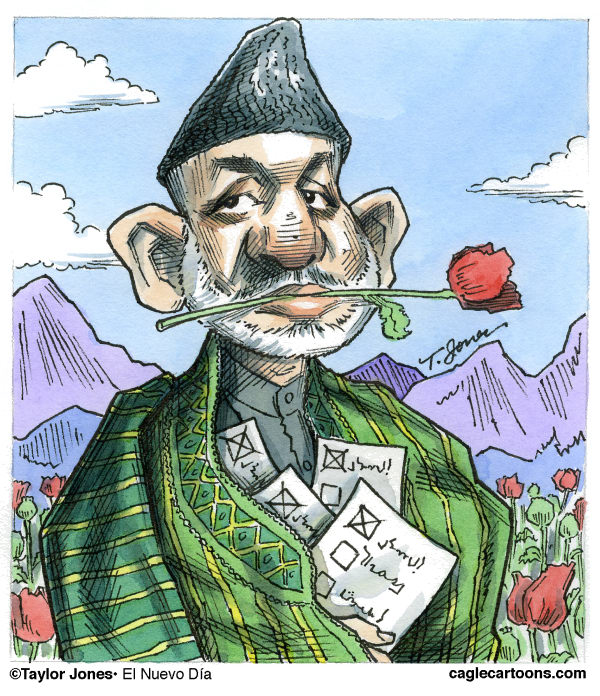 The news that Afghan President Hamid Karzai has been declare the winner of Afghanistan's hotly contested and controversial Presidential election now ensures that the Afghanistan issue be an ongoing controversial one on several fronts in several countries.
Clearly, the fact that his prime foe former foreign minister Abdullah Abdullah has pulled out rather than participate in a runoff that Abdullah insisted was likely to be suspect, removes a key leg from what has been needed for the Afghanistan government: legitimacy.
The government's political foes in Afghanistan will point to Karzai is a leader who heads a country to which he was elected in a disputed election by default. It's Taliban foes will likely use the argument as well, calling the government a puppet government. And, outside of Afghanistan, leftists in Europe and in the United States who seek a clearly defined exit strategy with an actual date of exit will point to the lack of definitive voting legitimacy due to the controversy and opposition pull-out as well.
In the United States, it will most assuredly make it tougher for President Barack Obama who will find the Democratic party's progressive wing clamoring more than ever for an end to U.S. involvement, pointing to Karzai's by-default-election as proof that the country is not even a "real" democracy, as well as to a large number of news stories detailing the country's pervasive corruption.
UPDATE: Be sure to read this roundup on the legitimacy issue.
On balance, it is yet another bad day for the White House. The Washington Post reports:
Afghan President Hamid Karzai's election by default Monday confirms at least a week earlier than expected that the Obama administration will continue for the foreseeable future to have the same mercurial partner in Afghanistan.

Karzai was expected to win the Nov. 7 runoff election easily and continue in the role he has held for nearly eight years, just as President Obama enters the final stage of deciding whether to escalate U.S. involvement in the war.

But the departure of Karzai's chief rival, former foreign minister Abdullah Abdullah, deprives him of a genuine win at the polls and potentially undermines the Obama administration's goal of building a legitimate government in Kabul.

Obama, congressional leaders and the U.S. commander on the ground, Gen. Stanley A. McChrystal, have made clear that the success of any strategy the White House eventually settles on will depend on the Afghan government's ability to improve its credibility among the people.

White House spokesman Robert Gibbs said Obama planned to telephone Karzai shortly since the runoff election was called off.
Now the White House may find itself in the middle of a debate over whether Karzai is legitimate or not:
President Barack Obama's administration views Afghanistan President Hamid Karzai as the "legitimate leader" of the country, White House press secretary Robert Gibbs said.

Obama is calling Karzai today, Gibbs said.

Afghanistan's election commission canceled a scheduled Nov. 7 runoff between Karzai and former Foreign Minister Abdullah Abdullah after Abdullah dropped out. The first round of voting in August was marred by fraud and the election dispute has complicated Obama's review of U.S. strategy in Afghanistan.
The development has already raised some eyebrows among some commentator. Andrew Sullivan:
And if this isn't a golden opportunity to drastically scale back our commitment, what would be? A clear reversal of course by Obama would be a sign that he can make a decision that the Beltway establishment does not have the strength to make; that he really is a change agent; that preventing Iraq from imploding again is now a more serious worry than propping up an unpopular, corrupt regime in Kabul … and losing more decisively to the Taliban in the end.
The BBC's Mark Urban points out that the challenger is now said, and Karzai knows now that he is indispensable once again:
The challenger himself had 300,000 votes disallowed so he was hardly blameless in first round rigging.

What is more few experts think that he would have won, even if the second round had been staged to the best international standards.

So rather than enhancing the sitting president's credibility by losing against him, Dr Abdullah has withdrawn, claiming fair elections were impossible.

Both men have displayed the Afghans' remarkable talent for nihilism.

Many foreign models have been trashed in Afghanistan, but their own governance only ever produced one of the world's poorest, and in recent decades, most war torn countries.

…..So where now? Mr Karzai has been congratulated on his re-election and the international community must now get along with him.

There will be some ideas about making further aid conditional on his rooting out corruption and getting the government to function better, but it will be very hard to compel him to do so.

Threats of withdrawing foreign forces are not credible – not yet anyway. In fact the logic of the strategic options now being considered suggests committing more troops and aid.

Since the president knows this, he will make the right sort of noises towards the Western powers, and maybe accept a national unity government or some constitutional reform.

But will he really follow through?
The Telegraph's Con Coughlin calls Karzai's victory a victory for common sense:
At last, common sense prevails in Afghanistan. As I blogged this morning, the logical conclusion to Dr Abdullah Abdullah's decision not to run in the November 7 election run-off was to cancel the whole affair and declare Hamid Karzai the victor. Dr Abdullah never stood a chance of defeating Mr Karzai, and the sooner he accepted this inevitable fact, the better.

The challenge now is to find a way through the political impasse which has recently impeded efforts to deliver tangible progress to the Afghan reconstruction effort.

A political vacuum has basically existed in Kabul since last spring, when August's presidential election campaign got going in earnest. As a result, while Nato forces have fought a bloody and costly campaign to subdue Taliban militants, there has been no one in Kabul to give them the backing they require if there is to be any chance of proper reconstruction in Afghanistan.
And, to be sure, having the elections now behind it, Afghanistan has the leadership question settled in a county. But the legitimacy issue is likely one that won't go away — as much as Kabul and Washington might hope it would. Steve Hynd writes on Newshoggers:
Trying to use aid money as leverage to get Karzai and his coterie of leeches and warlords to do what's needed is exactly what I expect the U.S. and its allies will now try to do. I'm pessimistic about it working. They're making far more from opium trafficking or from providing services to the occupation – the two biggest industries in Afghanistan nowadays. Aid money graft is lucrative but nothing compared to these two – most of the aid money ends up back in the pockets of Western companies, not Afghans.

Meanwhile, the U.S. is already spinning the election as hard as it can. But preserving a fig-leaf of international legitimacy isn't about saving Karzai – it's about saving the ongoing and escalating occupation. The manual has been thrown out the window. As Marc Lynch a.k.a. Abu Aaardvark tweeted today "Old COIN: can't work without legitimate govt. New COIN: who cares?"
Conservatives are now arguing that now that the election issue is settled, the Obama administration should announce its decision on Afghanistan policy ASAP. Seth Leibsohn writes on NRO:
Does anyone have a memory that goes back to last month? Does anyone recall the urgency of John Kerry twisting Karzai's arm to have new elections while he issued talking points mimicked by the administration that no forces could be increased in Afghanistan until — at a minimum — there was a new election that could prove the stability and legitimacy of the government there?

Many of us at the time said this was a stalling tactic — that the administration had never used the election before, during, or immediately after as a reason to send or reduce more troops. Now, we are to take it that the administration never thought a new election would matter anyway — "settled enough" is how they now describe it in hindsight. This is cynicism in foreign and defense policy at its worst, grasping at any straw to find an argument that works with the American people while time is purchased at the expense of a bad argument that not even those making the argument ever believed.
The announcement that Karzai has been declared winner by default is likely to be a rare unifying moment in American politics: both left and right will now insist that the government announces a decision on Afghanistan. A hint about what comes next, no matter what the administration announces: it'll spark c-o-n-t-r-o-v-e-r-s-y.
Here's an AP video report (with embed codes so You Tube visitors can embed it) on You tube:
The cartoon by Taylor Jones, El Nuevo Dia, Puerto Rico, is copyrighted and licensed to run on TMV. Unauthorized reproduction prohibited. All rights reserved.