Jackson's Obama Comments: Kissing The Ring (Guest Voice)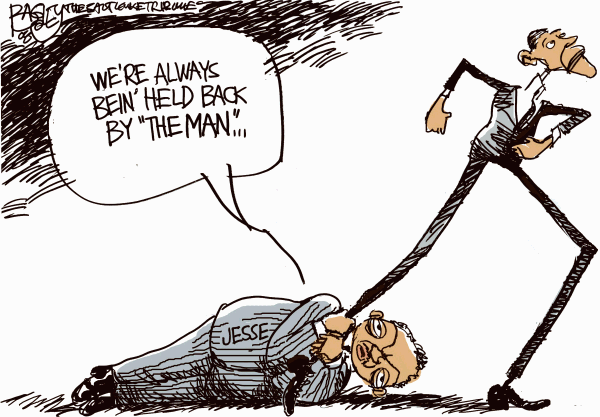 This is another Guest Voice by Tony Campbell, who writes www.examiner.com. He takes a look at Jesse Jackson's comments about Democratic presumptive nominee Barack Obama and what it was really about:
Kissing The Ring
by Tony Campbell
In my June 20th [Examiner] column, entitled "Turning the Page", I wrote the following insight into the power struggle between Barack Obama and the old guard of the African-American political establishment:
"The civil rights / political leaders of the African American community are from the old school of pitched rhetoric versus the institutions of the United States. Leaders such as the Reverend Jesse Jackson, Al Sharpton and yes, even Jeremiah Wright, have achieved gains for the African American community by emphasizing the differences between the races and extracting concessions from corporate and government institutions on their behalf. In trying to move beyond racial divisions, Obama has left himself open to attack from the old guard that has made its living by playing the race card for their personal benefit."
The Reverend Jackson proved me correct in my prediction by attacking Obama on perceived slights to the African-American community. This is Jackson's explanation for his "off the record" statement:
"I said it can come off as speaking down to black people. The moral message must be a much broader message. What we need really is racial justice and urban policy and jobs and health care. There is a range of issues on the menu."
Barack Obama has spent the last year and a half talking about these issues and how they affect Americans of every ethnicity. Make no mistake about it, Reverend Jackson made those remarks, not because of Obama's failure to talk about issues, rather, to clearly send a signal that Obama should pay respect to Jackson.
This is all about Jackson's ego and pride because for the first time in thirty years he is not the presumptive leader of the African-American political community. This was not the first Jesse Jackson head scratching moment of this campaign, and it will not be the last. The battle lines are drawn between the old and the new guards…this may be a better fight than the general election.
Cross posted at www.examiner.com
Cartoon by Pat Bagley, Salt Lake Tribune
[JG NOTE: The wrong cartoon was placed on this post. I'm at a hotel in Iowa where each Internet function takes 10 to 15 MINUTES. We regret the delay in getting the proper cartoon up.]