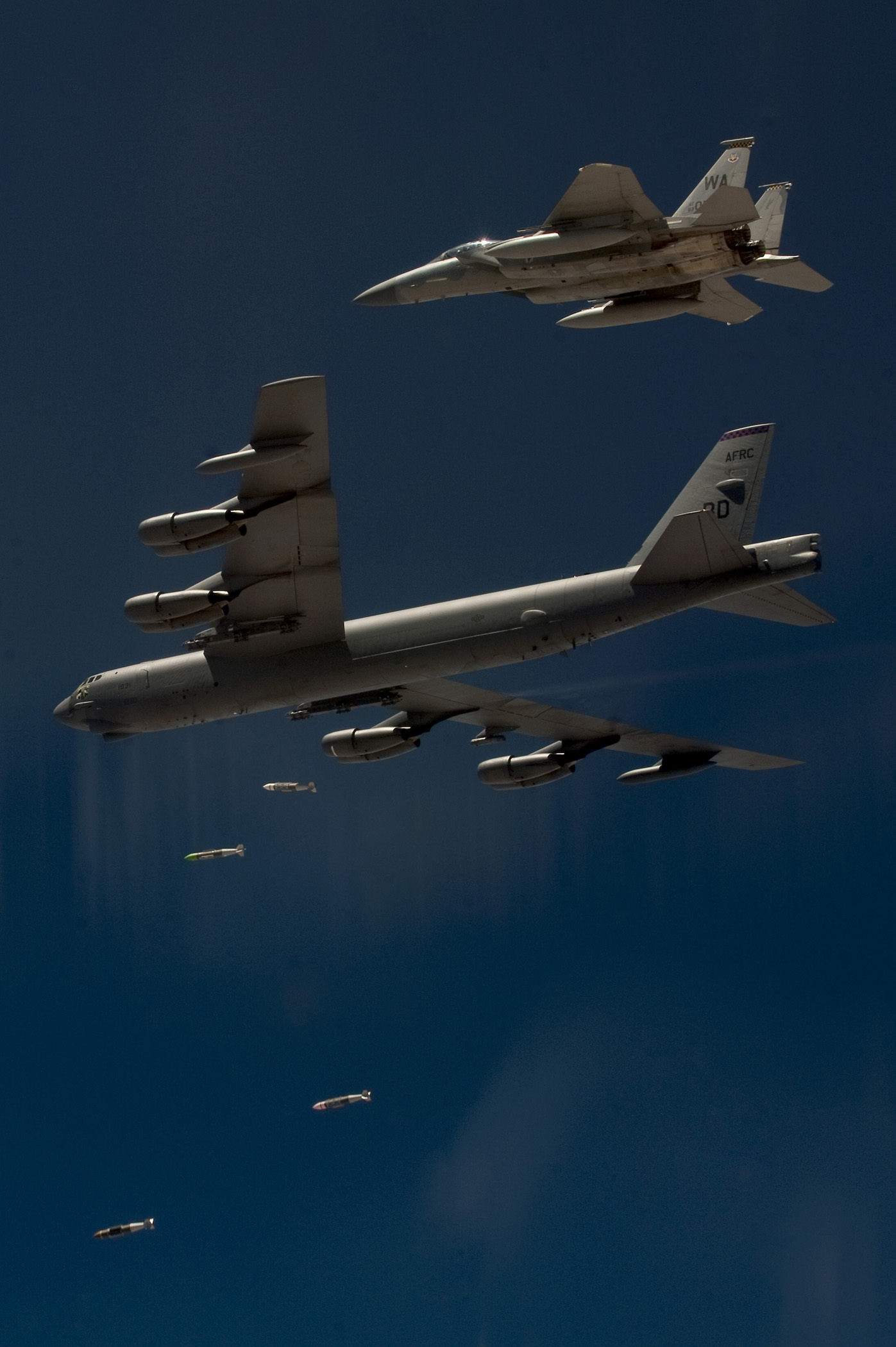 Think what you will of the B-52 Stratofortress as a weapon of war, it is one impressive and majestic aircraft.
The B-52 has been around since 1954 when the "A" model came into service — that is more than 60 years ago — an amazing feat for a combat aircraft. Even more amazing, current engineering analyses show the B-52's life span to extend beyond the year 2040.
A total of 744 B-52s were built with the last, a B-52H, delivered in October 1962. The first of 102 B-52H's was delivered to Strategic Air Command in May 1961. The H model can carry up to 20 air launched cruise missiles.
The long-range, heavy bomber can perform a variety of missions flying at high subsonic speeds at altitudes up to 50,000 feet. With the use of aerial refueling, the B-52's range is limited only by crew endurance. It has an unrefueled combat range in excess of 8,800 miles.
The backbone of our manned strategic bomber force, the B-52 can carry nuclear or precision guided conventional ordnance with worldwide precision navigation capability.
In a conventional conflict, the B-52 can perform strategic attack, close-air support, air interdiction, offensive counter-air and maritime operations.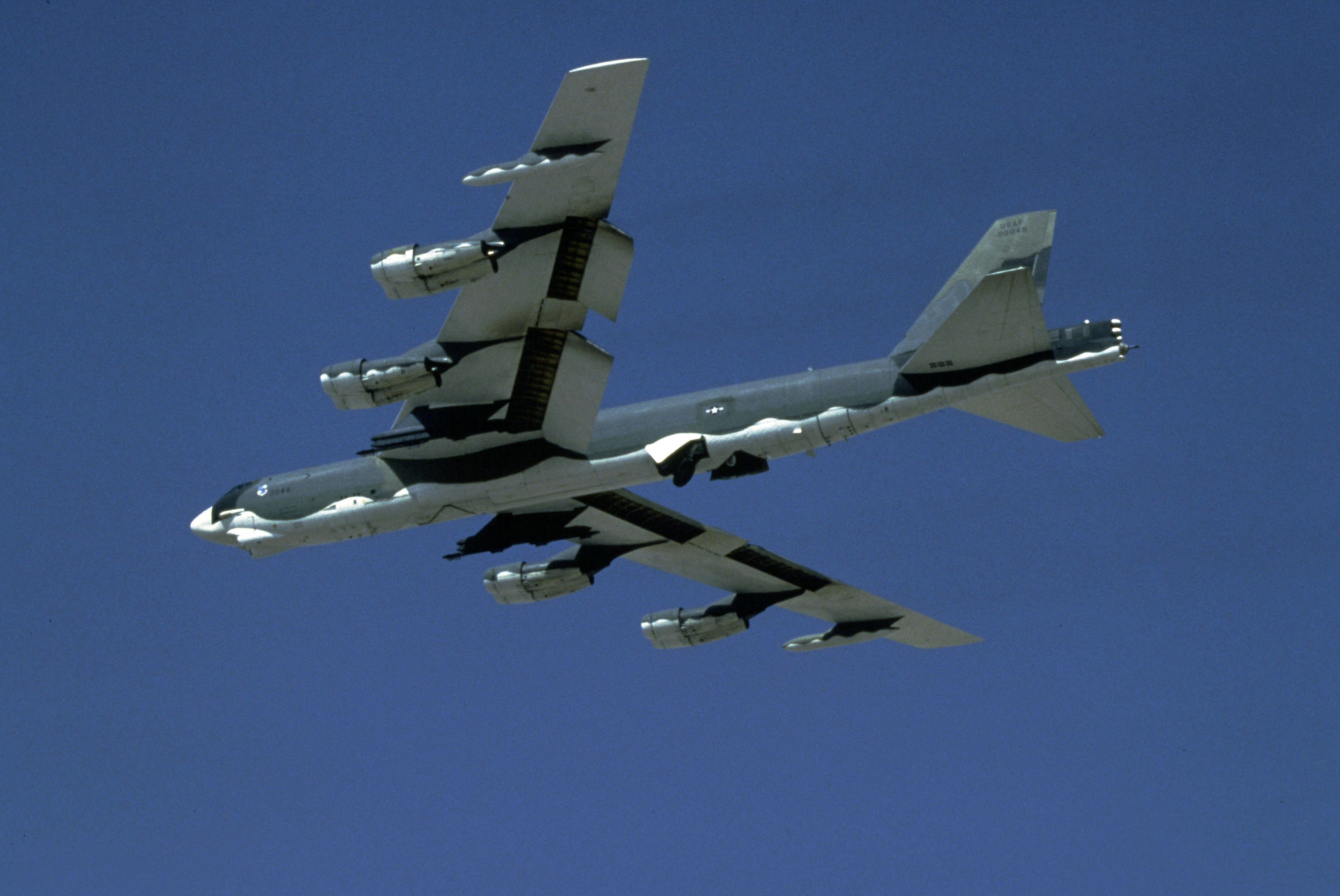 During Desert Storm, B-52s delivered 40 percent of all the weapons dropped by coalition forces. It is also highly effective for ocean surveillance and can assist the U.S. Navy in anti-ship and mine-laying operations. Two B-52s, in two hours, can monitor 140,000 square miles of ocean surface.
A potent deterrent during the Cold War, the B-52 has seen action in Operation Desert Storm, Operation Allied Force, Operation Desert Strike, Operation Iraqi Freedom, Operation Enduring Freedom and participated in other missions and Operations.
Only the H model is still in the Air Force inventory and is assigned to the 5th Bomb Wing at Minot AFB, North, Dakota, and the 2nd Bomb Wing at Barksdale AFB, which fall under Air Force Global Strike Command. The aircraft is also assigned to the Air Force Reserve Command's 307th Bomb Wing at Barksdale AFB.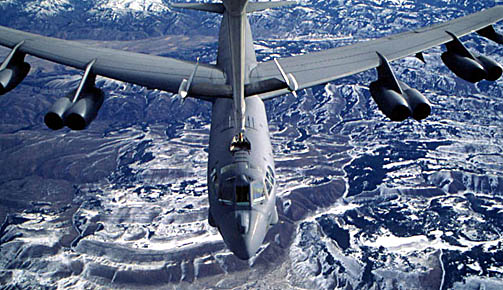 This weekend one of those B-52 bombers conducted a low-level flight in the vicinity of Osan, South Korea, in response to the recent nuclear test by North Korea.
According to a U.S. Pacific Command news release:
The B-52 was joined by South Korean F-15 fighter aircraft and U.S. F-16 fighter aircraft.

"This was a demonstration of the ironclad U.S. commitment to our allies in South Korea, in Japan, and to the defense of the American homeland," said Adm. Harry B. Harris Jr., Pacom commander. "North Korea's nuclear test is a blatant violation of its international obligations. U.S. joint military forces in the Indo-Asia-Pacific will continue to work with all of our regional allies and partners to maintain stability and security."

The bilateral flight mission demonstrates the strength of the alliance between the United States and the Republic of Korea and the resolve of both nations to maintain stability and security on the Korean Peninsula…
The B-52 Stratofortress (below) returned to Guam upon completion of the flight over South Korea.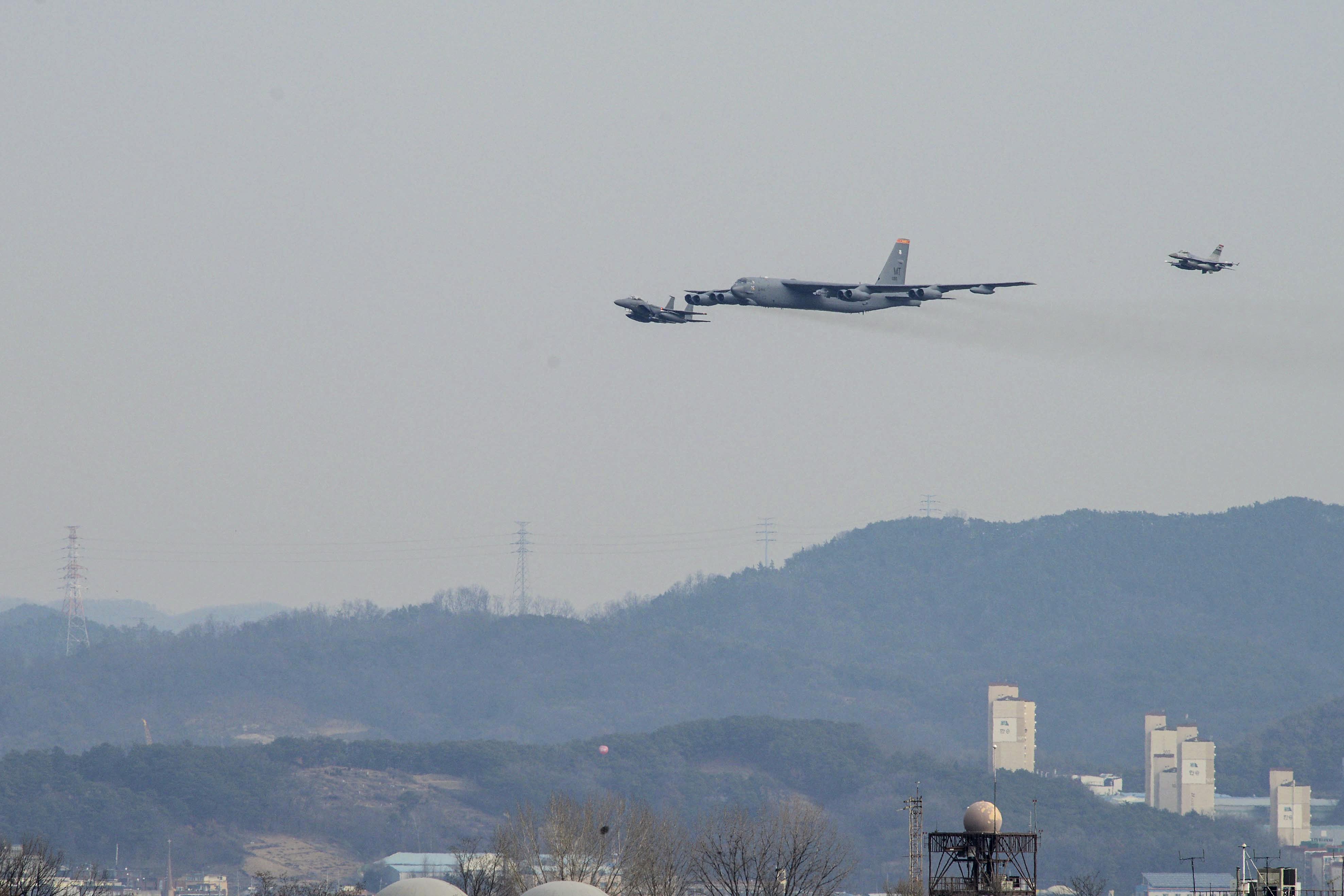 A U.S. Air Force B-52 Stratofortress conducting a low-level flight near Osan Air Base, South Korea, Jan. 10, 2016. A U.S. F-16 Fighting Falcon and a South Korean F-15K jointed the B-52, assigned to Andersen Air Base Guam. U.S. Air Force photo by Airman 1st Class Dillian Bamman
Washington has often dispatched B-52 and B-2 bombers to South Korea over the years. It usually does not publicize their training missions, but such flyovers by nuclear-capable bombers have always drawn harsh criticism from North Korea.

But during military standoffs, as when North Korea raised tensions in early 2013 after its third nuclear test, both Seoul and Washington have made the unusual gesture of announcing their missions to demonstrate the American resolve toward defending South Korea and to help calm jitters there.
While some of its sisters are resting at the "boneyard" at Davis-Monthan Air Force Base in Arizona, there is plenty of life and fight left in this magnificent bird.
For more B-52 statistics and specifications, please click here.
Lead photo: File photo of a B-52 Stratofortress dropping live guided bomb units as an F-15D Eagle follows during a training exercise over the Nevada Test and Training Range on June 28, 2012. (U.S. Air Force photo/Staff Sgt. Christopher Hubenthal)
All photos: DOD
Edited to add photo of B-52 flying over South Korea
Click here for reuse options!


Copyright 2016 The Moderate Voice