Harry Langdon in 'To Heir is Human,' a Columbia comedy short (Movie Review with Video)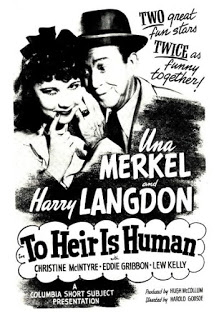 Harry Langdon in 'To Heir is Human,' a Columbia comedy short
by Doug Gibson
"To Heir is Human" (imdb page is here) is one of comic legend Harry Langdon's more energetic late comedy shorts for Columbia, which featured other comic stars besides the Three Stooges. Released in early 1944, it stars Harry as window washer Harry Fenner, who is improbably located by telephone book deliverer Una, played by Una Merkel. It seems a sinister looking fellow asked Una to find Harry and deliver him to a forbidding domain where he'll inherit a fortune.The man, A Raven Sparrow, will give Una $1,000 to find Harry. Una drags a semi-reluctant Harry to the house, where naturally, a trio comprised of relatives and a thuggish handyman want to knock off Harry — and Una — and get all the inherited cash for themselves.
Although he's looking very old — Langdon would die in December 1944 — Harry is in excellent form the low-budget short, produced in Hugh McCollum's wing of Columbia's shorts studio. "The Elf" is in form in a few scenes, particularly during his initial refusal of Una's efforts to locate him, and more prominently in a later scene with his Vampish "kissing cousin," Velma, played by Christine McIntyre, who later gained iconic status as a Three Stooges regular. Langdon is hilarious with his mild surprise and resistance as Velma, one of the baddies, tries to provide him poisoned drinks. A Raven Sparrow, by the way, is played by Lew Kelly, who looked like a creepy cross between an aged Boris Karloff and John Carradine. The handyman is played by Bud Gribbon. His best scene is where he lowers a noose over Harry's head, who mistakes it for a tie. There are effective scenes in the house, particularly a room with an electric. Both A. Sparrow Raven and Una receive unpleasant but funny jolts as a result.
Now, I have not mentioned Una Merkel's contribution yet, because I've been saving it for her own paragraph or too. She absolutely marvelous in her role as dogged working girl Una. Merkel, who later gained a measure of consistent fame, had enjoyed a measure of stardom in the 1930s. However, by 1943 she was in a slump, and doing low-budget shorts. Nevertheless, her career slump doesn't show in this film.
Merkel has a tremendous eye for comedy, particularly slapstick, and she shows a lot of that in the film. She's literally manhandled in this film, getting thrown out of offices, having telephone directories thrown at her, being pulled by a thug who wants to kill her, fainting, and being electrocuted. Nevertheless, she never stops protecting her charge Harry, even if her main motivation for the $1,000 is to improve her appearance. Una Merkel reminds me of a slightly more intelligent version of Patsy Kelley in her shorts with Thelma Todd. Her pairing with the lower key Langdon works well. … By the way, frequent Langdon co-star Vernon Dent has a cameo as a board chairman of a business. The scene is while Una is chasing Harry, and Langdon is funny as he intrudes into the speech.
This is an obscure film. A Langdon fan and film collector originally provided me a copy of the film, Look for it at Turner Classic Movies on the odd chance it will get on as an "extra." It is now on YouTube, however. Watch it below.

Doug Gibson is on the staff of the Standard-Examiner newspaper in Northern Utah. He has also co-hosted the Plan9Crunch cult movies blog for several years.This review has been cross posted from Plan 9 Crunch.