D-Day, Revisited (Update)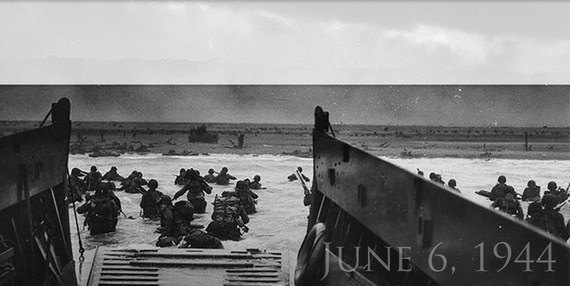 Soldiers wade ashore a Normandy beach during the Allied invasion of Europe on D-Day, June 6, 1944. (Photo courtesy U.S. Army)
Update:
Please scroll to the end to see some photos of commemoration ceremonies of the 72nd anniversary of D-Day in France
=====
Today is the 72nd anniversary of D-Day.
Two years ago, on the 70th anniversary, our oldest ally, France, went all out to honor, remember and pay tribute to the allied soldiers who made the ultimate sacrifice on Normandy beaches to liberate their country and all of Europe in World War II.
This year, once again, France remembers.
Just browse through the list of literally hundreds of ceremonies and events held in every city, town and village in Normandy to commemorate the landing and the Battle of Normandy.
One will see such evoking, haunting names as Amfreville, Asnelles-sur-Mer, Colleville-sur-Mer, Pointe du Hoc, Sainte-Mère-Eglise, Ver-sur-Mer and so many, many more.
Here are some excerpts from a 70th anniversary article at the Huffington Post highlighting France's continuing gratitude:
In the early hours of June 6, 1944, off Omaha Beach, the battleship USS Texas — part of what Gen. Dwight Eisenhower called the Great Crusade* during which "we will accept nothing less than full victory…" — let loose the fury of her ten mighty 14 in (360 mm) guns and silenced the German guns atop Pointe du Hoc. Subsequently, the battleship attacked enemy anti-aircraft batteries near Vierville.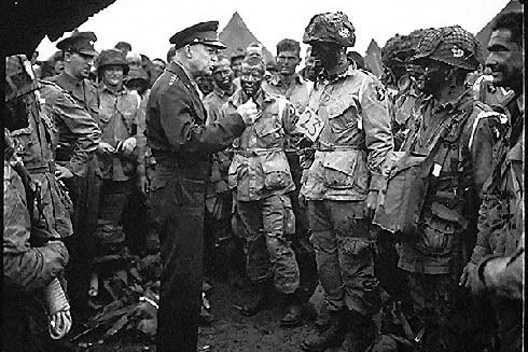 Supreme Allied Commander Gen. Dwight D. Eisenhower speaks with 101st Airborne Division paratroopers before they board airplanes and gliders to take part in a parachute assault into Normandy as part of the Allied Invasion of Europe on D-Day. (Photo courtesy DOD)
A few days later the USS Texas, at great risk to herself and her crew, went on to suppress the German gun batteries surrounding the vital port of Cherbourg. Two German shells hit the Texas, one of them killing one sailor and injuring ten.
It thus seems appropriate that today, seven decades later and 4,800 miles from that hallowed battle area, that same proud ship now in safe harbor near Houston, Texas, her guns silenced, will be the platform for one of the many ceremonies commemorating the 70th anniversary of D-Day and yet another venue for the nation and the people of France to express their respect and gratitude to the World War II Allied heroes who sacrificed so much to help liberate France — and Europe.

The USS Texas, now retired, at the San Jacinto Battleground State Historic Site, La Porte, Texas (Courtesy Texas Parks and Wildlife Department)
Grateful to the United States and other allies for the World War II allegiances and sacrifices and notwithstanding occasional "philosophical" and political discords, France has steadfastly remembered the battles and honored the heroes of those battles which led to ultimate victory over the Nazis.
Witness the numerous monuments and memorials — in small hamlets and large cities and throughout the beautiful French countryside — that the French people have dedicated to the American and allied military who gave their lives in so many battles and missions on French soil and in the skies above.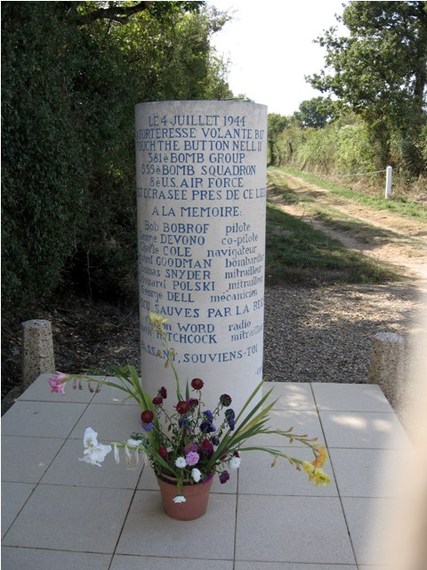 Monument in memory of American airmen killed during World War II in a B-17 crash near Persac, France. (Photo by author)
Witness the unselfishness and humaneness of the French people, and of other Europeans, to "adopt," look after and honor thousands of graves of U.S. and allied soldiers who were killed during World War II.
Or take Andree Auvray, now 88, who would take photos of graves of American soldiers buried in Normandy, write letters and then mail photos, letters, "and in summertime a rose petal" to the soldiers' families.
Catherine Gaschka and Angela Charlton at the Stars and Stripes write, "She wanted to send them 'something that people could touch,' [her son] said. 'There is nothing more distressing than knowing that someone died somewhere, anywhere, without being able to tie it to an image.'"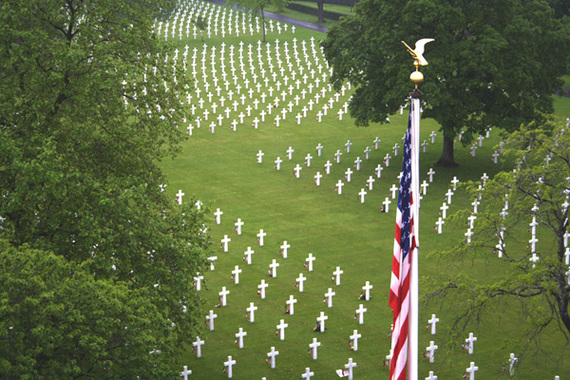 Brittany American Cemetery, Saint-James, France One of the many American cemeteries in France (Photo: Courtesy American Battle Monuments Commission)
But France also remembers and is grateful to the veterans of those battles who are still alive — most of them are in their 90s now and are leaving us at an alarming rate of approximately 55 a day — and has reserved a special honor for those who fought on French territory in the four main campaigns for the liberation of France: Normandy, Provence, Alsace-Lorraine and Northern France.
Today, on the 70th anniversary of D-Day, France solemnly remembers and memorializes the more than 150,000 brave troops who swam, waded or crawled through the cold, choppy North Sea waters to set foot on those five, now almost sacred beaches of legend — Utah, Omaha, Gold, Juno and Sword — and the nearly 20,000 men who parachuted from above during the largest amphibious landings and airborne operations mankind had ever seen. (Sadly, many — way too many — never made it ashore or reached French soil safely.)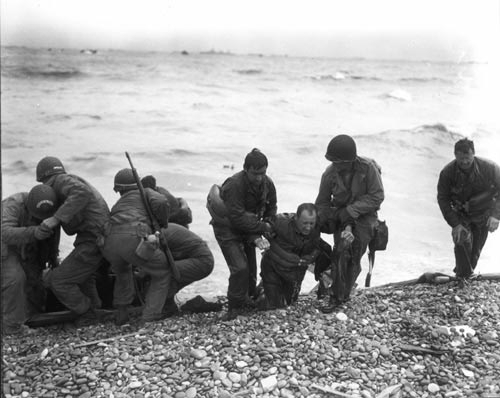 American troops help their exhausted comrades ashore at Utah Beach. The men reached Utah Beach, near Sainte-Mère-Église, on a life raft, after their landing craft was hit and sunk by German coastal defenses. (Photo courtesy Army.mil)
To thank and honor these veterans, the President of the French Republic, on the 60th anniversary of D-Day, approved the award of the medal of Chevalier in the French Order of the Legion of Honor (Ordre National de la Légion d'Honneur) — France's highest, most prestigious decoration for merit or bravery — to American World War II veterans who fought in those battles and who helped liberate France from the Nazis.
Napoleon Bonaparte first established this high award and distinction in 1802 to honor extraordinary contributions to France.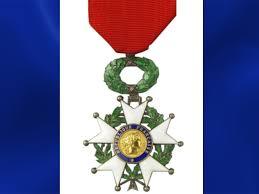 The Chevalier in the French Order of the Legion of Honor Medal (Courtesy Consulate of France, Houston)
As the 70th anniversary of D-Day approached and as the number of living Liberators shrinks each and every day, the French government, through its Embassy and Consulates in the U.S., intensified its efforts to identify and honor those last remaining heroes of our Greatest Generation.
The French National Assembly, in April of this year, passed a Resolution expressing gratitude and recognition to the members of the Allied Forces who took part in the landings in Normandy on D-Day and praised their "obstinacy and courage…that helped end the Second World War."
Well aware of the "advanced age of the last surviving veterans," the General Assembly emphasized the urgency to "express gratitude and appreciation to the members of the Allied forces including American and French forces which have participated in the D-Day operations."
The Consulate of France in Houston, Texas, has been particularly active presenting the Legion of Honor Medal and other awards to qualified American veterans. Most recently, in March, aboard the USS Texas, dignitaries from Normandy where, offshore, the Texas performed so valiantly, presented 23 former crewmembers of that Dreadnought with mementoes containing sand grains from Utah Beach, "a Beach that was trodden on by young Americans who sacrificed themselves on the altar of liberty," according to Jean-François Le Grand, president of the General Council of the Manche region in France.
The French delegation similarly thanked and honored more than 20 veterans (below) who served on French soil or in the air over France during World War II and, referring to those same grains of sand, Le Grand added "Grains of sand as a reminder of a commitment, a reminder of friends fallen on the field of honor and a reminder of the landings that liberated the world from the yoke of Nazi oppression."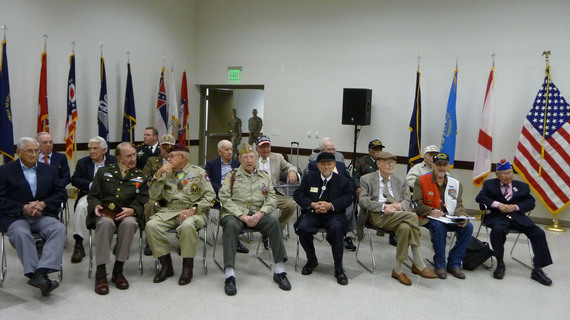 Photo courtesy La Manche Conseil General
Today, seven decades after these soldiers, in the words of General Eisenhower on the tenth anniversary of D-Day, displayed so much "skill, determination and self-sacrifice," France, through its Consul General in Houston, Sujiro Seam, will award France's highest honor — the medal of Chevalier in the French Order of the Legion of Honor — to 35 US WWII Veterans who participated in the campaigns to liberate France.
The names of the 35 veterans to be decorated can be found here.
Listen to General Eisenhower's speech (below) about the actions of these World War II heroes who "set in motion a chain of events which affected the history of the entire world…"
Update photos: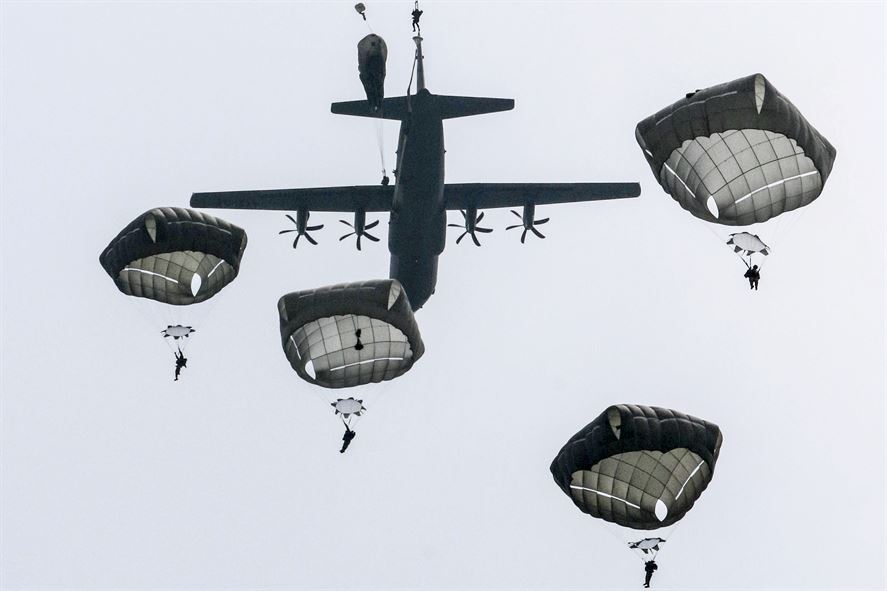 U.S., French and German paratroopers jump into Sainte Mere Eglise, France, June 5, 2016, to commemorate the 72nd anniversary of D-Day. The U.S. soldiers, among the 320 paratroopers from the three countries to participate, are assigned to the 82nd Airborne Division. Army photo by Capt. Joe Bushainte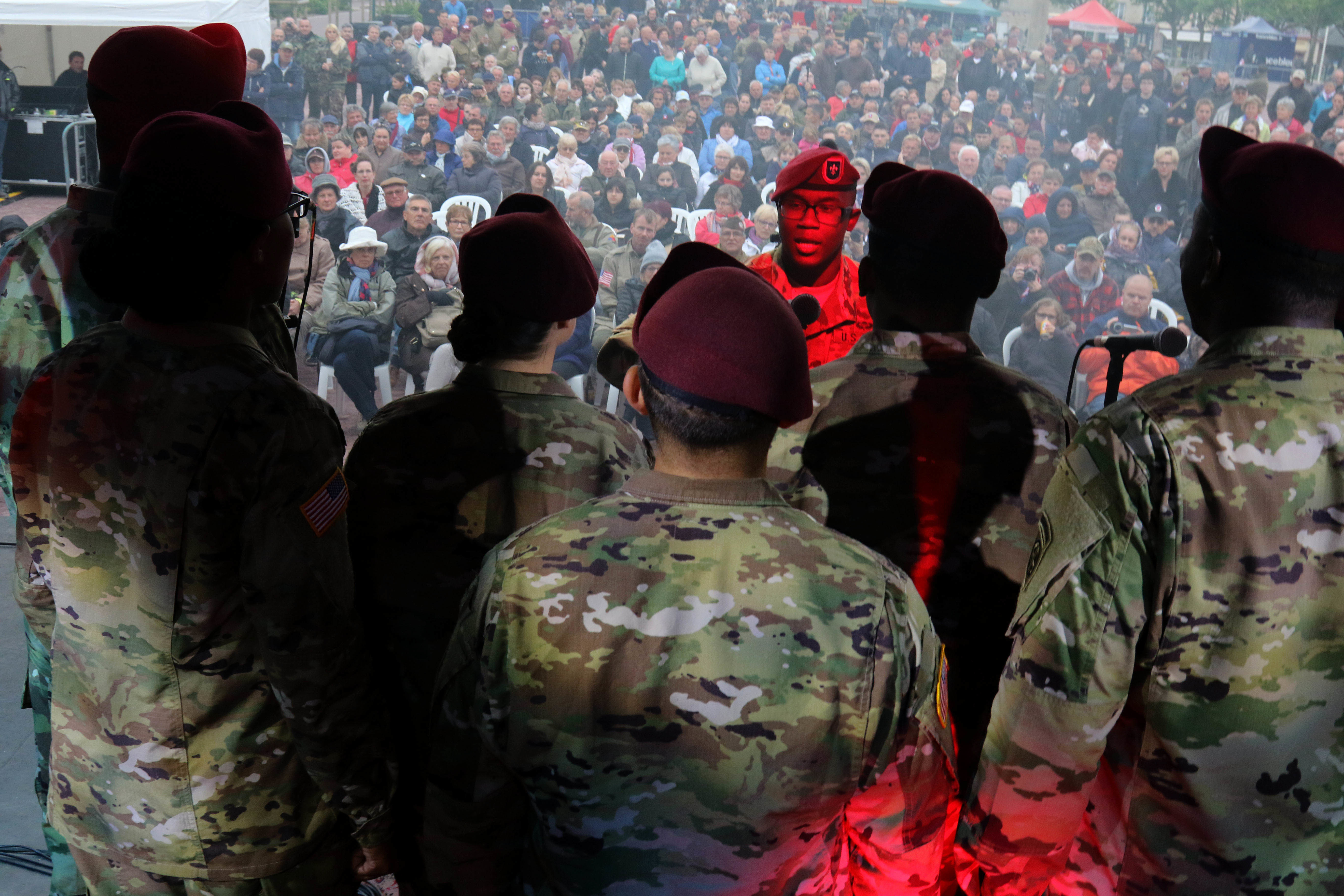 The 82nd Airborne Division Band performs a free concert for the people in Sainte Mere Eglise, France, on June 3, 2016, in honor of the 72nd anniversary of D-day. Joint Task Force D-Day 72, based in Saint Mere Eglise, France, is supporting local events across Normandy to commemorate the selfless actions by the allies on D-Day. Army photo by Capt. Joe Bush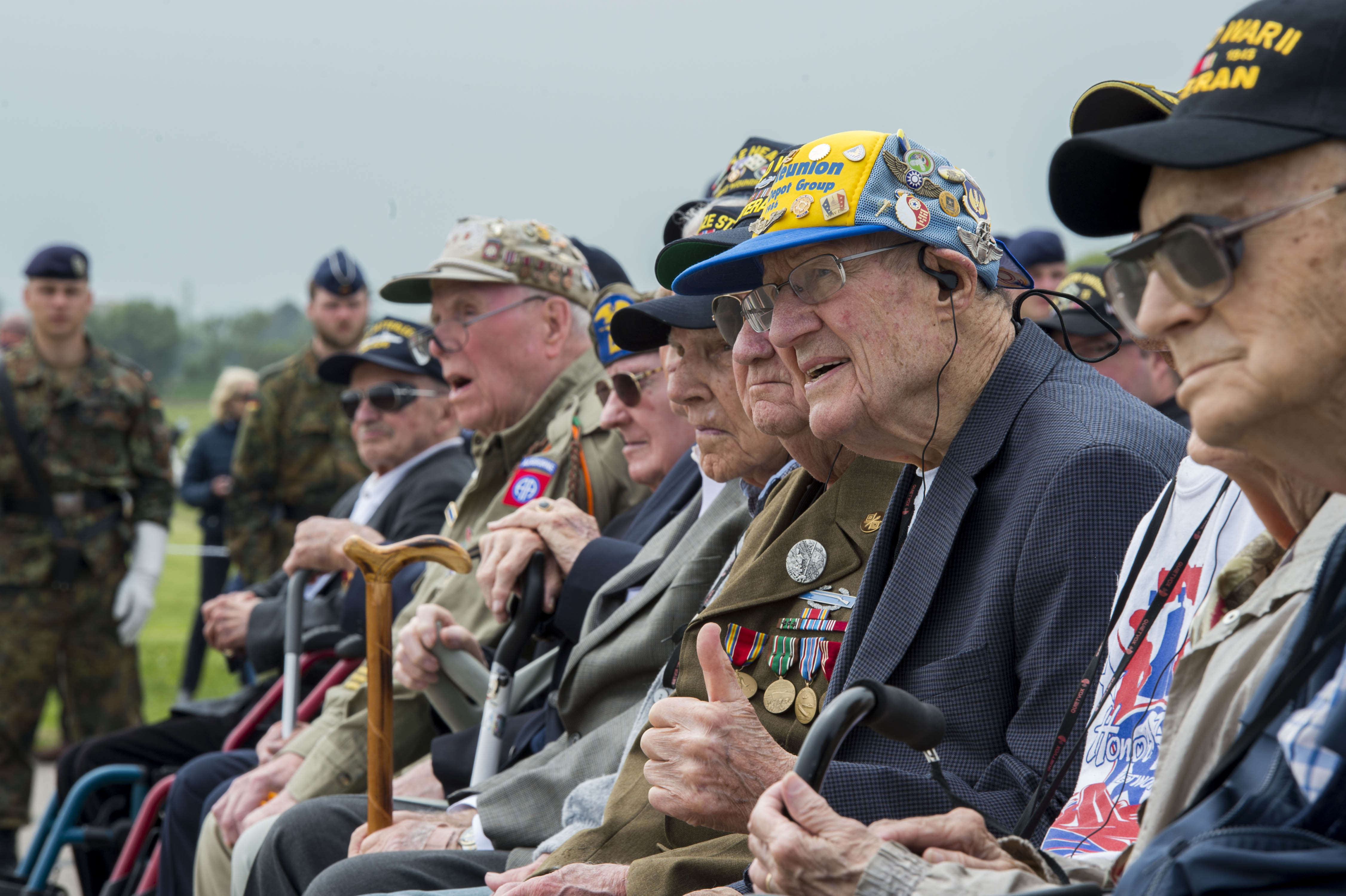 D-Day veterans listen during the Utah Beach Memorial Ceremony in Normandy, France, June 4, 2016. Navy photo by Petty Officer 1st Class Sean Spratt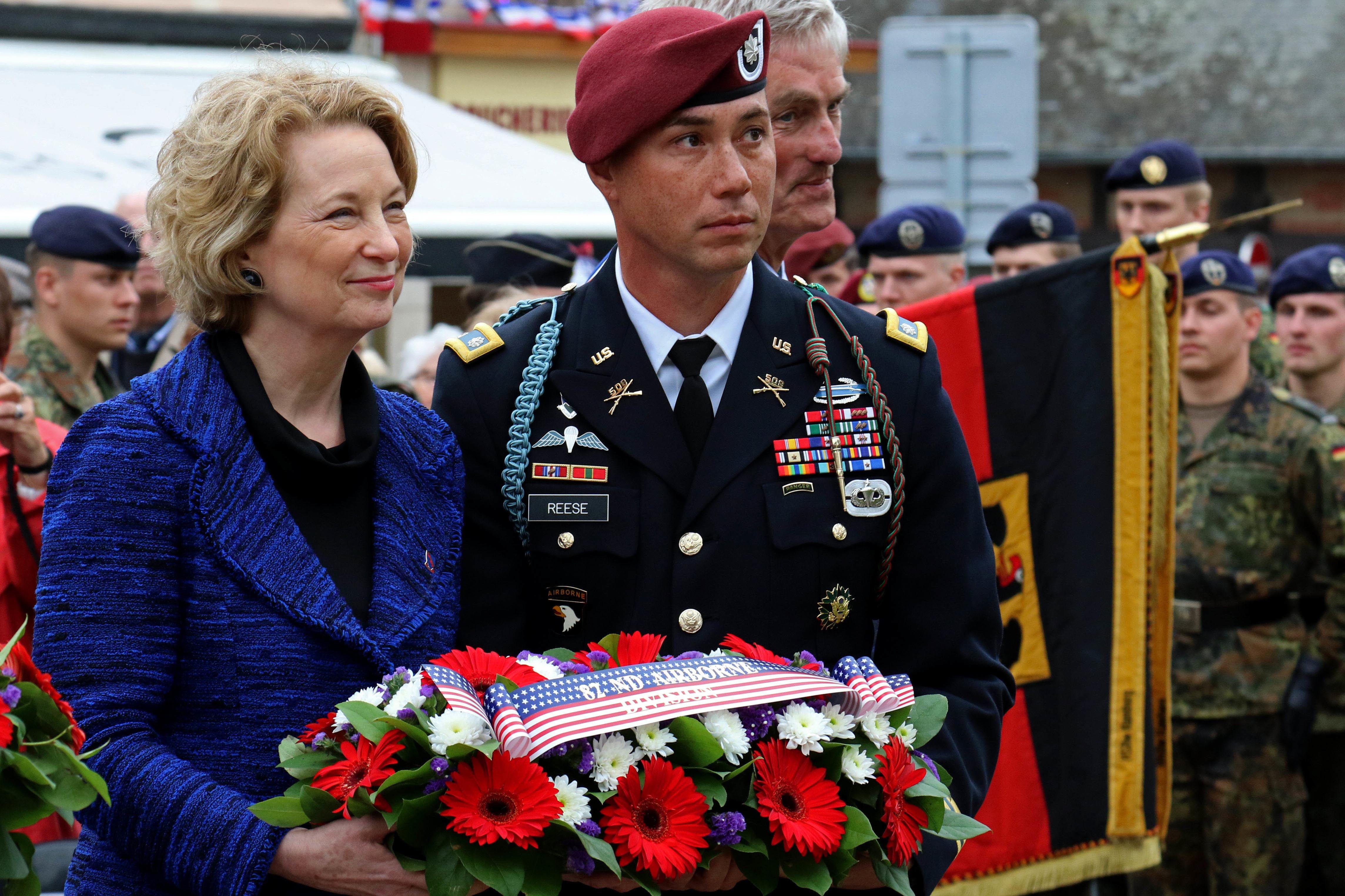 Susan Eisenhower, granddaughter of Gen. Dwight Eisenhower, and Lt. Col. Justin Resse, commander of 1st Battalion, 508th PIR, participated in a joint ceremony with the French and Germans to commemorate the 72nd Anniversary of D-Day in Sainte-Mère-Église, France, June 2, 2016. Army photo by Capt. Joe Bush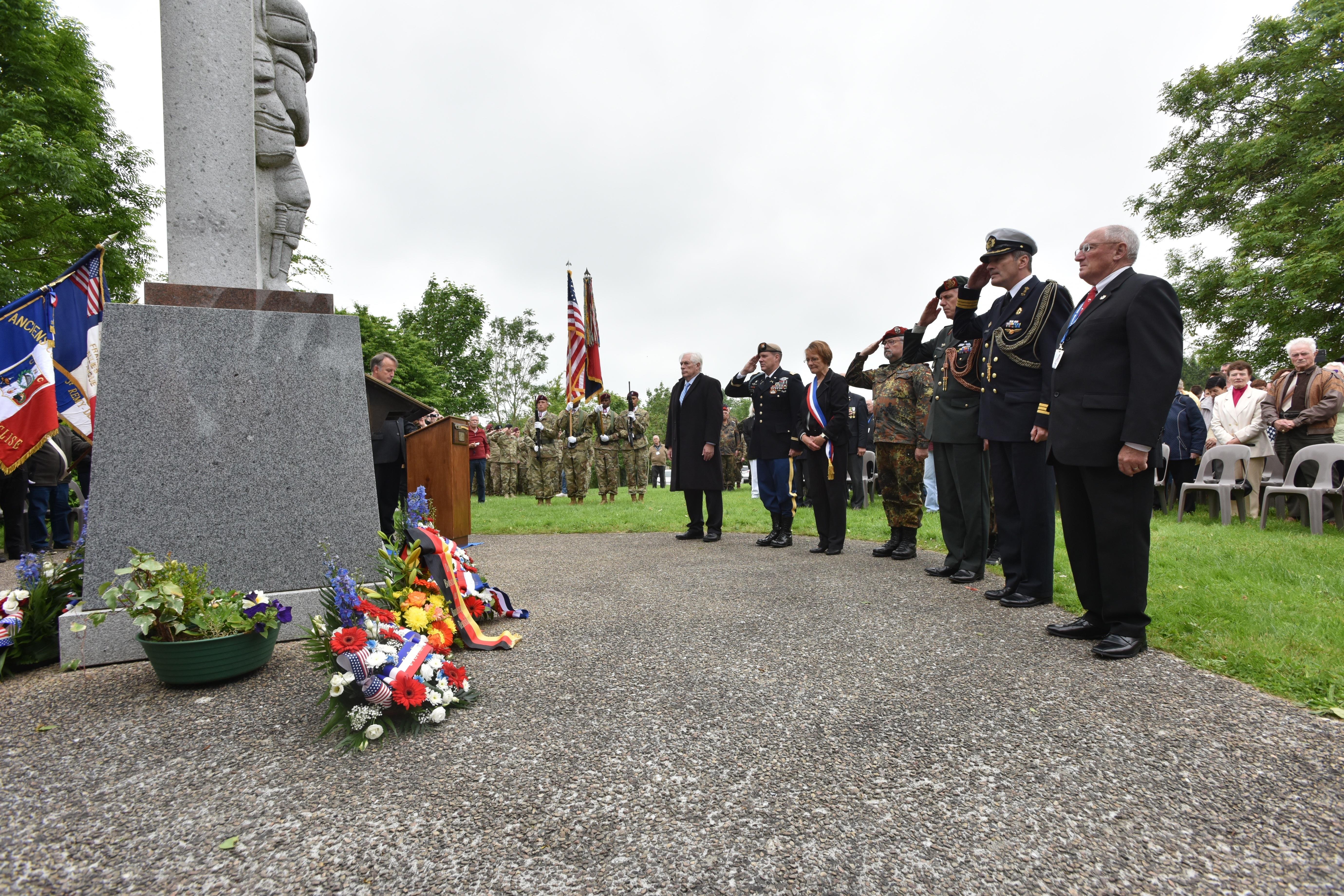 Service members, veterans and government officials participate in a D-Day remembrance ceremony for the 507th Parachute Infantry Regiment, 82nd Airborne Division, in Amfreville, France, June 4, 2016. The paratrooper in the statue represents Pvt. Joe Gandara, a 2nd Squadron, 507th Parachute Infantry Regiment Paratrooper during World War II who was posthumously awarded the Medal of Honor in 2014 for single handedly destroying three enemy machine guns before he was fatally wounded. Army photo by Sgt. 1st Class Crista Mary Mack