A Bluelander in Redland, Part I of 3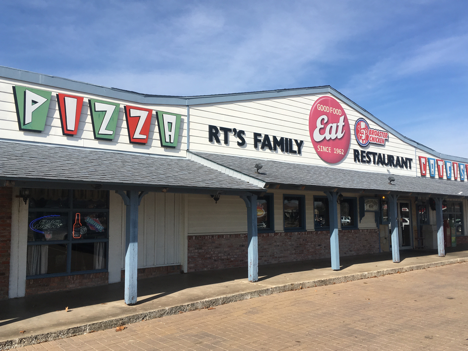 A Bluelander in Redland, Part I
by Daniel Sherman
Even after years of travel, my heart joyfully skips a beat when the whine of a commuter jet's engines picks up and we began trundling down the runway. Big planes are quiet and large enough that you're just in a sort of filed into a mailing tube, being delivered to a place where by definition lots of other people are going.
Small jets and turboprops, on the other hand, take you to less-toured areas. Throw in a long drive on local roads, and even in the United States you begin to exit the repetitive "airspace" of hotels and restaurants all furnished with the same reclaimed wood and antique light bulbs, and start to see the sorts of places with wood and lighting that has actually aged in place. Diners and bowling alleys that are not "vintage," they've just been there for half a century.
As we cleared the outer expanse of Chicago's suburbia and gained altitude, I thought about what my leftie friends might expect me to see on a business trip through Missouri, Arkansas, and Louisiana. An eschatological charnel-scape of incinerated meth houses being picked over by the Left Behind. Hoards of dentally-challenged racist thugs warming themselves around smoldering piles of coal. Swap meets where you can trade AR-15's for Oxycontin. Prayer meetings thanking Jesus for having written us a Constitution.
How bad is it?
The plane had one flight attendant. Before take-off she gave an enchanting safety presentation coated with the light syrup of a Kansas accent. She embellished the demonstration of the floatation device with cute smiles, tosses of her blond hair, hands on her hips accenting a tight skirt. Eye contact and winks to the mostly male passengers.
I felt sorry for her and other Southern girls. In 2017 when every woman should be valued for her character and contributions, this poor lass was reduced by the pressures of the heteronormative capitalist machine to trafficking herself in binary-gendered terms. The blouse, stretched tight across her chest with one-less-button than one would expect, silver crucifix glimmering in her cleavage, the form-fitting jacket and skirt, and finally, black lacquered boots up to the knee, framing with the hem of the skirt a pale stripe of naked skin. The whole package said "Coffee, tea, or me?" I found it degrading and chauvinistic, a sign of Kansan's un-enlightened state.
I wanted to ask her number or email, perhaps we could get on Facebook and I could send her some information about toppling the male patriarchy. You do see this all across the South, women using charm, eye contact, hips, arms, breasts, whatever it takes to survive their misogynist captors. It's awful.
The plane landed in Kansas City, I didn't find the courage to get her number. Minutes later I was outside and my colleague was there in the rental car. I got in and we headed off for Springfield, Missouri.
Missouri as seen from the Interstate is not much different than the rest of the Midwest, except you'll never see a factory and there doesn't seem to be much agriculture either. This became a recurring question on my tri-state tour: how do these economies even work?
We got to the hotel late. When the gentleman checking us in noted our accents he had a lot of friendly questions and welcome-to-Missouri information. I'll sacrifice the suspense and tell you now that without exception, every person you'll meet in this story is nice, decent, and welcoming. This is probably the most important fact that the un-traveled need to know: if you turn off your TV and get out and tour the United States, you never meet the sort of scary people you might imagine. Of course, if you go to a Klan march or Michigan militia or Portland Anti-GMO Cooperative, you'll meet caricatures, but you're skipping over the 99.8% of reasonable, approachable people. Even in New York City.
The hotel clerk told us there's a lot of fun things to do in Missouri. "Yeew kin go off-roadin', muddin' and noodlin'," he said. All activities that can only be described by dropping the final "g".
I had never heard of "muddin'" before. One can intuitively guess that mud is involved, and since every interaction rural Americans have with their environment involves an internal combustion engine, a safe guess is that it involved driving around in the mud. I found it charming that this was a separate category from off-roadin'.
As a rule, city people go out in nature to see the stars, listen to the forest, observe wildlife. The people who actually live out there don't seem to care at all, for them the selling point is you can drink beer while driving an ATV through mud puddles at 80 mph. If you think I'm making a judgement call you're dead wrong, I'm trying to wangle a muddin' invitation right now. Stay posted.
As for "noodlin'", what the hell is that?
The clerk went on: "Missouri would be a great state if we could jes git the fedral gummint out of here." This one was interesting. When I got to my room a quick Google search turned up a fact that would astound anyone's educated guess: fedral gummint spending accounts for one-fifth of Missouri's economy. That is actually lower than the national average: the US government accounts for 39% of GDP. But the point remains that getting Uncle Sam out of Missouri's hair would be a devastating blow.
Why are people in poor Southern states so enamored of ideas that would be disastrous if fully applied to them? Why have they failed to develop complex, advanced economies, and get left to to scrape along with simple agriculture, mining, and low-added-value manufacturing? By the end of my tour I began to develop some ideas on this, and it has to do with the quality and motives of their leadership. Let's look at quality: Republican leaders everywhere are douchebags, but in Northern states the doucheocracy is far more competitive and forces politicians to perform at least to someone's interest with a modicum of cunning. New York and New Jersey are chock-a-block with highly educated rat-fuckers; a Chris Christie or Rudy Giuliani had to fuck all those rat-fuckers to get to the top of the pile.
Compare with lightly-populated Maine: you get Paul Le Page, ranting into a microphone about black kids named "D-Money" coming to knock up white girls. Not the sharpest tool even in a backwoods, Yankee redneck shed. Louisiana gets you Bobby Jindal, pandering for the creationist vote and blinking like a deer in the headlights when asked to have a human conversation.
Texas, on the other hand, is a competitive market producing Presidential-grade pricks. If it weren't for chance and fate, Ted Cruz would be sniveling and smirking in his snakeskin boots right now in the Oval Office. My theory is that the rural states' small populations don't produce a lot of winners, and the ones they do escape to the federal level when they can. A Bill Clinton was never going to stick around and improve Arkansas. Sam Brownback has enough wits to get a Kansan governorship but he's never going to make the big time, so he just stays there and shtupps his own state.
The next day after visiting a client in Springfield, we started heading south towards Little Rock, Arkansas. The weather was gorgeous for February and we had plenty of time so we agreed to take the a scenic road through the Ozark Mountains.
As the terrain shifted from rolling hills to low mountains pocked with lakes, we stopped for coffee in what looked like a summertime resort town. The only place open was a cavernous diner/bowling alley. The sweet, chain-smoking, middle-aged lady who poured our coffee told us the bowling lanes didn't work and hadn't been used in years. A shame, I took a look: they were appointed with great Atomic Age brushed steel ashtrays, Sputniky stars on the walls, and molded plastic seats — the good kind with thick hard plastic that doesn't flex even under wide loads.
Our collared shirts and Northern accents were a dead give-away, she had lots of questions on why we were passing through. If we could hang around for an hour there was a spaghetti special for lunch. We thanked her but wanted to get back on the road. When we tried to pay for coffee with a $50 but she said she didn't have any change in the drawer. "Coffee's on us today, y'all come back soon next time, y'hear?"
I did not see an AR-15 slung around her shoulder. If she was terrified of Mexicans or hated the coastal elite, it didn't come up. I just remember her waving with a cigarette in her hand, sort of sorry we had to leave.
Next week: a trip through the Ozarks, searching for answers on "noodlin'", a visit the Clinton Presidential Archives, and a girl named "Freaky".

All images by Daniel Sherman.
Daniel Sherman is an entrepreneur in the import/export business. He divides his time between Italy and Chicago. He is developing a book, Good Enough, for adolescents on the topic of ethics.