Military Weekend: A Noble Tradition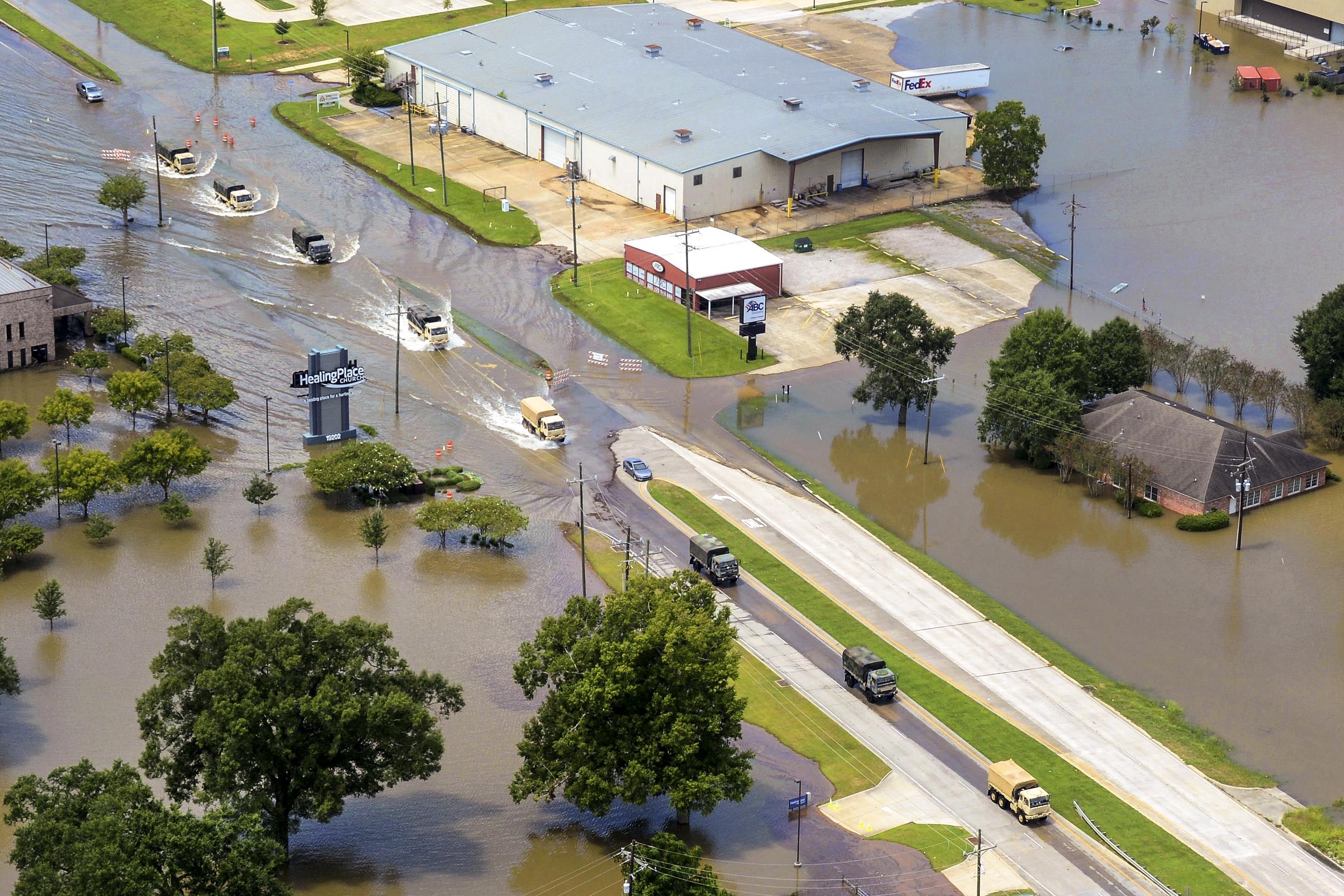 Once again our nation is being hit by natural disasters — one by fire, one by water. One in the South East, one on the West coast.
In what the Red Cross is calling the worst disaster since hurricane Sandy, floods in Louisiana have already taken 13 lives, displaced thousands from their homes, sent some 8,000 people into shelters and "affected" some 40,000 homes.
On the West Coast, scores of wildfires have broken out in the last 30 days.
This past week, Southern California has been struck by several huge wildfires. The most recent one, a ferocious fire that spread quickly through mountains and high desert just 60 miles east of Los Angeles.
The "Blue Cut" fire has blackened 56 square miles and, "at its height, more than 34,000 homes and some 82,000 residents were under evacuation warnings," according to Fox News.
As is always the case — a noble tradition — the U.S. military, especially the National Guard, have been responding to the disaster with vital help.
In Lousiana, the National Guard started flood response and recovery missions on August 12 and continues to do so to this date.
According to an August 18 DoD press release:
More than 3,650 Louisiana Guardsmen are taking part in emergency flood response efforts, including evacuations, search-and-rescue operations, sling-load missions, engineering missions, commodities distribution and security and shelter support
.
To date, the Louisiana National Guard has rescued more than 11,085 citizens and 1,400 pets, and issued more than 32,255 meals ready-to-eat, 359,615 bottles of water, 465 tarps and 784,000 sandbags…The Louisiana National Guard also issued over 2,200 cots and 1,700 blankets for shelter support…Over the course of these operations, Louisiana Guardsmen have supported local, state and federal agencies with more than 257 high-water vehicles, 55 boats, 11 bridge erection boats and nine helicopters.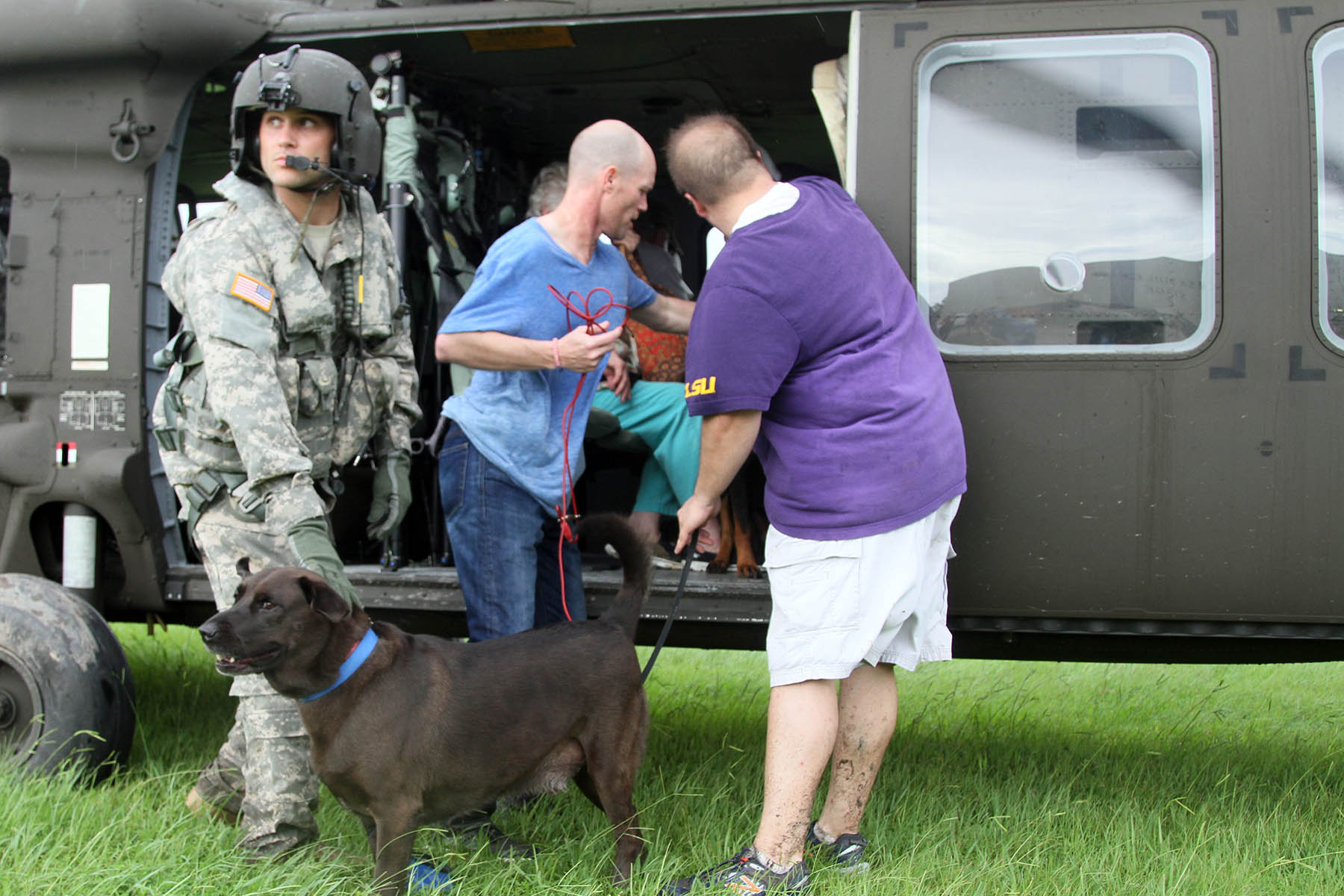 Soldiers of the Louisiana National Guard offload citizens and pets displaced by rising floodwaters in Baton Rouge and the surrounding area at Celtic Studios in Baton Rouge, La., Aug. 14, 2016. (Photo by Spc. Garrett L. Dipuma)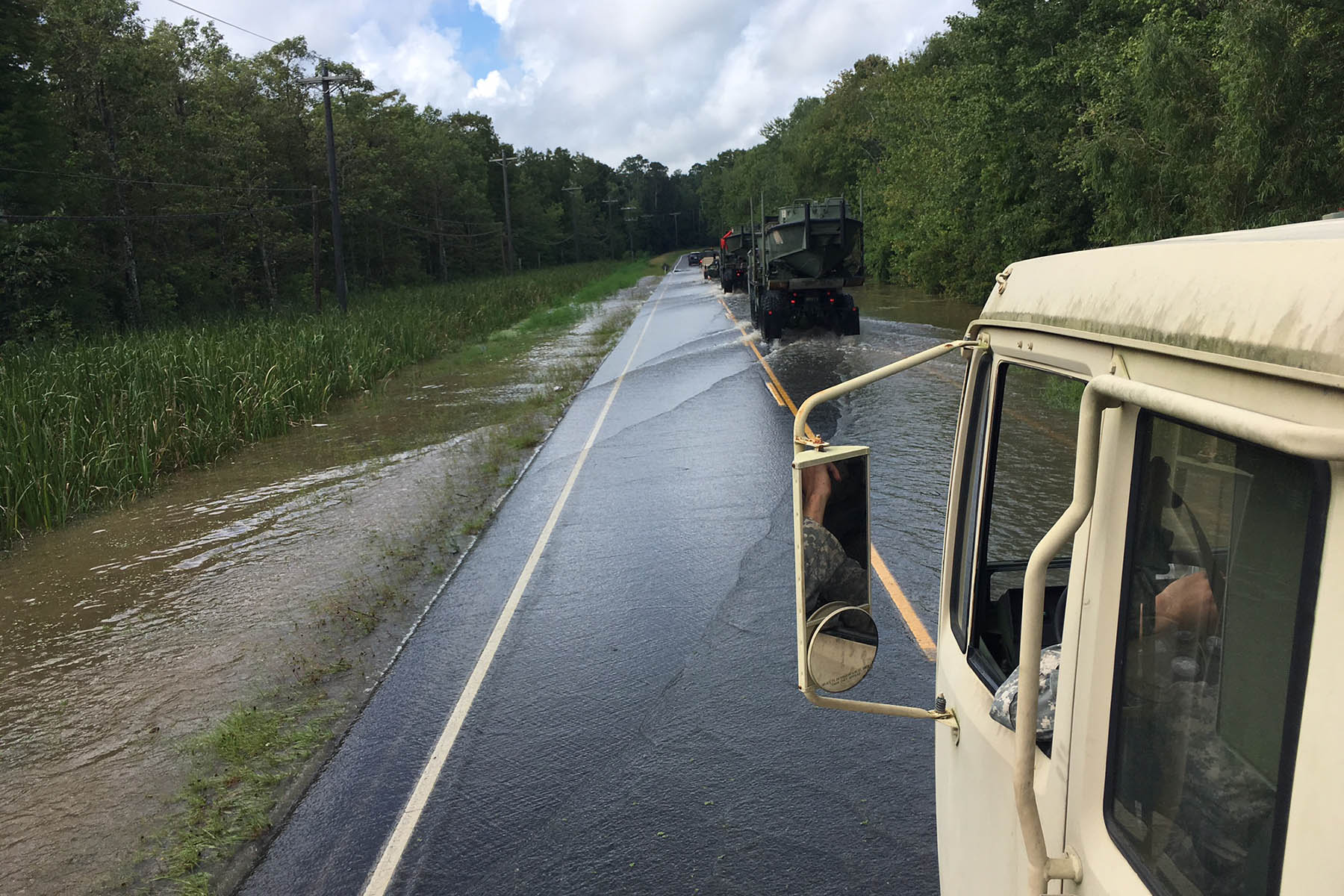 Louisiana National Guardsmen convoy to a boat launch to conduct search-and-rescue missions near Maurepas, La., Aug. 17, 2016. Louisiana Army National Guard photo by 1st Sgt. Paul C. Meeker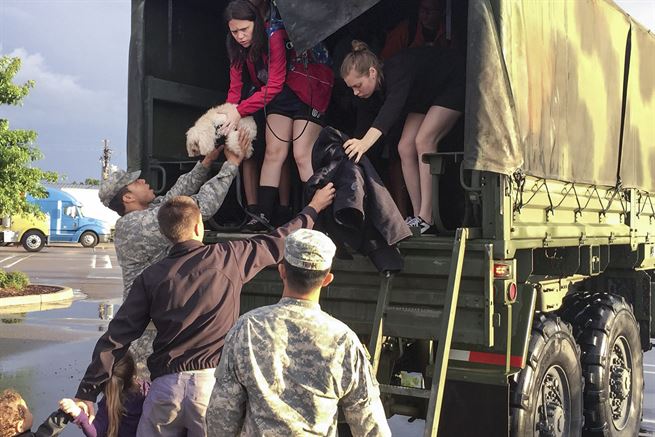 Soldiers help rescued residents from a high-water vehicle after severe flooding in Baton Rouge, La., Aug. 14, 2016. Army National Guard photo by 1st Lt. Gomez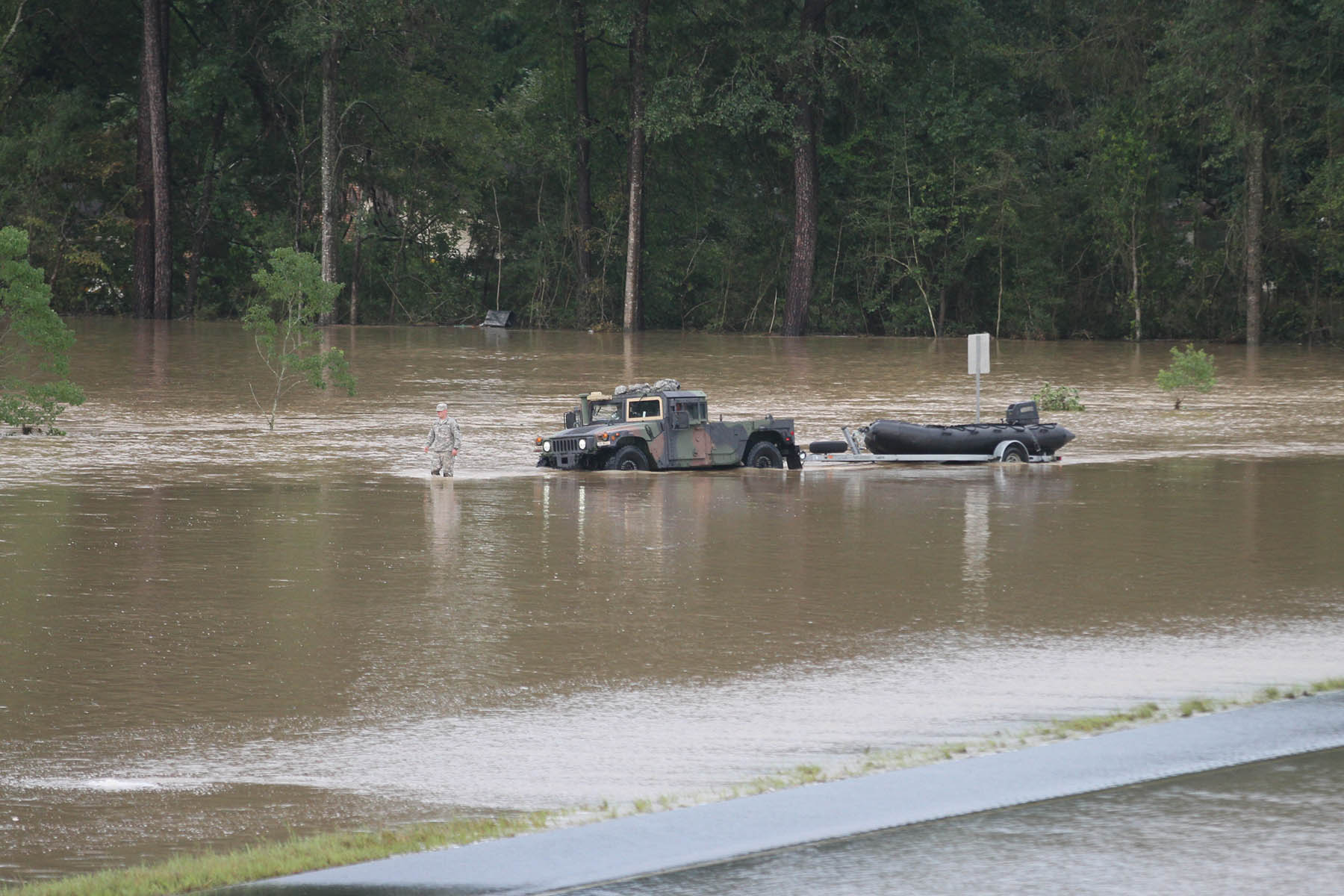 A Louisiana National Guardsman guiding a Humvee through floodwaters off of I-12 outside of Denham Springs. Photo DoD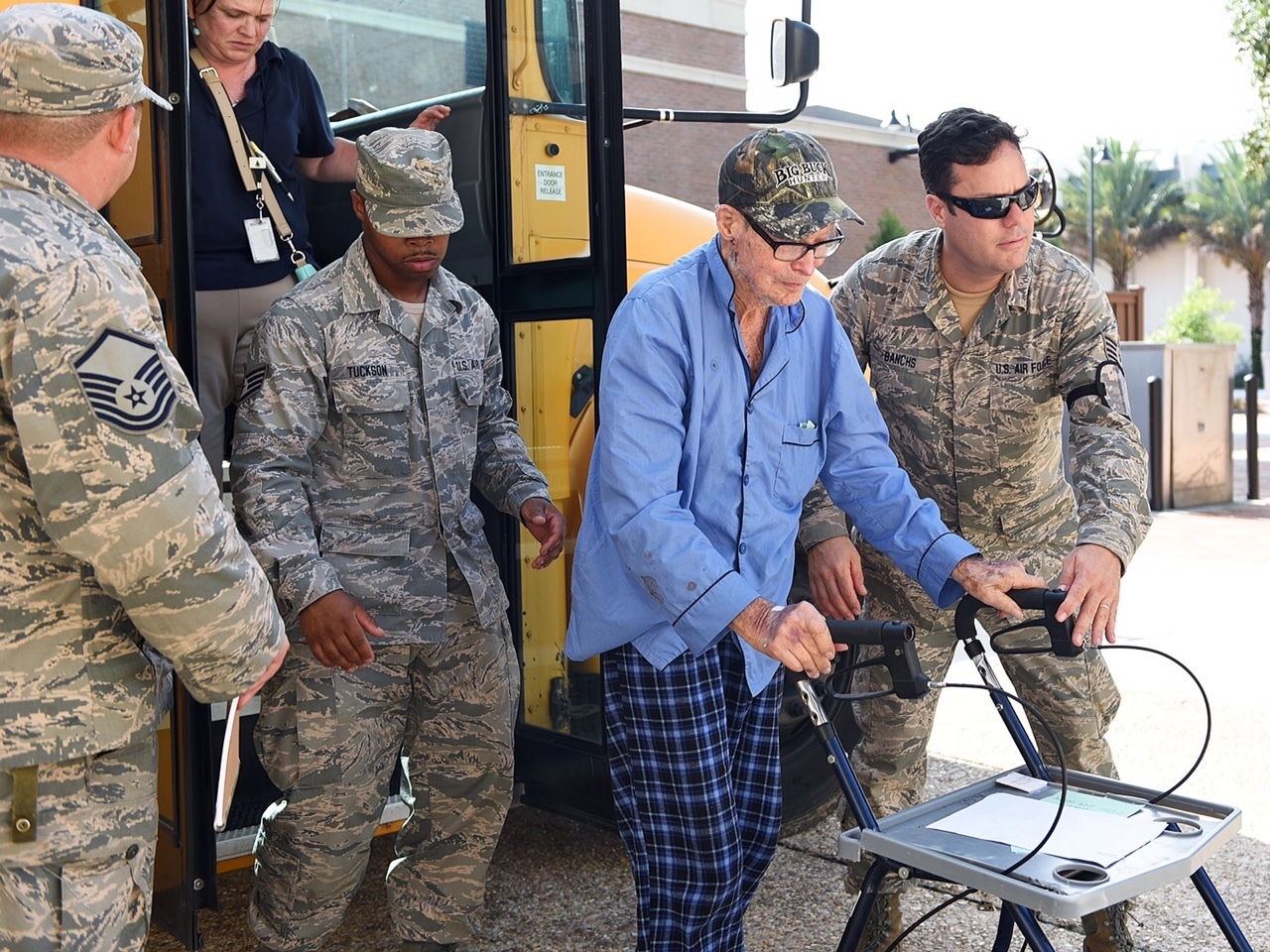 Members of the 159th Fighter Wing, Louisiana Air National Guard transport flood evacuee and World War II veteran, Mr. Willis Woods from the Celtic Media Centre shelter to a special needs facility near the Louisiana State University campus on August 15, 2016. (Photo by Master Sgt. Dan Farrell)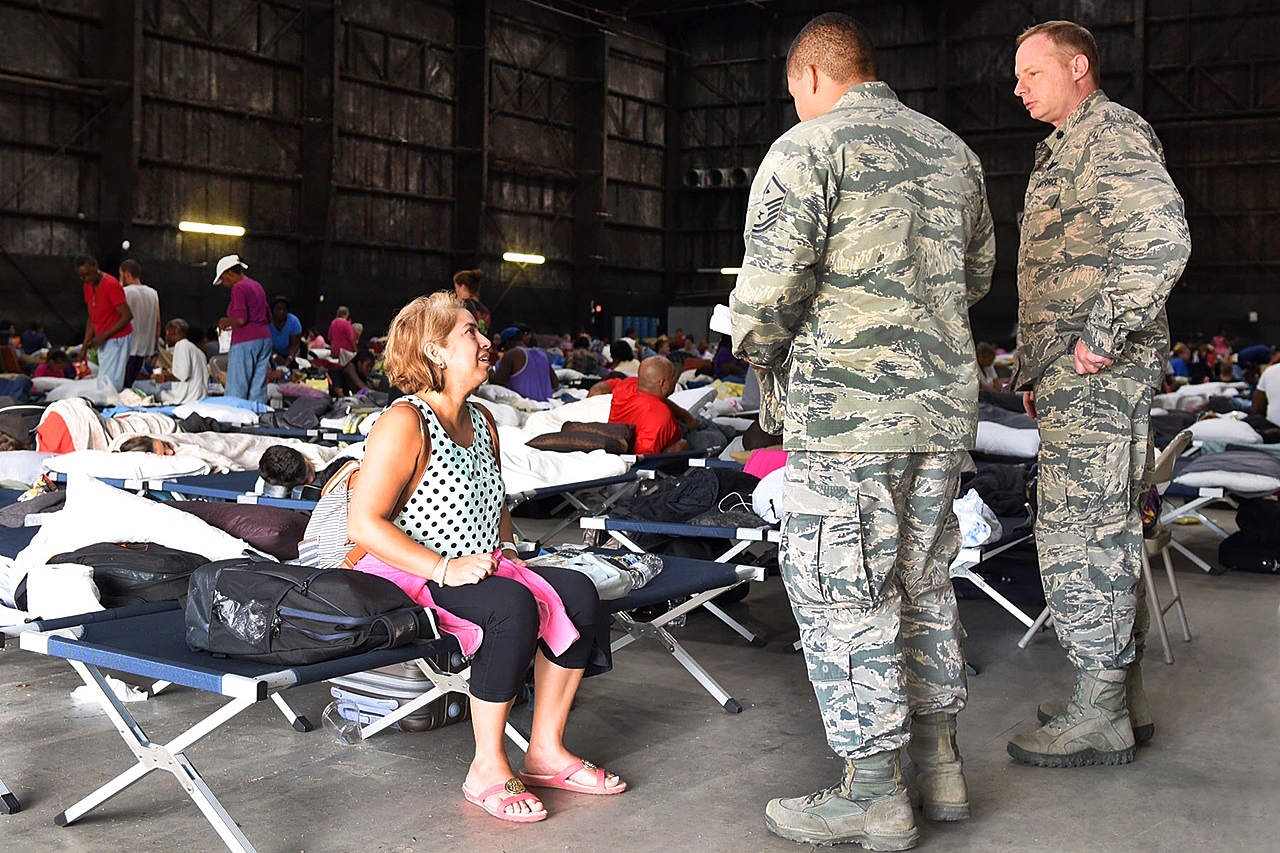 Air Force Lt. Col. Kelly Sullivan and 1st Sgt. Marvin Vides talk to one of numerous residents evacuated to a makeshift shelter in a movie studio near the Celtic Media Centre in Baton Rouge, La., Aug. 15, 2016. Air National Guard photo by Master Sgt. Dan Farrell
In Caifornia, the California Air National Guard's 146th Airlift Wing has activated two C-130J Hercules aircraft, to support firefighting efforts across the state
The airmen join more than 330 California Guard members who are already supporting firefighting efforts in Monterey County in coordination with Cal Fire. California Guard helicopters are also performing medical evacuation operations at wildfires across the state.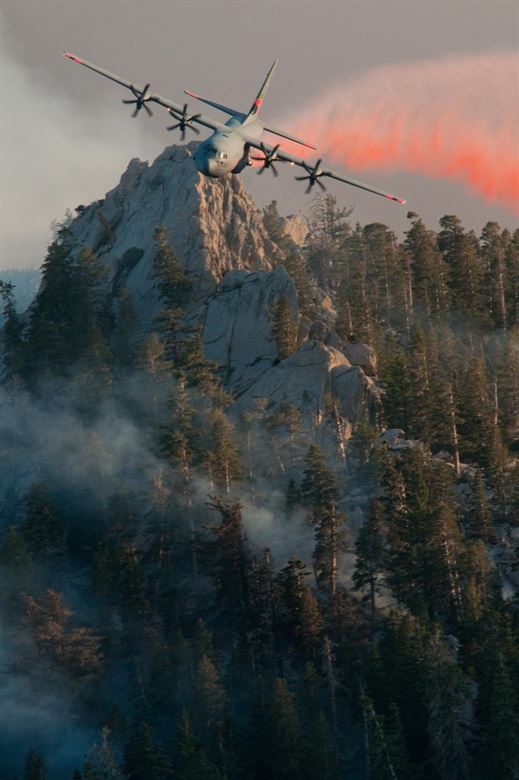 A California Air National Guard Modular Airborne Fire Fighting System-equipped (MAFFS) C-130 Hercules aircraft drops fire retardant over Palm Springs Aerial Tramway to fight California wildfires, July 19, 2013. California Air National Guard photo by Staff Sgt. Nick Carzis
According to a DOD press release:
The air tankers of the 146th Airlift Wing are a proven asset in California's fight against wildfires…Their capacity to drop thousands of gallons of water and retardant in just one pass can be a game changer in the effort to keep these fires in check.

The state-of-the-art C-130J aircraft are based at Channel Islands Air National Guard Base and are being put to use to combat the San Bernardino-area wildfires. The MAFFS-equipped air tankers can discharge the maximum amount of water or retardant over an area one-quarter of a mile long by 60 feet wide, and can refill in less than 12 minutes.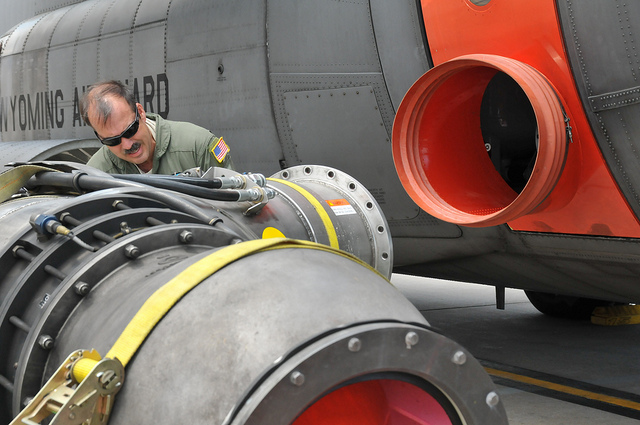 U.S. Air Force Senior Master Sgt. Jack Goeken, a loadmaster with the 187th Airlift Squadron, Wyoming Air National Guard, prepares to install a nozzle from a U.S. Forest Service MAFFS II onto a C-130 Hercules aircraft. DoD file photo.
Lead photo: Army tactical vehicles transport flood relief supplies along a highway in Denham Springs, La., Aug. 15, 2016, after more than 30 inches of rainfall caused severe flooding in southeast portions of the state. Army National Guard photo by 1st Sgt. Paul Meeker