Warm and Fuzzy Were the Eclipses
[Disclaimer: I take no position here. Anyone who attempts to pin one on me will be expunged from the discourse, with all possible prejudice.]
By Tuanna2010 (Own work) via Wikimedia Commons
Five thousand years of astrology says that eclipses are bad omens. NASA, the talking heads and all the modern "psychological" astrologers say that no, eclipses are warm and fuzzy and "activate" exciting new vistas in your life.
Well, let's take a little look at the month that just was, shall we?
All Power Out as Hurricane Maria's Winds, Floods Crush Puerto Rico
NBC News

SAN JUAN, Puerto Rico — Hurricane Maria is likely to have "destroyed" Puerto Rico, the island's emergency director said Wednesday after the monster storm smashed ripped roofs off buildings and flooded homes across the economically strained U.S. territory….

It's the new moon today. It's been, ever since 10:22 PM Pacific Standard Time last night. Which means it's been EXACTLY one "moon" since the eclipse. What's taken place in that time?
Let's just start with yesterday (Just the headlines, mac):
Donald Trump tries to piss off the entire world at the UN and, in large part, succeeds.
Toys-R-Us files for bankruptcy. (approx. 1600 stores)
7.1 Earthquake in Mexico City
Hurricane Harvey — Greatest amount of rainfall ever recorded in the continental USA. Suddenly appeared in 48 hours. Catastrophic flooding.
Hurricane Harvey (NASA)
Hurricane Irma — Most powerful hurricane ever recorded in the Atlantic Ocean (Category 5). Catastrophic flooding. Utter devastation.
Acquittal of police officer for murdering Black motorist and planting gun in his car and subsequent protests/riots in St. Louis.
Republicans in Senate decide to go after health care AGAIN. (Third time is the murderous charm? Seriously, folks, I have never seen any American representatives so hell-bent on murdering their constituents. Well, at least since the Civil War.)
AUGUST:
Muller investigation keeps expanding.
The aftermath of the White Supremacist rally in Charlottesville, Virginia (August 17, four days before the eclipse of August 21).
Trump sends more troops to Afghanistan
The Treasury Secretary Mnuchin and new trophy wife (Married by Veep Mike Pence) get in a world of hurt over use of government aircraft for pleasure trips and wife's elitist tweet in defense of her Marie Antoinette Diet suggestions. (Also, from the Washington Post: "Mnuchin viewed eclipse from roof of Fort Knox")
Trump goes to Arizona and attacks BOTH sitting United States Senators … who are ALSO Republicans.
Trump and Senate Leader McConnell now reportedly locked in a "cold war."
Trump pardons convicted contempt of court for racial profiling former Maricopa County Sheriff (Arizona)  Joe Arpaio before sentencing.
Trump supporters circulate repurposed photos to pretend that Trump's Arizona crowds were 'yuge.'
Navy removes admiral after ship collisions that killed several sailors.
Maine Governor Paul LePage claims Civil War initially fought over land, not slavery.
Federal judge blocks further implementation of Texas' voter ID law  for blatant racism. Supreme Court, without comment says "no, Texas is just fine" by 5-4 vote. Gorsuch is deciding vote.
Roger Stone: Any Politician Who Votes To Impeach Trump "Would Be Endangering Their Own Life"
Sebastian Gorka resigns post as Deputy Assistant to President Trump. [Immediately goes to work for Sinclair Broadcasting's "mandatory" news stories shown on Sinclair-owned stations. We have two in Eugene (the CBS and NBC affiliates) and BOTH show Gorka's agit-prop pro-Trump anti-fact "news segments" on our local news. Both show Sharryl Attkisson's phony "investigative journalism" show — completely produced by Sinclair — with the CBS affiliate showing the half-hour "news" show right before CBS' 60 Minutes on Sunday nights.]
Trump officially bans transgender people from US armed forces.
HANDOUT FROM JAMES O'KEEFE,
NO PHOTO CREDIT
Trump fires his rally organizer after not enough people show up at his Arizona rally. (Xerxes had the Hellespooont lashed when the sea destroyed his first pontoon bridge into Greece.)
GOP Rep. Duncan Hunter (one of Donald Trump's first allies in Congress) describes Trump as "An A**hole, But He's Our A**hole" to fellow GOPs.
Netanyahu Vows to Never Remove Israeli Settlements From West Bank: 'We're Here to Stay, Forever'
 San Francisco Chronicle: After melees, Berkeley mayor asks Cal to cancel right-wing Free Speech Week
Scientists say Hurricane Harvey was exacerbated by climate change; Republicans say that scientists owe their existence to the presence of a talking snake.
Andrew Kaczynski / CNN:
Rep. Rohrabacher says 'rendezvous' being set up with Trump to relay info from WikiLeaks' Assange on DNC hack  —  STORY HIGHLIGHTS  —  (CNN) Republican Rep. Dana Rohrabacher said Monday that a "rendezvous" is being set up between him and President Donald Trump to relay information he received …
Tom Vanden Brook / USA Today:
Mattis freezes transgender policy; allows troops to continue serving, pending study  —  WASHINGTON — Defense Secretary Jim Mattis late Tuesday announced that transgender troops will be allowed to continue serving in the military pending the results of a study by experts.
Katie Leach / IJR:   Among Other Natural Disasters, Texas Is Facing Nightmare of Floating Fire Ant Colonies
Confederate monument protests, removals, threats and calls for new monuments were ubiquitous and numerous.
Explosions at Houston chemical plant
Fox News Poll: Voters' mood sours, 56 percent say Trump tearing country apart  (August 31)
SEPTEMBER
Muller investigation keeps expanding.
Controversial Milwaukee Sheriff and Trump Supporter David Clarke Resigns Without Explanation
Trump slashes Obamacare's advertising budget by 90%  —  White House also cuts the in-person outreach program by $23 million.
Kid Rock attempts to ingratiate himself with Trump's literate base by writing (on Labor Day)  I am starting to see reports from the misinformed press and the fake news on how I am in violation of breaking campaign law.  —  #1 I have still not officially announced my candidacy.  —  #2 See #1 and go f**k yourselves.  —  Everyone else, Have a great Labor Day …
Damian Paletta / Washington Post: Trump pulls back threat to shut down government over border wall — for now
North Korea Says It Tested a Hydrogen Bomb
Justice Department confirms no evidence Obama wiretapped Trump Tower
Trump announces end of DACA ( Deferred Action for Childhood Arrivals) and demands congress fix it. Then suggests he may reinstate after 30 days if  the congress fails to act.
Walter Becker, co-founder of Steely Dan, dies aged 67
Tronc, Owner of Los Angeles Times, Buys Tabloid New York Daily News
Putin says the nation that leads in AI 'will be the ruler of the world'
created: Friday, ?July ?22, ?2016, ??8:25:13 PM
LIMBAUGH: HURRICANE WARNINGS ARE A LIBERAL CONSPIRACY (Irma)
Irma, the strongest Atlantic hurricane in history, keeps getting stronger
FEMA Is Almost Out of Money and Hurricane Irma Is Approaching
GOP livid after Trump cuts deal with Democrats
Facebook says it sold political ads to Russian company during 2016 election
Hurricane Irma destroys 90 percent of structures, vehicles on Barbuda
Hurricane Irma (NASA)
Kobach on Dreamers: 'Correct policy' is to 'deport the whole family'
Hackers Gain Direct Access to US Power Grid Controls
Conservative Republicans plotting to oust Paul Ryan — and elect Gingrich or Santorum as new house speaker
143 million US consumers' data stolen in Equifax breach
Homeland Security Plans Massive Roundups of Undocumented Immigrants
The Risk of Nuclear War with North Korea
Trump Administration Sides With Baker In Same-Sex Wedding Cake Case
Trump Jr. Says He Wanted Russian Dirt to Determine Clinton's 'Fitness' for Office
More of the Trump pro-rape agenda': Internet torches DeVos for rewriting campus sexual assault rules
Betsy DeVos Plans to Weaken Obama's Campus Sexual Assault Rules
Did Facebook ads traced to a Russian company violate U.S. election law?
Bannon Says He Will Be Trump's 'Wingman' Outside The White House
GOP Senators to Try Again With Alternate Obamacare Replacement
Equifax Says Cyberattack May Have Affected 143 Million Customers
Eric Bolling to pursue Senate seat after being terminated from Fox amid allegations of sexual harassment
Equifax finally responds to swirling concerns over consumers' legal rights
Influential lawyer who inspired Trump's Muslim ban claims 'whites are genetically superior' to people of color
Two NC Republicans say they accidentally asked the Supreme Court to end gerrymandering
Florida gun owners encouraged to 'shoot the storm' and fire their guns at Hurricane Irma
'Gut wrenching': Journalists and politicos react to tragic death of Eric Bolling's 19-year-old son
Hurricane Irma is literally sucking the water away from shorelines …
Gov. Rick Scott enabled Irma's Fury through Climate Denialism & Should Resign
Breitbart's Bannon declares war on the GOP
Dozens of dogs abandoned, left unable to escape as Irma bears down
Jeff Sessions may force entire Security Council staff to take polygraph tests in war on 'leakers'
Miami airport busts Trump social media director for spreading fake news in midst of storm
Sputnik, the Russian news agency, is under investigation by the FBI
Exclusive: Russia Used Facebook Events to Organize Anti-Immigrant Rallies on U.S. Soil
Houston's Floodwaters Are Tainted With Toxins, Testing Shows
Russian politician says on live TV that Russia stole U.S. presidency
After nine months, federal offices are still waiting to hang Trump's picture
U.N. agrees to toughest-ever sanctions against North Korea
8.1 earthquake shakes southern Mexico
After an earthquake and a hurricane — and Trump's failure to send condolences — Mexico rescinds offer of aid to U.S.  —
President Enrique Peña Nieto talks to survivors in the city of Juchitan after a magnitude 8.1 earthquake killed at least 95 people in Mexico…
Senate approves resolution condemning white supremacist groups  (Trump later signs joint resolution with weird 'signing statement' walking it back)
Incredible flooding going on in Downtown Charleston.
Sanders will introduce Medicare for all bill Wednesday, with lots of Democratic co-sponsors
Alex Jones: Sources tell me Trump is being "covertly drugged" and is now slurring his words by 6 or 7 p.m. each night
Seattle Mayor Ed Murray resigns after fifth child sex-abuse allegation
Russia Sought A Broad Reset With Trump, Secret Document Shows
Edith Windsor, Whose Same-Sex Marriage Fight Led to Landmark Ruling, Dies at 88
Full Supreme Court Temporarily Preserves Trump Travel Ban
Exclusive: Paul Ryan Reportedly Says No Chance for Border Wall at Private Dinner
Member of Trump's voter fraud panel pushed to exclude all Democrats, moderate Republicans, academics
Contractors say Clinton State Department silenced them on Benghazi security lapses  (Seriously? The Right has beaten this dead horse into a red smear on the asphalt, but they have nothing else to muddy the waters of the Russia scandal with, evidently.)
Bannon to appear at Berkeley 'Free Speech Week' with Yiannopoulos, Coulter   (Goebbels was unavailable, evidently.)
Trump ambassador qualifications: Wrote a cookbook, sang in a church choir
'My body freezes — my heart stops': NBC Journalist Katy Tur describes receiving an unwelcome kiss from Trump during campaign
Harvard psychiatrist Lance Dodes: Donald Trump is a "sociopath" and "a very sick individual"
Justice Department Will Not Bring Charges Against Any of the Officers Involved in Freddie Gray's Death (Quelle surprise!)
Democrats say they have deal with Trump on young immigrants
The Latest: Trump resumes Twitter feud with Hillary Clinton
Treasury Secretary Mnuchin, Whose Wife Went Viral for Flaunting Wealth, Asked to Use Government Jet for Their Honeymoon
 House Democrats to Mueller: Michael Flynn failed to disclose trip to broker Saudi-Russian nuclear deal
Judge Considers Defying Trump Over Arpaio Pardon
 White House Ethics Office Now Allows Anonymous Gifts to Staffers' Legal Funds
 FEMA Nominee Withdraws Amid Questions About Falsifying Records
Motel 6 locations suspected of tipping off ICE agents of undocumented immigrants in Arizona
Bernie Sanders's Bill Gets America Zero Percent Closer to Single Payer
POTUS Trump Went Nuclear on "Idiot" AG Sessions, Demanded He Resign After Mueller Appointment
GOP feels betrayed by Trump's dealmaking with Dems
Facebook Enabled Advertisers to Reach 'Jew Haters'
Trump Resurrects His Claim That Both Sides Share Blame in Charlottesville Violence
GOP Rep Goes Full Crazy And Claims Charlottesville Nazis Were Actually Liberal Actors
North Korea Launches Another Missile, Escalating Crisis
Reuters:   North Korea threatens to 'sink' Japan, reduce U.S. to 'ashes and darkness'
FT journalist presumed dead after being 'dragged into water by crocodile'
Parsons Green: London Underground blast is terror incident
Saudi Arabia Detains Critics as New Crown Prince Consolidates Power
U.S. Navy Investigating If Destroyer Crash Was Caused by Cyberattack
CNN Celebrity Chef Anthony Bourdain Says He Would Poison Trump's Food
UC-Berkeley braces for riots over conservative Ben Shapiro's speech on campus  [Sept 24-27]
Texas secession movement: Russia-linked Facebook group asked us to participate in anti-Clinton rallies
After Massive Giveaways to Industry, Mining Executives Will Spend Big at Trump's D.C. Hotel
GOP Congressman Sought Trump Deal on WikiLeaks, Russia  —  Rep. Rohrabacher asks for pardon of Julian Assange in return for evidence of no 2016 election meddling
Eight Months In, and Trump Inaugural Committee Has yet to Provide Promised Funds to Charity
Judge rules in city's favor on sanctuary cities, grants nationwide injunction
Twitter Lets You Target Ads to Millions of People Who Use the N-Word
Google Allowed Advertisers To Target "Jewish Parasite," "Black People Ruin Everything"
Trump Advisers Secretly Met With Jordan's King While One Was Pushing A Huge Nuclear Power Deal
Federal investigators have 'thousands of intercepts' related to Ukranian oligarch with ties to Paul Manafort
Faced with an up-or-down choice on Charlottesville resolution, Trump chooses third option
Ex St. Louis Cop Who Said He'd 'Kill This Motherf****r' Before Shooting Black Man Found Not Guilty By Judge
Senate Republicans claim they are a few votes away from repealing Obamacare
Trump's fed attorney pick once cited infamous pro-slavery 'Dred Scott' case as anti-abortion precedent
New details about major Russian money-laundering investigation raise the stakes of Trump Tower meeting
America's vitriol towards Clinton reveals a nation mired in misogyny
Trump's Tweets About London Bombing Anger British Leaders
 The Trump Administration Won't Release List of Mar-a-Lago Guests, Despite Court Order
 Invoice shows U.S. taxpayers billed $546 per night for government officials to stay at Mar-a-Lago
To paraphrase Homer …
Seeing the Confederacy Clear
Trump Administration Won't Withdraw from Paris Climate Deal  (Wall Street Journal)
Wall Street Journal Claims Trump Rethinking Paris Climate Pullout, White House Denies
Russia probes leave Trump associates struggling with huge legal bills
Police and protesters clash in St. Louis after former officer who shot black driver acquitted on murder charges
FEMA auctioned disaster trailers before Harvey made landfall
More former classmates of Mnuchin call on him to resign
Sign language interpreter used gibberish, warned of bears, monsters during Hurricane Irma update
Hurricane Jose May Threaten New York, U.S. East Coast Next Week
 After 8 Nursing Home Deaths, Florida Issues Emergency Rules to Protect Elderly
Coulter defends CNN's Anthony Bourdain for joke about poisoning Trump
Establishment gears up for Steve Bannon's war on the GOP leadership
U2 cancel St. Louis concert due to ongoing protests over Jason Stockley acquittal
Rolling Stone, Once a Counterculture Bible, Will Be Put Up for Sale
Interior Report Recommends Cuts or Changes to Seven National Land Monuments
Shrink at least 4 national monuments and modify a half-dozen others, Zinke tells Trump
Trump retweets GIF of him hitting Clinton with golf ball
Senate GOP tries one last time to repeal Obamacare
House Democrats Break Campaign Fundraising Record
Four Boston College students attacked with acid in France
 Raids, warrants, and wiretaps: The Trump-Russia probe 'has reached a critical stage'
Murray makes big concession in bipartisan health talks
 John McCain Compares New Obamacare Repeal Effort To 'Murder Or Train Robbery'
Fox News Contributor Says Rape Allegation Blacklisted Her
Eric Trump's foundation holds clandestine event at Trump golf club despite open investigation into charity practices
A chilling study shows how hostile college students are toward free speech
Trump Administration Rejects Study Showing Positive Impact of Refugees
Senate Republicans Consider a Trillion-Dollar-Plus Tax Cut for Budget
Equifax Suffered a Hack Almost Five Months Earlier Than the Date It Disclosed
Jerry Brown compares Trump supporters to cave dwellers
Stanislav Petrov, Soviet soldier credited with saving world from nuclear war, dies at 77
Clinton urges government workers not to quit their posts
Latino Republicans Say They Aren't Getting Their Calls Returned By The White House
How the FEC Turned a Blind Eye to Foreign Meddling
Wall Street Journal: Climate Change Hype Doesn't Help
Anti-Fascists Used Twitter To Find A Neo-Nazi Walking Around Seattle And Beat Him Up
Toys 'R' Us, Once a Category Killer, Is Forced Into Bankruptcy
Oh, and the Northwest is burning (all month):
Smoke from the Western Fires in September (NOAA -GOES 16)
And we're up to date with Maria ravaging Puerto Rico and José menacing the US Eastern seaboard. And dthe Mexican cleanup from two huge earthquakes: 8.1 and 7.1. (By contrast, the infamous 1994 "Northridge quake" in LA was only a 6.7.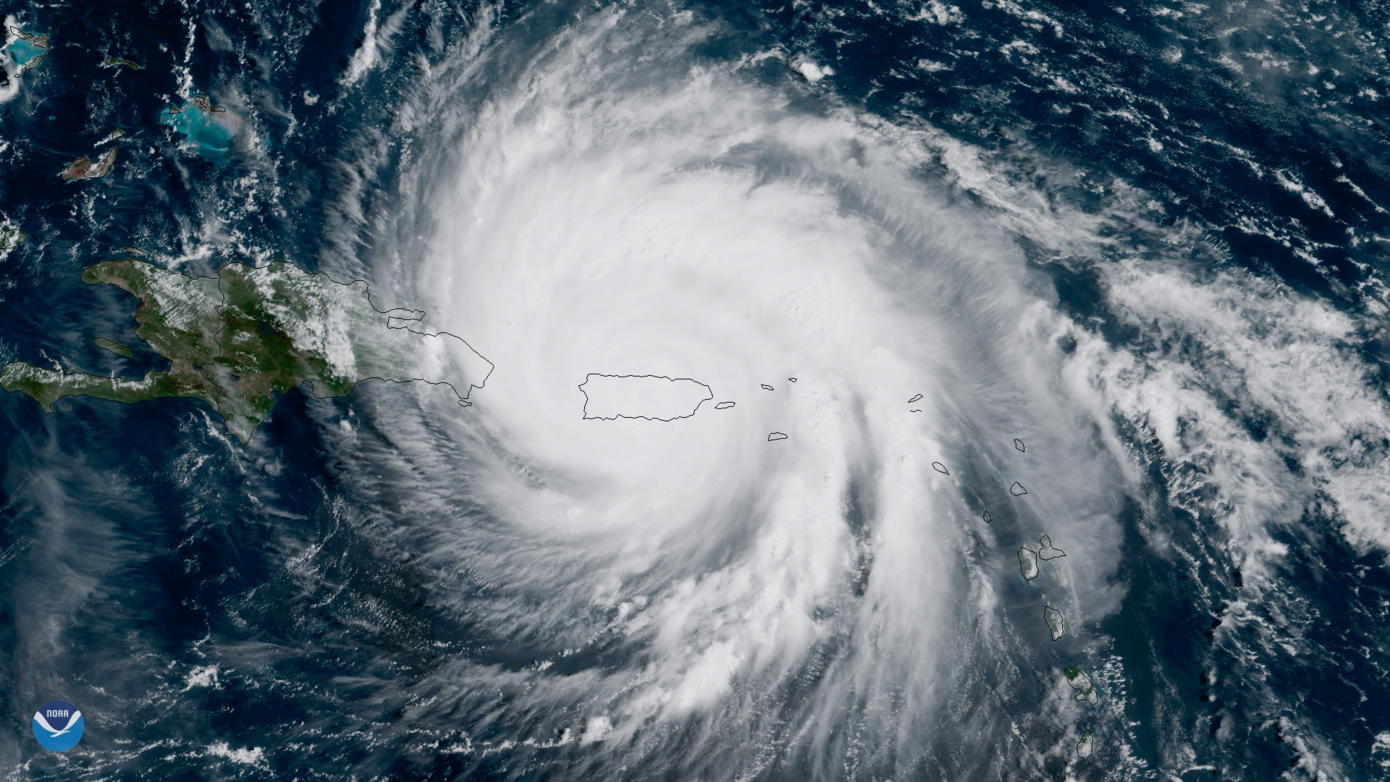 Hurricane Maria Over Puerto Rico
(click pic for full size)
Joseph and Mary — an exclamation being muttered in a big chunk of the Caribbean.
It that's a "warm and fuzzy" eclipse, I'd hate to see a bad one.
[Traditionally, earthquakes are a well-known astrological effect of eclipses — just sayin.]
Here's some Nuagey twaddle for you:
This Eclipse opens a portal into a big New Chapter of life on Planet Earth, a New Chapter that will take us through an important part of our transition into the Age of Aquarius.

Quite obviously this New Chapter brings with it much turmoil and challenge, to put it lightly; but this New Chapter will also bring many great awakenings, heart openings, a greater sense of connection and meaning, and new vistas of truth beyond what we have been programmed to believe about ourselves and our world.
And some scientific twaddle to go with it:
Do solar eclipses affect humans?
No, there's no evidence that eclipses have any physical effect on humans. However, throughout history, eclipses have been known to produce profound psychological effects. For millennia, they were sometimes interpreted as portents of doom by virtually every known civilization.
Empiricism — observation of reality — doesn't seem to bear either one out. The old superstitious notion that eclipses aren't portents of doom isn't refuted by this moon-ths news.
And that's my point. Again, no position taken, just the alternative facts, ma'am.
Feels pretty doomy to me.
Courage.