Military Weekend: The Week That Was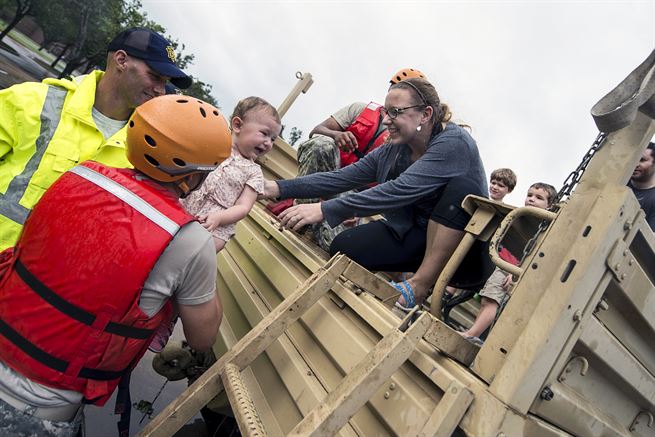 During the past ten days or so, our active duty, reserve and National Guard military have once again shown their dedication, mettle, compassion and, often, heroism helping with search, rescue and recovery activities during and after Hurricane Harvey.
Here are some images: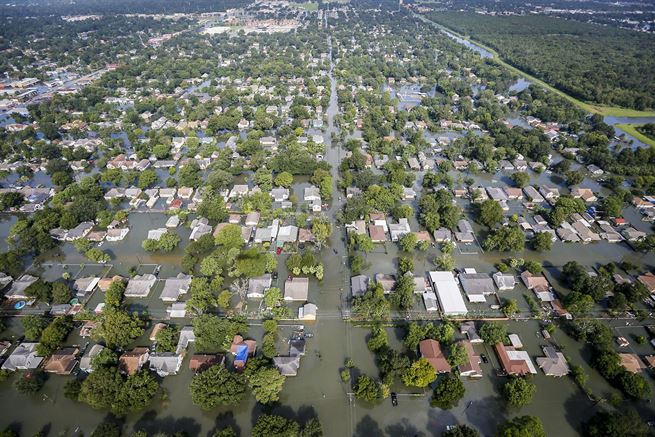 An aerial view shows extensive flooding from Harvey in a residential area in Southeast Texas, Aug. 31, 2017. Air National Guard photo by Staff Sgt. Daniel J. Martinez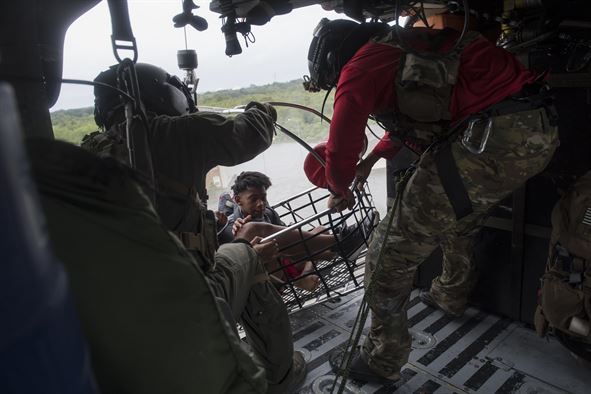 A 41st Rescue Squadron special missions aviator, and a 38th Rescue Squadron pararescueman, secure a basket carrying evacuees, Aug. 30, 2017, over a residence in the Houston area. (U.S. Air Force photo by Tech. Sgt. Zachary Wolf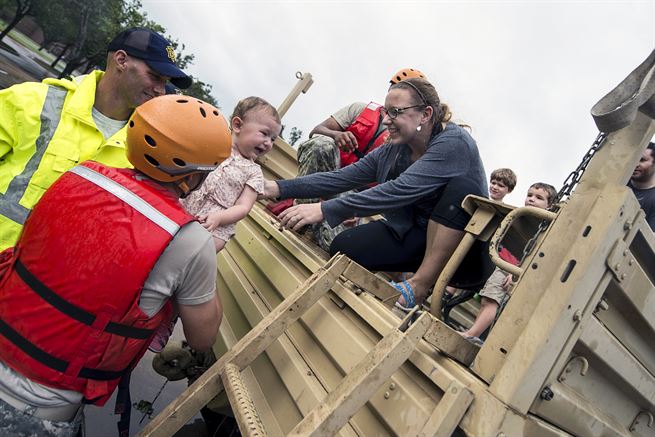 Soldiers help rescue residents, including a crying child, to safety following the devastating effects from Hurricane Harvey's aftermath in Sugar Land, Texas, Aug. 29, 2017.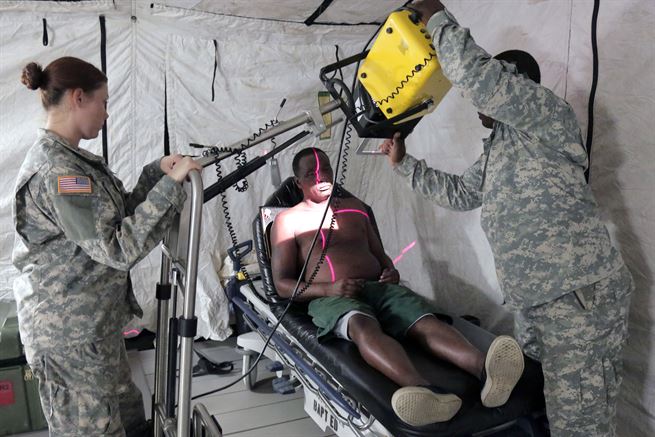 Army Spc. Meredith Lollar, left, and Sgt. Gerard Wilson prepare to take x-rays of a resident at a local hospital in Beaumont, Texas, Sept., 03, 2017, during Harvey relief efforts. Lollar and Wilson are assigned to Company C, 949 Brigade Support Battalion. Army photo by Spc. Hayley Gardner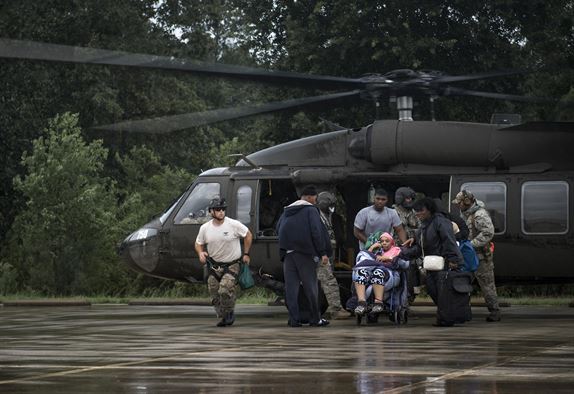 Airmen and Soldiers assist victims out of a UH-60 Black Hawk, Aug. 30, 2017, at the Orange County Convention and Expo Center in Orange, Texas. (U.S. Air Force photo by Staff Sgt. Ryan Callaghan)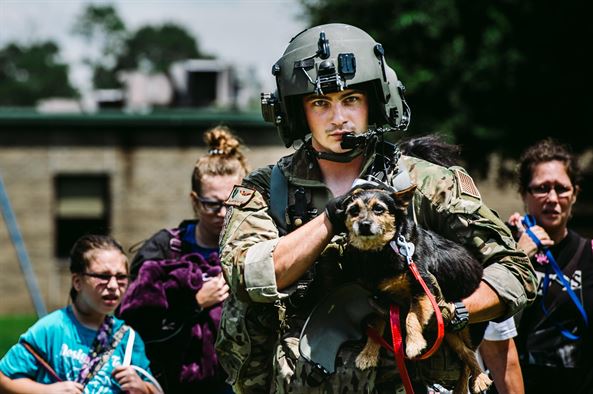 Senior Airman Austin Hellweg, a 129th Rescue Squadron special missions aviator, carries a dog and leads a family into an HH-60 Pavehawk for extraction to a safer location during the relief effort for Hurricane Harvey, Aug. 31, 2017, in Beaumont, Texas. (U.S. Air Force photo by Staff Sgt. Jordan Castelan)
But there is always that sweet homecoming to look forward to: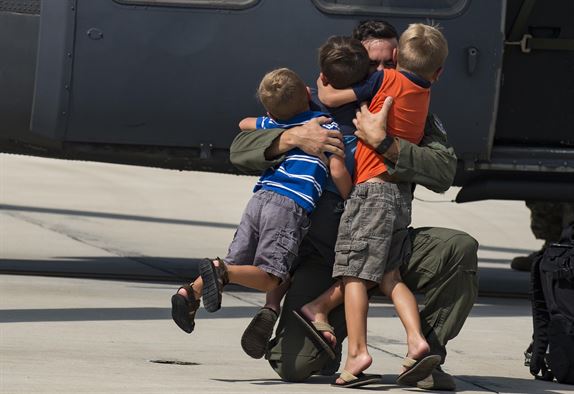 Children greet their father on the flight line after his return from supporting Hurricane Harvey Relief efforts, Sept. 3, 2017, at Moody Air Force Base, Ga. Aircrew, maintenance and support personnel from the 23rd Wing returned to Moody AFB after supporting relief efforts in the aftermath of Hurricane Harvey in Texas. (U.S. Air Force photo by Andrea Jenkins)
And here comes Irma, "One of the most powerful Atlantic hurricanes ever recorded..."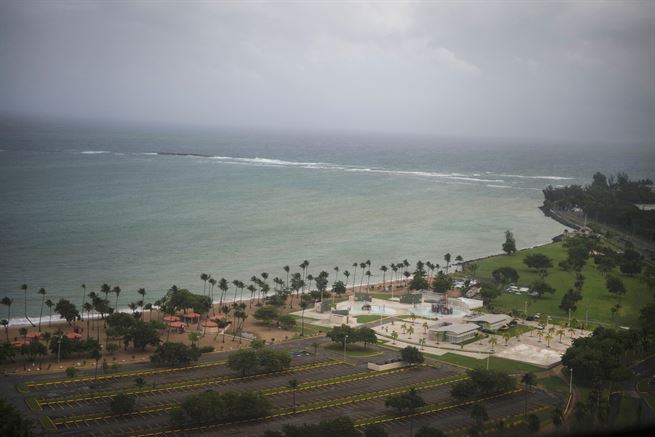 The outer band of Hurricane Irma approaches San Juan, Puerto Rico, Sept. 6, 2017. Air Force photo by Staff Sgt. Douglas Ellis
…and off our military go again: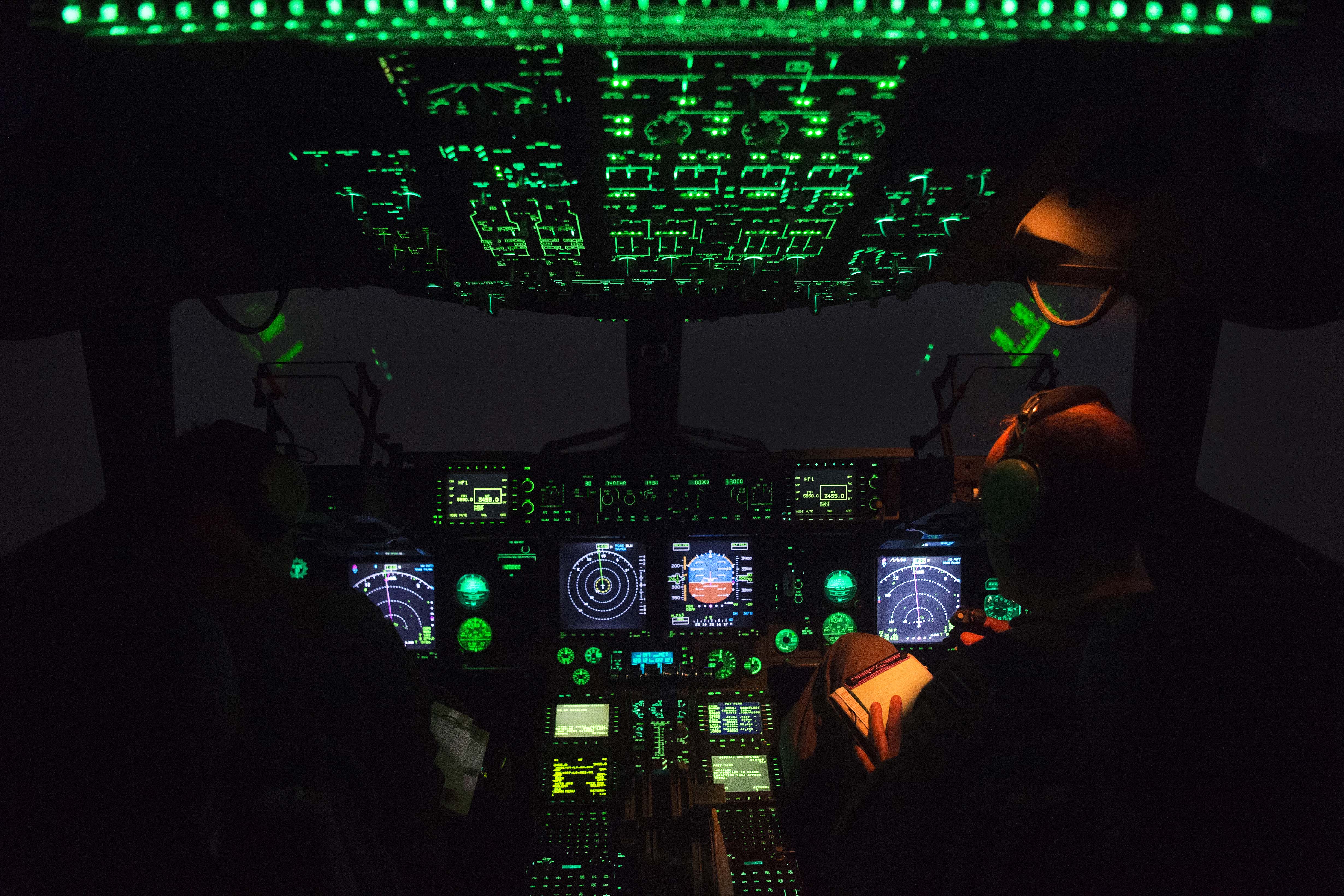 Air Force C-17 Globemaster III pilots take off from Richmond International Airport in Richmond, Va., Sept. 6, 2017, bound for Puerto Rico for a hurricane relief mission to prepare for Hurricane Irma. Air Force photo by Staff Sgt. Douglas Ellis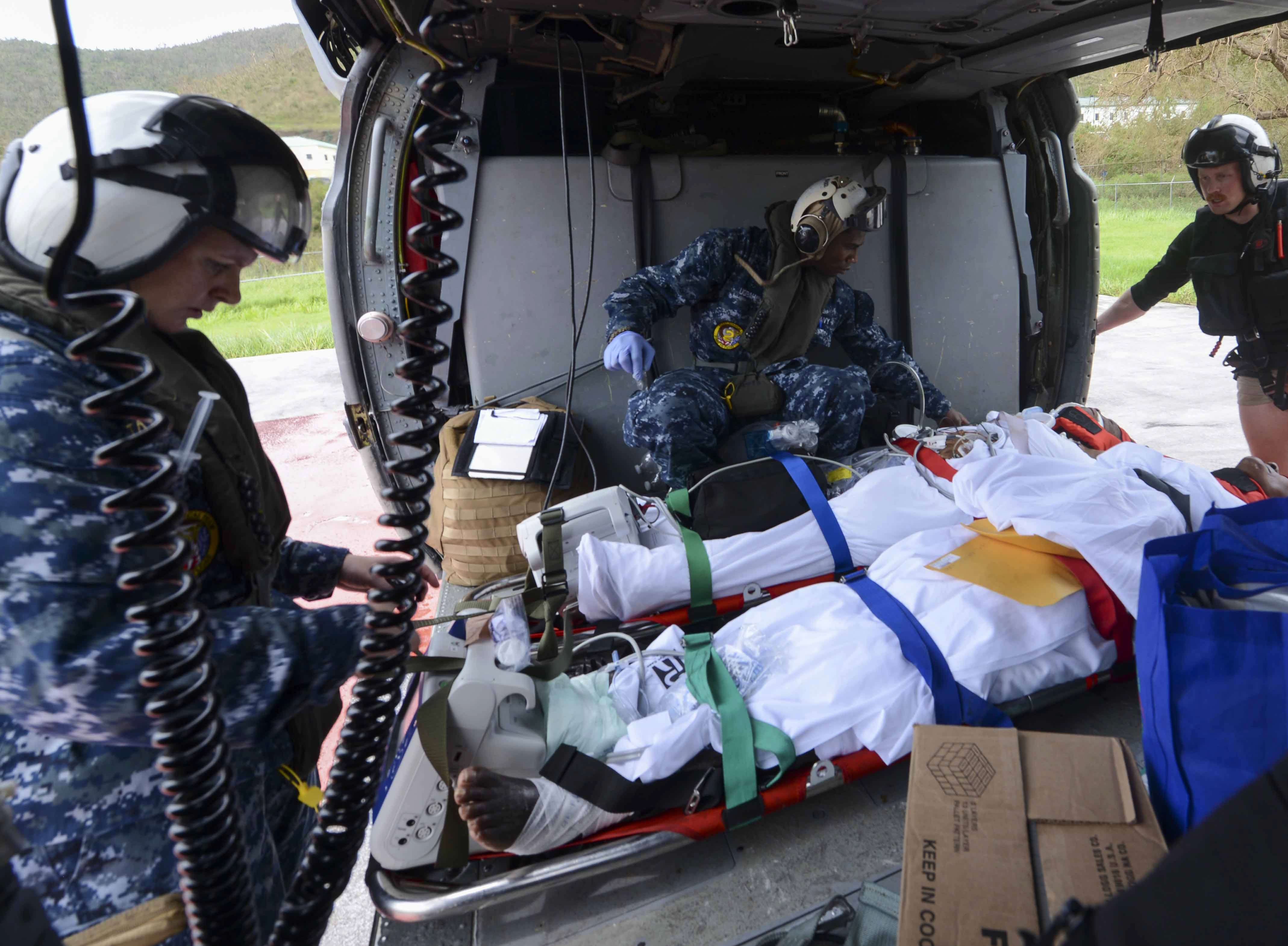 Sailors attached to the amphibious assault ship USS Wasp (LHD 1) load evacuees onto an MH-60S Sea Hawk helicopter, assigned to Helicopter Sea Combat Squadron 22 (HSC-22), as part of first response efforts to the U.S. Virgin Islands in the wake of Hurricane Irma. (U.S. Navy photo by Mass Communication Specialist 3rd Class Levingston Lewis/Released)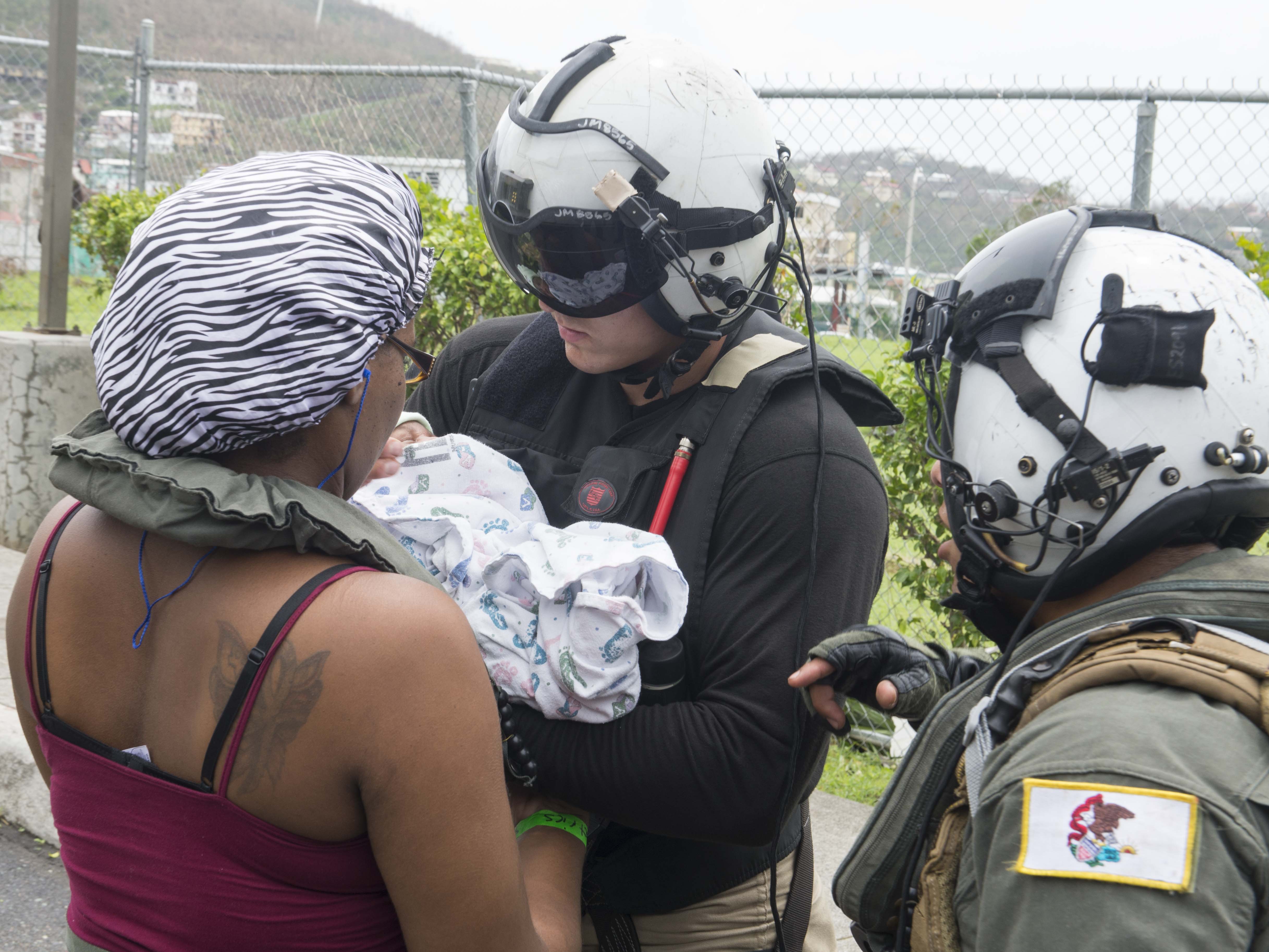 Naval Aircrewman (Helicopter) 2nd Class John Malico and Aircrewman (Rescue Swimmer) 1st Class Erick Sotelo, both assigned to Helicopter Sea Combat Squadron (HSC) 22, help a mother and child during the U.S. Navy relief efforts in the U.S. Virgin Islands following Hurricane Irma. (U.S. Navy photo by Mass Communication Specialist 2nd Class Nathan Wilkes/Released)