Gary Cohn, Trump's top economic advisor, is quitting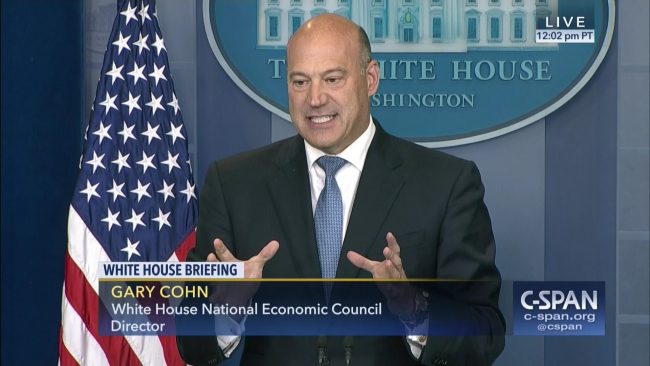 The Trump administration not-so-Merry Go Round continues: Gary Cohn, who has served as President Donald Trump's chief economic adviser since last year, is quitting. Reports say it's over a)general frustration b)Trump's refusal to ditch Trump's planned tariffs on steel and aluminum imports. Trump is ignoring his own advisers and many GOPers on his plan, which many predict will trigger a disastrous trade war.
The New York Times reports:
Gary D. Cohn, President Trump's top economic adviser, said on Tuesday that he would resign, becoming the latest in a series of high-profile departures from the Trump administration.

White House officials insisted that there was no single factor behind the departure of Mr. Cohn, who heads the National Economic Council. But his decision to leave came after he seemed poised to lose an internal struggle over Mr. Trump's plan to impose large tariffs on steel and aluminum imports. Mr. Cohn had warned last week that he might resign if Mr. Trump followed through with the tariffs, which Mr. Cohn had lobbied against internally.

Gary has been my chief economic adviser and did a superb job in driving our agenda, helping to deliver historic tax cuts and reforms and unleashing the American economy once again," Mr. Trump said in a statement to The New York Times. "He is a rare talent, and I thank him for his dedicated service to the American people.

Mr. Cohn is expected to leave in the coming weeks. He will join a string of recent departures by senior White House officials, including Mr. Trump's communications director and a powerful staff secretary.
Cohn previously was reported to have considered resigning in August 2017 over Trump's response to the white supremacist rally in Charlottesville, Virginia. In an interview with the Financial Times at the time, Cohn criticized Trump for blaming "both sides" for the violence, arguing that the White House "can and must do better in consistently and unequivocally condemning these groups."

There was also speculation that Cohn might leave the White House following the passage of the GOP tax plan late last year. Trump publicly addressed those rumors in January, calling Cohn himself on stage to address them during a media availability.

He is the latest in a series of high-profile departures from the White House. Most recently, communications director Hope Hicks, one of the president's most trusted advisers, decided to step down from her post.
it's another time to remember that Gary Cohen was so upset over Trump's equivocating on Nazis after Charlottesville that he talked about resigning then, but didn't — but Trump's tariffs and trade wars sent him over the edge https://t.co/sw3Fq86eRf

— Edward-Isaac Dovere (@IsaacDovere) March 6, 2018
Gary Cohen out. Quit. Noticeably absent at news conference when @POTUS stiffed the Swedish guest and blamed the EU for trade deficit, said a trade war could be good thing. Trump telegraphed imminent change and said cryptically "everybody wants to work at the White House"

— Andrea Mitchell (@mitchellreports) March 6, 2018
NYT: #GaryCohen director of the White House Economic Council jumping the SS Trump. https://t.co/Isj9sKJdJF pic.twitter.com/GlHmYyi9QV

— Robert Heikkila (@newsouth418) March 6, 2018
CNN's Jeffrey Toobin blasts Cohn's righteous resignation: 'He stomached the racism but couldn't handle the tariffs' https://t.co/VlCqhNCwvE

— Raw Story (@RawStory) March 7, 2018
In this moment of principle for Gary Cohn we can reassure him that he did decide to stay in the Trump administration after the President stood up for Nazis and white supremacists. Trumpism. Bleach can't get it out.

— Josh Marshall (@joshtpm) March 6, 2018
Since Sam Nunberg:
-Trump says no CHAOS
-North Korea talks
-Kellyanne violates Hatch Act
-Trump admits Russian interference
-Trump likes watching aides fight
-Trump promises "very loving" tariffs
-Gary Cohn resigns
-UAE adviser cooperates with Mueller
-Stormy Daniels sues Trump

— Philip Rucker (@PhilipRucker) March 7, 2018