(UPDATES) Amy McGrath, a Marine Combat Fighter Pilot on a New Mission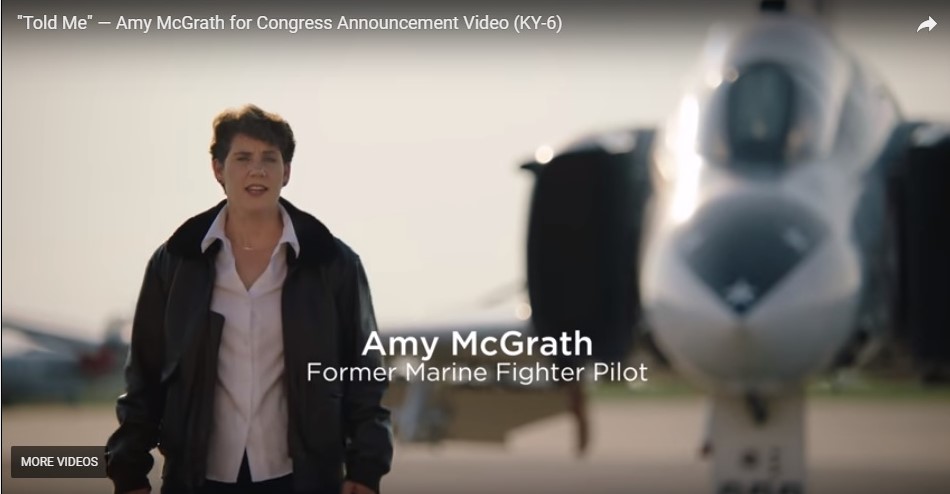 Update II:
In light of the recent "solidarity" with white supremacists and neo-Nazis Trump has displayed, retired Marine Marine Lt. Colonel Amy McGrath has produced a second campaign video.
In it, the colonel talks about her experience during 9/11 and makes two important points:
1. The absolute power of the commander in chief and how, with this president, "that is concerning"
2. There are times when politicians are faced with difficult choices, such as "Do you stand with the president or do you stand with the country?"
Please watch the video below.
Update I:
During World War II, the Soviet Union became the first nation to allow women to fly combat missions. They were the women military aviators of the 588th Night Bomber Regiment referred to by the Nazis as "The Night Witches." They kicked Nazi butt.
Watch the video below
And read/watch how, today, another woman fighter pilot is getting ready to kick butt.
Original post:
Mitch McConnell's very, very short military service, which the Senator will not even acknowledge and which, to say the least, "just doesn't add up" pales in comparison to the service of a fellow Kentuckian running for political office.
You see, Lt. Col. Amy McGrath, a retired Marine Corps combat fighter pilot and mother of three, has just announced that she is running for the seat of Andy Barr, the current U.S. House Representative of Kentucky's 6th Congressional District, whom she calls McConnell's "hand-picked choice" for the seat.
There is quite a story behind this fresh, young face challenging the Republican majority led by, in the Senate, a man who has been likened to "everything from a warmed-over vanilla milkshake to 'a man with the natural charisma of an oyster.'"
In a superb video the colonel just released, McGrath repeatedly and poignantly refers to her antithesis.
Addressing her opponent, Barr, directly, the first female Marine to fly in an F-18 in combat says, "Mr. Barr, my mom is a polio survivor who became one of the first women to graduate from UK Medical School. She persevered and ended up treating many of the same kind of people whose health care that you and Mr. McConnell would take away."
And, indirectly addressing both Barr and McConnell, "This is my new mission: to take on a Congress full of career politicians who treat the people of Kentucky like they're disposable."
Recalling her dream when she was only 12 to "fly fighter jets and land on aircraft carriers, because that's the toughest flying you can do," McGrath recounts how she wrote a letter to her representatives but was informed by her congressman that such would not be possible because "women ought to be protected and not allowed to serve in combat."
How about Senator McConnell? "Never got a letter back from my senator, Mitch McConnell," McGrath says
Nevertheless, McGrath persevered, attended the U.S. Naval Academy and while she was there, the law was changed allowing women to serve in combat.
McGrath went on to serve 20 years in the Marine Corps, during which she "flew 89 combat missions bombing al Qaeda and the Taliban."
McGrath's next mission will be one to represent the people of her district and of Kentucky who are treated by Congress "like they are disposable."
McGrath, who says her decision to run stems from Trump's election as president, "which caused her to rethink what it is to be an American."
She is the third Democrat to announce that she will campaign for the Kentucky seat and is one of approximately 20 military veterans who have announced campaigns challenging Republicans in the 2018 mid-term elections.
Her pledge to the voters of Kentucky's sixth Congressional District:
When my country called, I proudly served to defend our nation against those who would do us harm.
Today, a government that doesn't work for the people threatens our way of life more than any foreign adversary. The public deserves leaders who are grounded in integrity and brave enough to tell them the truth, instead of misleading them into thinking that quick fixes are right around the corner.
We must have members of Congress willing to stand up to partisanship, divisiveness and duplicity, and meet our challenges head on, always putting country before politics.
That's the style of decisive leadership I learned in the Marines and it's what I'm prepared to bring to Congress. Our country is in crisis. We need leaders who never flinch.
Watch McGrath's compelling campaign video below:
"Amy holds an M.A. in International/Global Security from The Johns Hopkins University and a Graduate Certificate in Legislative Studies from Georgetown University. She is also a graduate of the Center for the Study of Weapons of Mass Destruction's Program for Emerging Leaders at the National Defense University, Marine Amphibious Warfare School, Marine Fighter Weapons Division Tactics Course, and Marine Corps Command and Staff College. Amy's awards include two Meritorious Service Medals, eight Strike Flight Air Medals, Navy/Marine Corps Commendation Medal, Navy Achievement Medal, Presidential Unit Citation, two Afghan and one Iraq Campaign medals."
To learn more about Col. McGrath and to donate to her campaign, please click here
Cross-posted from the Huffington Post
Click here for reuse options!


Copyright 2017 The Moderate Voice