Blagojevich Got Ronald Burris' Son A Job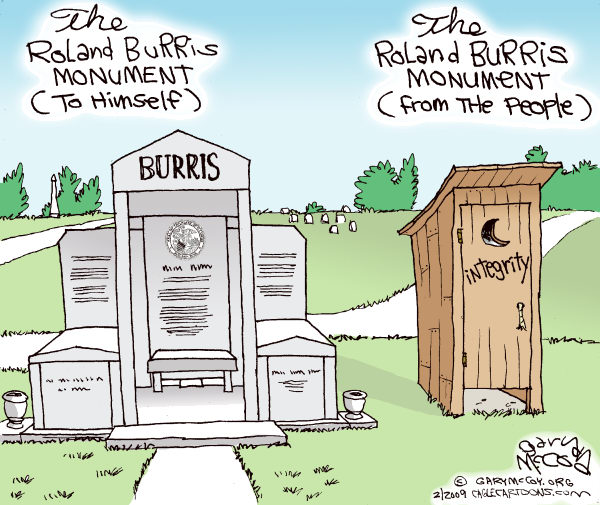 There's that icky phrase: "It doesn't pass the smell test." Icky phrase alert: the latest story involving beset Illinois Sen. Ronald Burris' political saga doesn't seem to pass the smell test.
In fact, gas masks may well be in order.
In case you've been on Mars, Burris has been literally clinging to power despite eyebrow raising stories about him and impeached former Governor Rod "Pay for Play" Blagojevich. The latest comes from the ever-enterprising Chicago Sun Times — which finds that the beset Senator's son got a job from the controversial Governor who appointed him to serve the rest of now President Barack Obama's Senate term.
The son of embattled Sen. Roland Burris is a federal tax deadbeat who landed a $75,000-a-year state job under former Gov. Rod Blagojevich five months ago, the Chicago Sun-Times has learned.
"Federal tax deadbeat"? Who did he think he was? Tom Daschle?
Blagojevich's administration hired Roland W. Burris II as a senior counsel for the state's housing authority Sept. 10 — about six weeks after the Internal Revenue Service slapped a $34,163 tax lien on Burris II and three weeks after a mortgage company filed a foreclosure suit on his South Side house.
So what? After all, couldn't any reader of this site could have gotten a job the same way? MORE:
A spokeswoman for the Illinois Housing Development Authority indicated Wednesday there was nothing improper about Burris II's employment by the agency, whose mission includes overseeing mortgage programs for low-income home buyers and anti-foreclosure initiatives.
So there you have it. Or do you?
Burris II's hiring, however, raises more questions about Sen. Burris' interactions with Blagojevich and his inner circle at a time when the governor was soliciting Sen. Burris for campaign contributions and Burris was angling to have Blagojevich appoint him to the Senate seat once held by President Obama.
The bottom line is that Burris may be in a Clintonesque "it all depends on what is is" situation where he will be in increasing trouble due to what he did not mention even if what he left out doesn't indicate actual guilt.
Hey you left out that the Gov was asking you for contributions. "OOPS!" Hey, you left out that the Gov helped get your son a job even though he owed a lot of taxes. "OOPS!" And Burris may be in hotter water now because:
(1) Political bigwigs in both parties and the media didn't want him to be appointed by Blago in the first place since Blago was under a cloud (which later became a political tornado that sucked him out of the Governor's seat) when he appointed him.
(2) Burris battled to keep his seat and basically refused to give it up when some politicos of both parties and even the White House's new Oval Office occupant subtly and not so subtly suggested he not be seated early on.
(3) At least one supporter played the race card and had suggested that if the white Senate body didn't seat him it could be seen as racist.
(4) Obama seems to want to let this one pass since it was clear Burris was even contemplating a court battle and that could have upset Obama's transition (Obama is not in a transition anymore).
But, mostly, it's now is clear that the press sees a hot story and is pursuing all leads. Just look at the Sun-Times boilerplate recap:
Blagojevich appointed Burris to that seat in late December after Blagojevich was charged with trying to sell the vacancy to the highest bidder.

Sen. Burris, 71, is fending off calls for his resignation and is the subject of a Senate ethics probe and a perjury investigation by the top prosecutor in Downstate Sangamon County. Those probes stem from conflicting testimony Sen. Burris provided to the House panel that drafted impeachment charges against Blagojevich, who was removed from office Jan. 29.

Separately, federal authorities have been investigating hiring decisions by Blagojevich's administration. Authorities, however, have not expressed any interest in Burris II, Housing Development Authority spokeswoman Rebecca Boykin said.
But it does NOT look good in this context, and the Sun-Times — and other news outlets — are on sound journalistic territory by aggressively looking into aspect of the Burris-Blago relationship. If there isn't fire, there are signs of smoke — and it certainly smells of smoke.
How serious it for Burris? He is now a major news story. His very presence or absence at events is now news.
And his defenders? One of his associates is playing the race card — again:
U.S. Sen. Roland Burris' media consultant says the black community must stand behind him regardless of personal feelings in order to keep an African-American in President Barack Obama's former Senate seat.

Delmarie Cobb's suggestion is contained in prepared "talking points" she outlined in a note sent to a member of the Chicago City Council's Black Caucus.

Burris is the nation's only black U.S. senator.

Cobb's note suggests the black community should help rehabilitate Burris' battered image so he can be elected to a 6-year term, then work to find a black successor.
Cartoon by Gary McCoy, Cagle Cartoons
The above cartoon is copyrighted and licensed to appear on TMV. All Rights Reserved. Unauthorized reproduction prohibited.
NOTE: Due to typos Gov. Blago's name was spelled incorrectly in the headline. It has been fixed. TMV regrets the error.
Donate to The Moderate Voice
Share This