In a Clinton v. Trump battle, both are likely to lose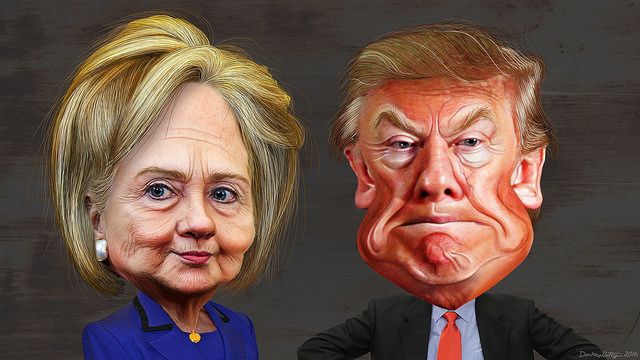 Nate Cohn, whose reports for the New York Times are enriched by his interest in demographics, sees Trump as having a "significant disadvantage" in a race against Hillary Clinton. We are, he writes, in a time when "early horse-race polls start to give a rough sense of the November election, and Mr. Trump trails Mrs. Clinton by around 10 percentage points in early general election surveys, both nationally and in key battleground states. He even trails in some polls of several states where Mitt Romney won in 2012, like North Carolina, Arizona, Missouri and Utah."
Hmmm. Sanders doesn't figure in these calculations so this is great news for a supporter of the Democratic Party machine. But its a dull thud for progressives and for those of us who believe the partnership of big money and politics is the death knell of democracy. Clinton supporters may claim that Hillary is just "realistic" about money, but that doesn't wipe out our worries about, say, our justice system and the vivid pictures of a dead teenager on a suburban street in Missouri or another death in a jail cell after a minor driving offense in east Texas or a gaggle of cops executing a minor offender by using a dangerous practice called a chokehold.
It may turn out that the best we can do in 2016 America is vote for one of two candidates who are ambitious but morally are far less than ideal. The demographics do seem to point towards the left.
…This is when early horse-race polls start to give a rough sense of the November election, and Mr. Trump trails Mrs. Clinton by around 10 percentage points in early general election surveys, both nationally and in key battleground states.

He even trails in some polls of several states where Mitt Romney won in 2012, like North Carolina, Arizona, Missouri and Utah.

Could Mr. Trump overtake Mrs. Clinton? Sure. Mrs. Clinton is very unpopular herself. Her polling lead is a snapshot in time, before the barrage of attack ads that are sure to come her way. There have been 10-point shifts over the general election season before, even if it's uncommon. But there isn't much of a precedent for huge swings in races with candidates as well known as Mr. Trump and Mrs. Clinton. A majority of Americans may not like her, but they say they're scared of him. To have a chance, he'll need to change that. …Cohn,NYT
Trump isn't doing all that well, not if you add up the numbers — not even in "strongly Republican" Utah, Cohn writes. And this:
Mr. Trump is faring worse than Mr. Romney among white voters in all of the presidential battleground states. Polls even show Mr. Trump losing white voters in states where Mr. Romney won them, like Colorado, Pennsylvania and Wisconsin. It's enough to put him at a big disadvantage in early surveys of diverse battleground states like Florida and Virginia — as well as North Carolina and Arizona, two states Mr. Romney won in 2012. ...NYT
Imagine a moment in, say, 2018 when we're all sitting around the campfire reviewing the '16 election, realizing that — all along — it was about Clinton v. Sanders, status quo v. social and economic justice. …And Donald Trump was just another passenger in the clown car.
Cross-posted from Prairie Weather
Caricature by DonkeyHotey via Flickr