Gallup Daily: Clinton As Vice President Would Give Obama Slight Bounce
So now the debate and speculation rages: will he (Democratic presumptive nominee Senator Barack Obama) pick her (ready-to-concede Senator Hillary Clinton) as his Vice Presidential nominee? And wouldn't he get a big political boost if he did?
Actually, a new Gallup Daily tracking polls says: Not really…
A slight majority of Democrats say that Barack Obama should choose Hillary Clinton as his Democratic running mate for the fall election.

The specific question included on the Gallup Poll Daily tracking for Wednesday asked Democrats and Democratic-leaning independents directly if they would "like to see Barack Obama choose Hillary Clinton as his vice presidential running mate", or if they would rather he choose someone else.

Slightly over half of Democrats say they would like Obama to choose Clinton, while 34% say they think he should choose someone else, and about 14% have no opinion or are undecided. These responses are statistically unchanged from when this question was asked of Democrats several weeks ago.

A separate analysis of data from Wednesday night shows that Obama gets a slight bounce in his standing against John McCain when voters are presented with the concept of a Democratic Obama-Clinton ticket for the fall election.
The pressure has been building on Obama to pick her — pressure mostly from Obama supporters. However, today Clinton took great pains to say the decision to pick the Veep (one of the least Democratic parts of the American political process, essentially giving a vital post to someone by letting the nominee handpick him/her) is up to Obama…partly because there were signs the efforts could be counterproductive:
Senator Hillary Rodham Clinton today disavowed a campaign by some of her supporters to pressure Senator Barack Obama into choosing her as a running-mate, saying they were acting on their own and the decision on who to pick was "Senator Obama's and his alone."

The statement from Mrs. Clinton campaign came after two days in which a number of her key supporters had pressed the idea of picking her as a running-mate, saying that such a match-up was key to salving wounds in the Democratic Party and to assuring a Democratic victory in the fall. And Mrs. Clinton had made no obvious effort to discourage it, telling New York lawmakers, in a private conference call earlier this week, that she was open to serving as Mr. Obama's running-mate.

The apparent campaign to push Mrs. Clinton onto the ticket was, in its directness, unusual and several Democrats said arguably counterproductive. Aides to Mr. Obama said they were unhappy with the effort and some Democrats outside the campaign said that Mr. Obama could be portrayed to bowing to pressure should he choose Mrs. Clinton to run with him.
Meanwhile, speculation over the Vice Presidential slot and Clinton has given cartoonists a field day. Here are two (we'll run more later on so keep checking back.):
Bob Englehart, The Hartford Courant: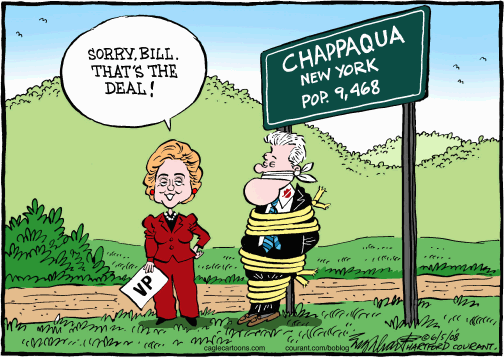 Mike Lester, The Rome News-Tribune: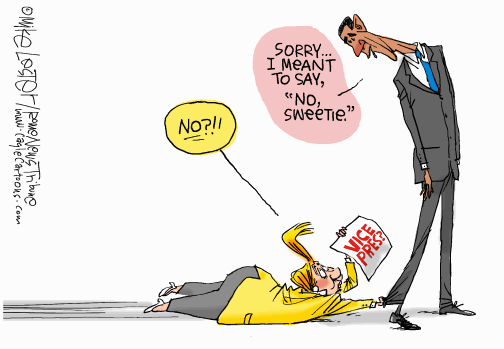 Donate to The Moderate Voice
Share This