South Carolina: an ugly place for politics
The 2016 Republican primary in South Carolina was ugly: racist, fear-mongering ugly. But that's nothing new for South Carolina.
In case you missed it, here's what the Ted Cruz (TX) campaign sent to GOP voters to smear Marco Rubio (FL):
How they do it in SC. Here's @tedcruz mailer on @marcorubio pic.twitter.com/7VGjQ392Jo

— Michael Isikoff (@Isikoff) February 20, 2016

From Talking Points Memo:
We've moved beyond the dog whistle, we're just full blown with the race card." Rep. Gilda Cobb-Hunter (D-SC)
Cruz spokesman Rick Tyler denied that the mailer contained any racial subtext.
In addition, a pro-Ted Cruz super PAC sponsored a negative robocall (are there any other kind?) and radio ad attacking Donald Trump for supporting for last summer's removal of the Confederate battle flag from Capitol grounds. The flag was also an issue in 2000.
The attack on Trump did not succeed. Trump won South Carolina with 32% of the vote. This exit poll finding might help explain why: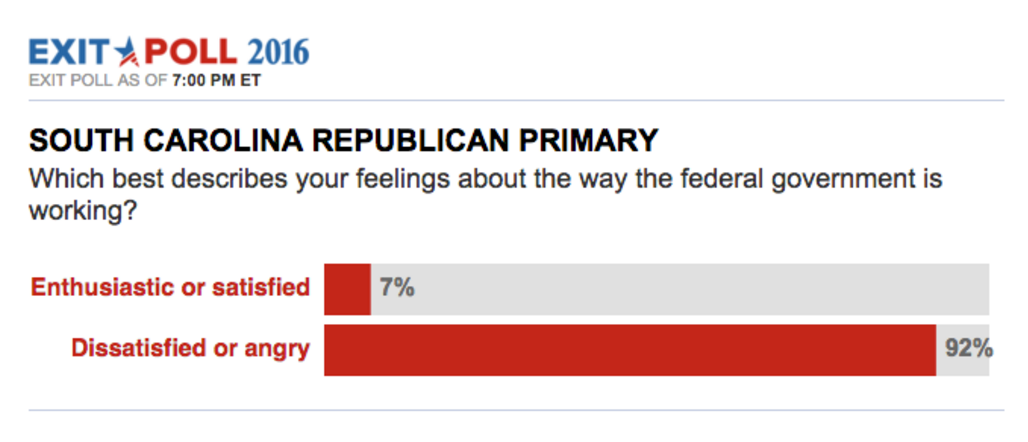 Preliminary returns suggest it didn't work with Rubio, either.
***
Last time around, 2012, the target was Mitt Romney (UT). The tool, fake Christmas cards.
***
In 2000, John McCain (AZ) was running against George W. Bush (TX). In that campaign, McCain was the outsider.
A smear campaign during the primary in February 2000 here had many in South Carolina falsely believing that Mr. McCain's wife, Cindy, was a drug addict and that the couple's adopted daughter, Bridget, was the product of an illicit union. Mr. McCain's patriotism, mental well-being and sexuality were also viciously called into question.

McCain and his wife have a daughter, Bridget, who was adopted as a baby from an orphanage in Bangladesh.
People in some areas of South Carolina began to receive phone calls in which self-described pollsters would ask, "Would you be more likely or less likely to vote for John McCain for president if you knew he had fathered an illegitimate black child?"
***
South Carolinian Lee Atwater was the "take-no-prisoners strategist behind George Bush's winning presidential campaign in 1988."
I credit him with the rise in character assassination politics:
"Republicans in the South could not win elections by talking about issues," he once said. "You had to make the case that the other guy, the other candidate, is a bad guy."
Atwater also ran the campaign against Tom Turnipseed in 1980 when Turnipseed ran for Congress against incumbent Republican Floyd Spence. Knowing Turnipseed had been treated for depression as a teenager, Atwater planted a question with a reporter to ask Turnipseed about electro-shock therapy he received, which Atwater called "being hooked up to jumper cables." Spence won the race.
His most infamous ad:
The South Carolina GOP: a party of irrational intolerance.