Little Red Russian Button (Cartoon and Column)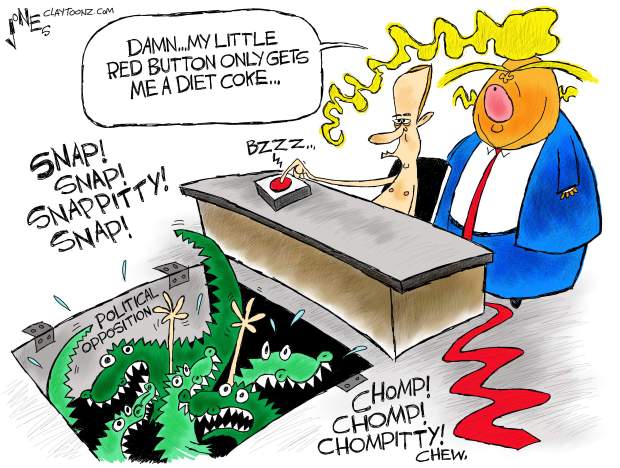 Alexei Navalny is a Russian anticorruption activist. The guy has spent years criticizing Russian President Vladimir Putin, and he planned to run for that job, which will be decided in March. Putin thought otherwise.
Navalny was convicted in a fraud case, which many believe was bogus. On Monday, the Kremlin barred him from running for president. He has called for a boycott of the election and now Putin's spokesperson said he may face criminal charges for that act.
Putin has been in office for nearly 18 years, and now he's seeking five more. He registered his candidacy for his reelection this week. His approval numbers are around 80 percent, but those are state-conducted polls, which never include Navalny's name.
Navalny's name is also never mentioned on Russian television, unless he's being charged or found guilty of something, like organizing political rallies.
Navalny isn't much of a threat to Putin, but the Russian president isn't taking any chances in the authoritarian state he pretends is a democracy. Perhaps he's afraid of U.S. hacking into this election or maybe he doesn't trust the polls.
Putin has warned America not to meddle in this election. How ironic. The Kremlin considers the U.S. State Department's criticism of Navalny's exclusion as meddling.
Donald Trump probably envies this latest move by Vladimir. All he has here is intimidation, voter suppression, and gerrymandering. Trump buddies up with authoritarians in Turkey, China, the Philippines, but Putin is his hero.
While Russia continues to attack the U.S. by sending internet trolls to help Republicans and Trump TV to attack the FBI, Trump has yet to admit Russia hacked our election, and he's failed to enact sanctions on Russia that Congress has passed.
During the 2016 presidential campaign, Trump said if he was president then Hillary Clinton would be in jail. He's spent nearly every day of his presidency, when he's not playing golf, attacking Clinton, who he defeated and is now retired, and encourages his Attorney General to go after her. Sometimes he multitasks and criticizes Clinton while playing golf.
Instead of defending himself from an investigation by a Special Counsel, he hatches conspiracy theories against those conducting the investigation. He labels the FBI as "tainted." Do you remember back when Republicans were the defenders of law enforcement? That went out the window with their patriotism and stance against Russia.
Trump calls news he doesn't like "fake news," and has called the American press enemies of the American people. He retweets Fox & Friends when he's not retweeting racist videos from European hate groups.
Trump would love to ban select political opponents when (if) he runs for reelection in 2020. By "select," I mean all of them. During the last campaign, he even said Clinton shouldn't have been allowed to run. Trump dreams of ruling, not governing. He has yet to understand the difference.
Trump is not about America first. He, along with his sycophants and apparently the entire Republican Party, is about Trump first. It's Putin second and then, America third…maybe.
We don't need an authoritarian, a king, strongman, or a ruler. We need a democratically elected president. This is why the press, opponents to Trump, and even political cartoonists should keep putting Trump's feet to the fire. All we have to do is call out the truth.
If we don't, Trump will be throwing his political opponents to the alligators.
Creative notes: Another chapter in getting ideas. I knew I wanted to draw on this subject a couple days ago. But, there were two other ideas I wanted to do before I hit this one. I figured several cartoonists would do the issue before I got around to it, but I haven't seen one yet.
Even though I knew I wanted to do this subject, I went two days without having an idea for it. They just weren't coming to me. I took a nap around 11:00 last night, woke up at 4:00 a.m. this morning and around 5:00 a.m., it hit. I don't know how or why. It just did. I did have one other idea shortly before this one hit, but I wasn't in love with it. This one, yeah. It was just weird enough for me and I actually made myself laugh with it.
So, one of the answers to "how do you get your ideas?" is….pressure.

Second creative note: Frank proofs the blog. Hilary (not Clinton and with one "L") usually proofs the cartoons (when I need a proofer). This morning, we had a conversation on the best way to spell made-up words. That is the joy of being friends with me. Hilary abandoned me and Virginia recently for Massachusetts, but she hasn't escaped me asking goofy questions on Facebook messenger at four in the morning.
There may be a few cons to being on Team Claytoonz.
Email Clay Jones at [email protected]