Ingrate Gobbler (Cartoon and column)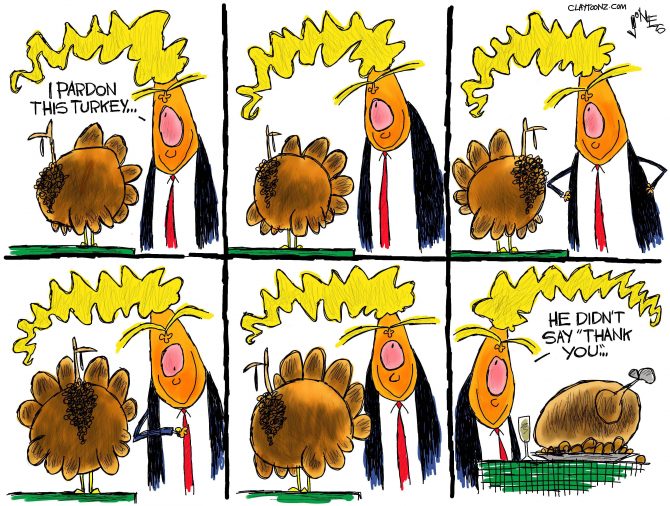 The Idiot-in-Chief couldn't stop tweeting dumb things this weekend. What else is new, right? He attacked Arizona Republican Senator Jeff Flake, and tweeted, "was caught (purposely) on "mike" saying bad things about your favorite President." My first thought was, what did Flake say about Teddy Roosevelt? By the way, Mr. Cheeto…it's "mic," not "mike," unless you named the microphone "Michael."
Trump also tweeted his outrage that a player for the Oakland Raiders stood for the Mexican national anthem, but took a knee during our anthem, before the Raiders/Patriots game in Mexico City. First, why would Marshawn Lynch, the player Trump referenced, be upset with Mexico? Second, for a guy boycotting the NFL Trump is watching a lot of NFL.
Then, Trump went after Lavar Ball. Ball is the father of one of the UCLA students arrested for shoplifting in China, and whose release Trump has taken credit for. Before the students thanked Trump, he demanded they thank him. A couple days later, Lavar Ball questioned Trump's involvement in their release. Trump had another public meltdown.
Ball is very similar to Trump. They're both narcissistic self-promoters. They also make very stupid statements that have no basis in reality. Ball once said that during his prime, he could have beaten Michael Jordan one-on-one. I am fully confident, however, that Ball can still beat Trump in a game of one-on-one.
The real kicker here is that Trump said that maybe he shouldn't have gotten the kids' release until his next trip to China. That is just a rotten and selfish thing to say.
Trump is too thin-skinned for the job he holds. This is further proof Congress needs to take the nuclear button away from him.
Creative notes: This is a short blog and a quick cartoon today. I really liked this idea and I kicked it out pretty quick. I still plan to keep my usual late-night cartooning routine tonight. Drawing two today will allow me to take next Saturday off, maybe. I didn't get one last weekend but I still ate ice cream.
Also, Frank could probably use a day off from proofing.
Email Clay Jones at [email protected]