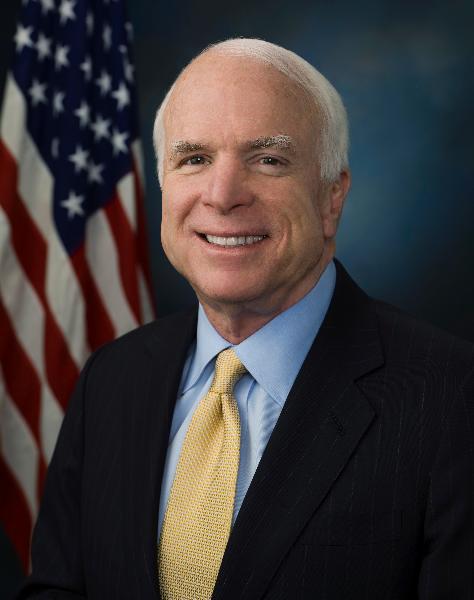 As most of us know by now, Senator John McCain – 80, American icon and war hero – has been diagnosed with a brain tumor.
The Mayo Clinic said doctors diagnosed a tumor called a glioblastoma after surgery to remove a blood clot above McCain's left eye last week. The senator and his family are considering treatment options, including a combination of chemotherapy and radiation, according to the hospital.

::

Glioblastoma is an aggressive type of brain cancer, and the prognosis for this kind of cancer is generally poor. Sen. Edward M. Kennedy (D-Mass.) survived less than 15 months after his was found in 2008. McCain's doctors said the "tissue of concern" was removed during the blood-clot procedure.
The Post correctly points out that "McCain's significance inside Congress is hard to overstate — and his absence, however long, will reverberate across the Capitol," and perhaps most incisively:
McCain's absence would also deprive the Senate of its moral conscience on many key issues, particularly in the ongoing investigation of the Trump campaign's potential involvement in Russian meddling in the 2016 campaign.
The office of Senator John McCain released the following statement:
"Senator McCain appreciates the outpouring of support he has received over the last few days. He is in good spirits as he continues to recover at home with his family in Arizona. He is grateful to the doctors and staff at Mayo Clinic for their outstanding care, and is confident that any future treatment will be effective. Further consultations with Senator McCain's Mayo Clinic care team will indicate when he will return to the United States Senate."
While Democrats and Republicans alike are reacting with sadness, prayers and words of encouragement to this news, perhaps the most poignant words have come from the Senator's daughter, Meghan McCain, and from President Obama.
Meghan McCain's post on Twitter as reported by the Post:
In a written statement she posted on Twitter, McCain's daughter, Meghan McCain, said the news of her father's illness has "affected every one of us in the McCain family." She said they live with "anxiety about what comes next," which they have endured before. McCain has a history of melanoma, a dangerous form of skin cancer.

She added, "it won't surprise you to learn that in all this, the one of us who is most confident and calm is my father. He is the toughest person I know. The cruelest enemy could not break him."
President Obama wrote on Twitter:
John McCain is an American hero & one of the bravest fighters I've ever known. Cancer doesn't know what it's up against. Give it hell, John.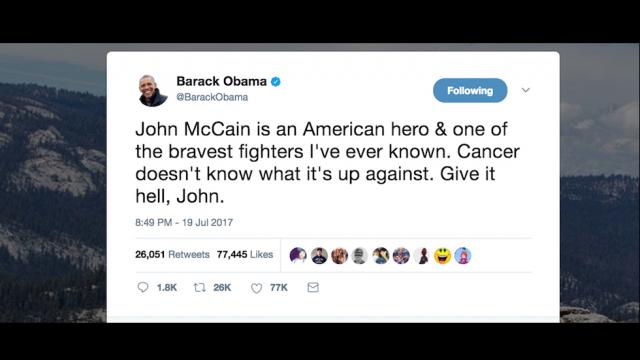 Yes, sir, "give it hell," Senator. America is praying and pulling for you.
Click here for reuse options!


Copyright 2017 The Moderate Voice