February 12, 2017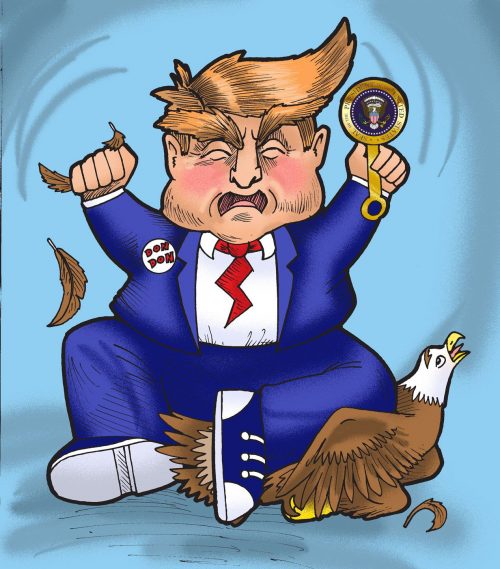 Note to readers: This is the latest entry in Super Baby DonDon's diary. The series imagines that President Donald Trump has the emotional make-up of a five-year-old and confides his deepest thoughts—such as they are—to Andrew Feinberg, and to readers, every day. In his private moments, he always thinks of himself as Super Baby DonDon.
So my golf outing yesterday at Trump National in Jupiter, FL with Japanese Prime Minister Shinzo Abe and four-time major champion Ernie Els was unbelievable. I showed what true gamesmanship really is.
At the first hole, nicknamed Mount Melania, I said Ernie and I would play from the Championship tees but Abe should play from the Loser tees. When Abe was at the top of his backswing, I yelled "Nagasaki!" and he sliced the ball into the water.
"Could I take a mulligan?" he said.
"No," I said.
I drove the ball 396 yards down the heart of the fairway. I chipped to within six feet. "Great shot, Mr. President," said my caddie, Mitch McConnell.
"That counts as in the hole," I said, giving myself an eagle 2. Abe carded an 11.
At the second, nicknamed The Luscious Ivanka, Abe had committed to his downswing when I yelled "Toyota sucks!" He hooked the ball into the water.
"Hey, Shinzo, did you come here to swim or play golf?"
"A little bit of both, I guess, Mr. President."
"Shinzo, we're friends now, you can call me Your Exalted Super Baby DonDon. Can I interest you in a $200,000 membership at Mar-a-Lago?"
I drove the ball 396 yards down the right side of the fairway. I nearly holed a pitching wedge, but it ran 10 feet past. I conceded the eagle 3 to myself.
"Amazing shot," Mr. President," Ernie said. "I think you would have won some majors if you had turned pro."
"I would have, Ernie. Probably more than you. Not as many as Tiger or Jack, but maybe seven, eight, nine—somewhere in the Arnold Palmer/Tom Watson/Ben Hogan range. But I followed another calling. And look at me now!"
At our signature hole, the island green 11th, I hit a 9-iron that landed two feet in front of the hole and then gently rolled in for an ace, my third eagle of the day. The prime minister kept putting his ball in the water. "Shinzo, baby, enough is enough. I'm feeling charitable. Give yourself a 16 and let's move on to the 12th, newly-nicknamed Pepe the Frog."
Well, Shinzo finally finished with a 109. Ernie shot 69. I shot 54. Best of all, I sold Shinzo memberships at four of our resorts and a three-bedroom in Trump Tower. And I will share those profits with the American people.
When I pay taxes.
Theoretically.
Andrew Feinberg is the author of Four Score and Seven (https://www.amazon.com/Four-Score-Seven-Andrew-Feinberg/dp/0692664009), a novel that imagines that Abe Lincoln comes back to life for two weeks during the 2016 campaign and encounters a candidate who, some say, resembles Donald Trump. He also writes an anti-Trump humor page at www.babydondon.com or https://www.facebook.com/MeBabyDonDon.
Click here for reuse options!


Copyright 2017 The Moderate Voice