Crisis In Chechnya
In Chechnya, a humanitarian crisis has been unraveling over the past few months. LGBT Chechens, primarily gay men, have been targeted by local law enforcement and military. Reports coming out of the region indicate that arrests have been made, they have been held in so-called concentration camps, and are being beaten, tortured, even killed. More than one hundred have been arrested and their eventual fates are unknown. It is believed that at least three people have been killed as a result.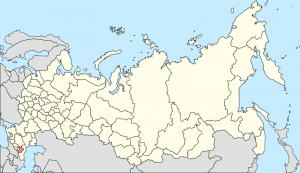 Chechnya, to date, has either denied or ignored these claims. As a former soviet state, and currently a federal subject of Russia, Chechnya denies the existence of LGBT people within their own borders. To be gay, as has been said by activists in the region, is the biggest insult you could make and to be accused of it could cost you your safety and life.
Ramzan Kadyrov, the head of Chechnya and its government, is a close ally and supporter of Russian President Vladimir Putin. He has been in power since 2007. Kadyrov is reported to have said that gay men would be eliminated by the end of May.
Alvi Karimov, spokesperson for Kadyrov, said,
You cannot detain and persecute people who simply do not exist in the republic. If there were such people in Chechnya, the law-enforcement wouldn't need to have anything to do with them because their relatives would send them somewhere from which there is no returning.
While these events have been taking place for some time, initial reporting could only be found in LGBT-oriented news sites. In recent weeks, mainstream sources have picked up reporting. Members of the United States Congress, on both sides of the aisle, have condemned the crimes in Chechnya. Marco Rubio is the latest member of Congress to make statements against Chechnya's actions.
United States Ambassador to the United Nations, Nikki Haley, has drawn attention to these abuses. However, Donald Trump and his White House has failed to take definitive action on the matter, or to reach out to the Russian government for intervention. His young presidency is being tested and Trump's reaction, or lack thereof, will set a tone for the next four years in dealing with humanitarian crises.
Map by By Marmelad [CC BY-SA 2.5 (http://creativecommons.org/licenses/by-sa/2.5)], via Wikimedia Commons
Click here for reuse options!


Copyright 2017 The Moderate Voice