Cartoon: Romping with Hannity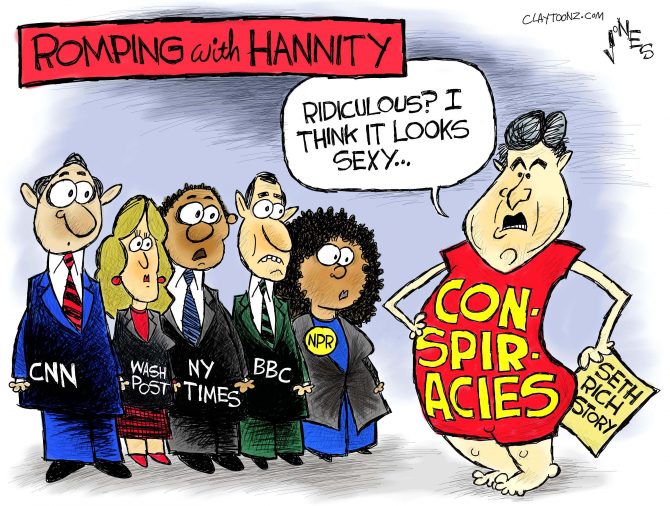 Now that Fox News' Sean Hannity has abandoned his hunt for the "real" story in the murder of Seth Rich, he can apply his amazing journalistic instincts on another matter. Like defending Republicans who beat up journalists.
Hannity spent a week pursuing a story into the death of Rich, a staffer for the Democratic National Committee. It was a story that Fox News retracted and said it didn't meet their journalistic standards.
The original story published May 16 reported as fact that Rich was actually the person who leaked tens of thousands of emails from the DNC to WikiLeaks and that his murder was tied to that action. Rich was shot and killed last July in Washington in what police describe as a "botched robbery." There is no public evidence that even suggests he shared DNC emails with Wikileaks. The Rich family pleaded with Fox to stop spreading speculation without facts.
Fox eventually retracted the story, though without an apology. Hannity, however, on his radio show said that he retracts nothing and will continue to push the story. Hannity was relentless in pushing the bogus conspiracy theory and said that he "is not Fox News." Later, on his TV show, he said that he would stop covering the issue "out of respect for the family's wishes — for now." It turns out he IS Fox News. That means his bosses, and probably a few lawyers clamped down on him. Also, advertisers are bailing on his show faster than if he was spotted at Bill O'Reilly's strip-club-bachelor party.
Sean Hannity is not a real journalist. He was covering for Donald Trump and his Russia connections. It's a sad state we're in when the top-viewed news outlet hires hatchet men instead of reporters.
The press has never been popular. Every town's newspaper has a derogatory nickname for it. But now it's worse than ever. The president says the press is the "enemy of the American people" and he's advocated changing the Constitution to change libel laws and imprison journalists. Your crazy uncle believes Breitbart has as much, or more, credibility than The Washington Post and The New York Times. CNN stands for the "Clinton News Network." Republicans are body-slamming journalists and breaking their glasses.
The freedom the press enjoys is indicative to what sort of nation we live in. A free press means freedom to all. When that's shut down or infringed upon, your freedom is next. The press' freedom is your freedom. You need to understand that. It's not just so Anderson Cooper can run wild and roll his eyes at Kellyanne Conway. It's so you can live in a free nation where your right to know is not violated….or your right to report.
Apparently, you even have a lot of freedom to report lies. Ask Sean Hannity.
Creative notes: I started this cartoon last night and put it aside to draw my Hulk cartoon. I think I made the right choice but I still wanted to finish this. I called up my former FLS colleague Hilary and asked her where I should put the hyphens in "conspiracy." Hilary is smarter than I am and she makes me write good (see what I did there? That'll piss her off to no end).
Men's rompers were in the news earlier this week. Do you know why? I don't. If you find out, can you let me know what's up with men's rompers? I didn't care enough to do any actual research into it. I just saw a bunch of posts on Facebook and then I Googled to see how many recent news stories came up. Quite a few. I didn't read any of them but they were there.

Clay Jones can be reached at [email protected]