Cartoon: Carving up Fox News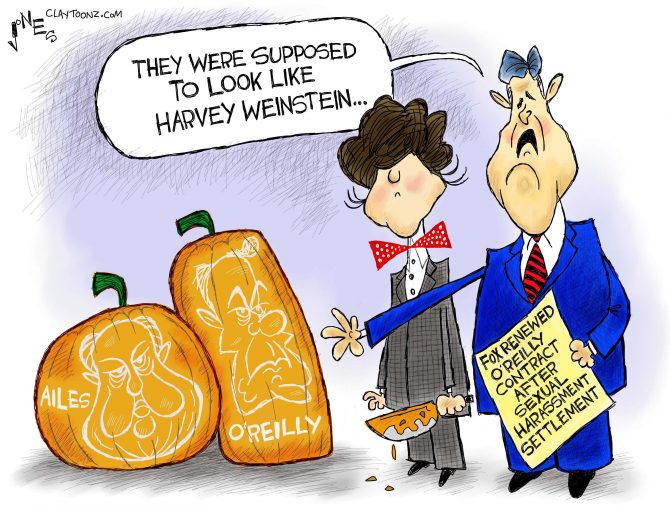 Conservatives and Republicans had a field day going after Harvey Weinstein after it was revealed he spent decades using his power in Hollywood to sexually harass young, wannabe starlets.
You would think the people who were silent over the sexual harassment allegations against their idols Roger Ailes, Bill O'Reilly, and Donald Trump would be smart enough to continue to keep their traps shut. They should have had as much to say about Weinstein as they did about former Republican Speaker of the House, Dennis Hastert. In case you need a reminder, they had nothing to say about Hastert and his pedophilia.
I saw a post by a conservative colleague of mine defending Trump, as if everything against him was only allegations. This same guy frequently refers to Bill Clinton as a rapist.
I've seen about two dozen cartoons on Weinstein from people who never touched the stories on conservatives, while liberal cartoonists haven't held back on Weinstein. Donald Trump Jr. tweeted about Weinstein, momentarily forgetting he's the son of a man who brags about assaulting women, barging in on teenage girls while they're undressing, and openly cheated on Jr's mother. Donald Trump himself went after Weinstein, because he's a shameless hypocrite, and it was easier to discuss than American troops being killed in Niger.
People like Ted Cruz, who voted and supported Donald Trump for president went after Weinstein as if they actually have an issue or care at all about sexual harassment.
When it comes to hypocrisy, nobody beats the sorry excuses for journalists at Fox News, a bastion of hypocrisy.
There was much outrage all over the media, not just over Weinstein's decades of sexually harassing women, but also over the fact that his company, and an entire industry, allowed him to get away with it. There were clauses in Weinstein's contract, not that he'd be fired for harassment, but that there would be penalties to be paid.
Fox News didn't just report on this, a few of their talking heads had to express their own personal outrage.
I'm not one for giving parenting advice, but to future parents out there I would advise you never name your kid "Tucker." That kid will grow up to become a bow tie-wearing a–hole who says sh– like, ""many powerful people knew what Harvey Weinstein was doing, and not only ignored his crimes, but actively took his side against his many victims." Sh– like that is why Tuckers are constantly getting beat up and receiving swirlies.
Let's play with Tucker's sentence. ""many powerful people knew what Bill O'Reilly and Roger Ailes were doing, and not only ignored their crimes, but actively took their side against their many victims." Why didn't you say that, Tucker? Do you honestly believe sexual harassment is a partisan issue that is only committed by Democrats and supported by their benefactors? Or, are you just a d-bag, partisan, hypocritical, shameless, idiot?
As it was revealed over the weekend, after Bill O'Reilly settled a sexual harassment lawsuit for $32 million, his employer, FOX NEWS, where Tucker Carlson works, rewarded him with a new contract….and the company knew about the settlement. And, they allow f—ers like Tucker to go on the air and bemoan the scandal of movie studios, Hollywood in general, and Democrats of ignoring and taking Weinstein's side.
But, there's more. Tucker is not the only hypocritical sorry son of a bitch working at Fox News. Sean Hannity went after Weinstein also and said, "Liberals love to be so sanctimonious, holier than thou, but they're really hypocrites." Yes, Hannity. Liberals are the hypocrites here. I'm shocked he could make that statement with a mouthful of Trump's meatloaf.
Hypocrisy is what Fox News has done. They've renewed contracts of known sexual harassers and then allowed these two scumbags to go on the air and b–ch about companies who looked the other way for that kind of crap.
Maybe, the jerks at Fox News don't understand how hypocrisy works. Or maybe, they don't believe it applies to them.
Or just maybe, they're afraid if they speak the truth that the old-craggly-stupid demographic will change the channel.
Clay Jones can be contacted at [email protected]