Around The Campaign Sphere April 18, 2008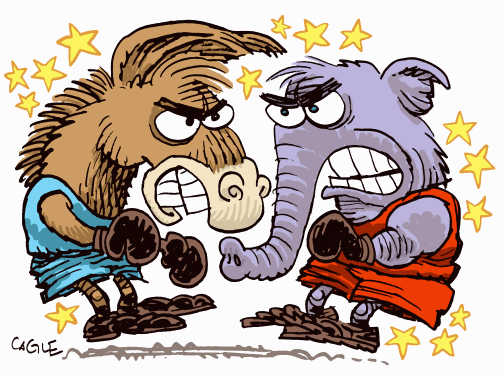 The Big Debate is over and as the Pennsylvania primary approaches parts of the blogosphere are denouncing unfair and slanted assertions and questions, negative statements, and a piling on of negativity — and that's just when they write about ABC's debate moderators. Polarization in the blogosphere reflects the polity. And here's our famous linkfest that takes you to blogs of various opinions.
WE THOUGHT WE HAD PROBLEMS IN COMMENTS AT TMV: ABC News debate co-moderator George Stephanopoulos is getting an eye-full of anger in comments on his blog. Read skippy.

THE STEPHANOPOULOS DEBATE OVER THE DEBATE CONTINUES. GS defends himself, saying they were asking tough news questions that needed to be asked. The problem: almost 50 minutes of the first part of the debate was seemingly aimed at Senator Barack Obama — leaving GS and ABC News open to the charge that it was not a balanced debate but lopsidedly slated against Obama.
Ed Kilgore looks at the arguments about talking about electability and writes:
The more you look at it, the "electability" defense for endlessly superficial debates–and media "coverage" of campaigns in general–doesn't make much sense. If George just came right out and said his network needed "fireworks" to boost ratings, it would sound more plausible.
Read his entire post.

James Fallows also puts Stephanopoulos under the microscope in a post that should be run in full. Part of it:

I like and respect Stephanopoulos, and part of what I respect about him is the way he usually conducts his TV interviews. But I also remember dealing with him back in the early Clinton days, he in his role as campaign guy and me in my role as reporter. He understands thoroughly and in his bones what is wrong with the kind of mindless, substance-free gotcha questioning he and Gibson wasted their time on last night. I know he understands it because I've heard him shame journalists who were applying the same tactics to Bill Clinton back in the day. What was he thinking? What kind of pressure had been applied to him?
SO WAS IT A USEFUL DEBATE OR A FLOP? Andrew Sullivan thinks it was the latter for various reasons.
SPEAKING OF THE DEBATE, be sure to read this follow up from The Garlic.
BUT ARE DEMOCRATS UPSET ABOUT THE DEBATE BEHAVING LIKE CRYBABIES WHO WANT THE PRESS TO NOT DO ITS JOB? Thoughts from Michelle Malkin.
WAS BARACK OBAMA SO ANGRY AT HILLARY CLINTON THAT HE GAVE HER THE FINGER? The lively pro-Clinton The Democratic Daily points to THIS. And so does the Republican Red State.com. Passions are running so high that on this one it might be wiser to see with the mainstream media concludes on this. Will the 2008 election now deteriorate into a debate over whether one candidate flipped another one off? (After all Vice President Dick Cheney has been giving it to the American public for years…)

HOW HIGH ARE PASSIONS RISING AND TEMPERS FLARING? Some progressive bloggers now suggest Hillary Clinton is not a real Democrat.

BUT IS MEDIA BIAS A NEW THING? For a bit of fascinating history be sure to read the always lively Barcepundit.

THE CANDIDATES AND THE ECONOMY: If you're sick of "gotcha!" journalism and perpetually angry blog posts of the right, left (and center) visit The Glittering Eye for an excellent update on what the candidates have said about job creation.

OBAMA WANTS ENDORSEMENTS but not this one.
MEANWHILE, SENATOR JOHN McCAIN BUILDS HIS CAMPAIGN AS THE DEMOCRATS FRACTURE THEIR PARTY: McCain wins over conservatives, one conservative at a time….