Why Google's Nexus One Really Matters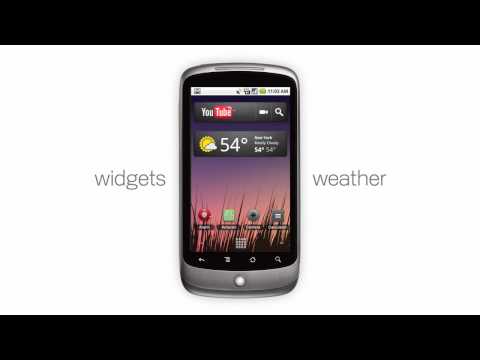 If you thought it couldn't get any louder, today the hubbub around the new Google "SuperPhone" (
their word
, and
I like it!
) has really just gotten into gear. This first official "Google phone" is
prominently featured
on the search giant's famously spartan homepage. (Google did that for the Droid and the G1, too.) The Big Money has
a nice critics' roundup
. Search Engine Land's is
a bit more tech-centric
. But here's the skinny…
The Nexus One is a thin, fast, bright, beautiful, web phone with a 3.7-inch touch screen (not multitouch. Yet.) which beats the iPhone's (480 by 800 pixels, versus 320 by 480). While it features some dazzling new bells and whistles, the only real surprise was that it will be available on Verizon's network and not on AT&T's (unless you want to forgo the 3G).
It's sensor-based capabilities are advanced — tilt and your photos slide off the screen. Two microphones enable noise-canceling for clean clear calls. The 5 megapixel camera has a flash and outstanding macro and low light perfoormance. Speech-to-text search, navigation and data-entry is available. Every single text block on any and every web page is voice enabled. I thoroughly enjoyed David Pogue's nay-saying on that one:
Radically enough, you can also dictate anywhere you can type. The transcriptions aren't what you'd call miraculous — accuracy is maybe 90 percent — but if you have simple messages, speak clearly and remember to pronounce your punctuation, this "experimental" feature is often much faster than typing.
Golly, only 90% accuracy. We demand perfection now don't we! But this points to one of the most significant aspects of the Nexus One. Using Google's language algorithm, it will get better. And with their millions of users, it will get better fast. That's one reason the Nexus One really does represent a shift. It's a cloud-based piece of hardware. The iPhone is a device-dependent piece of hardware.
From Tim O'Reilly's first impressions:
Google's experience in delivering cloud-based data-driven applications is aligned with long-term trends in a way that Apple's device-bound heritage is not. Apple is playing catch-up in cloud infrastructure, building its own location services, for instance, but iTunes and the App Store excepted, Apple's cloud experience is limited, especially in the area of algorithmically driven applications, which I believe is so central to the future of computing. Meanwhile, Google has so many data assets, and so much experience in algorithmic applications, that it may be difficult for Apple to compete in the long term.

There's also the matter of cloud-native "killer apps." Apple's email, calendar, and address book show their PC-era roots. They live on the PC and must be synced to the phone. Google's web-native equivalents are always up to date, with syncing happening in real time. [...]

Apple needs to either beef up its capability in the kinds of data-backed applications, or partner aggressively with companies with more expertise than they currently have. They also need to re-factor their core applications like iPhoto and iMovie to make them web-native, turning them into a base for collective intelligence. Picasa and iPhoto both sport image recognition, but Apple has to train its algorithms on sample data sets, while Google gets to train Picasa on billions of user images. As Peter Norvig, Google's chief scientist, once said to me, "We don't have better algorithms. We just have more data." Collective intelligence is the secret sauce of Web 2.0, and the future of all computing, and by locking user data into individual devices, Apple cuts itself off from this future. Rather than having MobileMe as a separate revenue add-on, Apple needs to make all of its applications web-connected by default, so that they can learn from all their users.
Which raises the question, is Google really trying to compete with the iPhone? I'm in the "NO!" camp on that:
For the iPhone loyalist, like Stewart Alsop who railed against Android, Android is simply not an option. This price insensitive user demands the very best experience they can possibly have and this is still the iPhone. Users won't switch in mass from the iPhone to the Android. It's the other 3.95 billion cell phone users that are highly likely to consider Android a step up from their current feature phone. The Android strategy results in phones at much lower prices with much more diversity which will hit a braoder set of demographics. Apple can and will quintuple its current market share and still have a small portion of the overall cell phone market.
The biggest disruption for the carriers, as Dan Frommer points out, is Google's business model. They're selling directly to you. Richard Waters, writing the night before the Nexus One was released:
Imagine going online to buy your next phone, and being able to browse a list of different carrier options to go with it.

Maybe you'd prefer to run it on the Verizon network. Or maybe Sprint (or Vodafone) offers a combination of subsidy and monthly pricing plan that best suits you. If these and other carriers all listed their offers in one place, it would change the experience of buying a phone.

It would be a true Nexus – a Website that sits at the centre, where all the options come together.
There's plenty more commentary out there to wade through, so I'll probably have more to say on the topic. We should all probably get used to this; we're promised 50 new Android powered phones this year. In the meantime, share your favorite reviews in comments. Here's Google's phone page. And the Nexus YouTube channel.
LATER — AT&T said today it will sell an Android phone by the second half of the year. That leaves it the last major wireless carrier in the United States to add an Android-powered smartphone to its lineup.
Donate to The Moderate Voice
Share This