Cyberterrorism: The Largely Ignored Looming Terrorist Threat?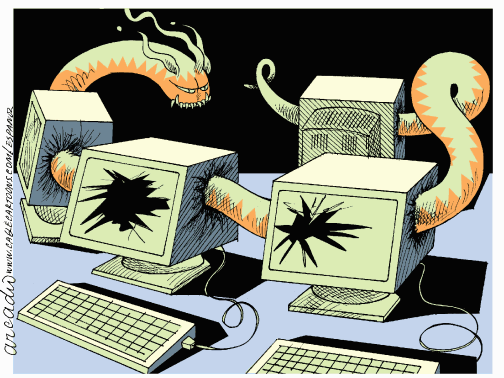 Is a new offensive weapon slipping under the new and old media — and politicians' — radar? The potential weapon: cyber-attacks.
Top centrist writer John Avlon, writing on his blog in The Daily Beast:
Kyrgyzstan. The name of the landlocked central Asian republic doesn't roll off the tongue. But it might have just provided the first evidence of cyberattacks' success in changing international policy—with vast implications for the Obama administration's escalation of troops in Afghanistan.

Internet cyberattacks are weapons of mass disruption used by adversaries cloaked in anonymity that can prove temporarily crippling to a country's electronic infrastructure.

In January of this year, Kyrgyzstan was the victim of a little-noted but sustained cyberattack that overwhelmed the tiny country's computers by taking 80 percent of their bandwidth offline for two weeks. The attacks coincided with renewed Russian pressure for the country to close a US air base that is a key route for troops, fuel and supplies heading to Afghanistan.

Earlier today [Feb. 20], the Kyrgyzstan parliament appeared to capitulate to the cyberattackers, with 78 of 81 voting to shut down the Manas air base. If the president of Kyrgyzstan, Kurmanbek Bakiyev, signs the legislation—a prospect sweetened by a concurrent offer of $2 billion in Russian aid—the US will have 180 days to vacate our only air base in central Asia. The vote occurs just days after President Obama ordered 17,000 new troops deployed to strengthen the decaying security situation in Afghanistan.

This was the third cyberattack in the Russian sphere of influence in the last 18 months.
AND:
These sorts of outsourced cybermilitia attacks are a harbinger of an emerging age of warfare that aims to destabilize societies and economies by throwing communication into chaos, either before or instead of a conventional attack. It's now possible to exercise a gray area of options in an attempt to intimidate a nation-state, either neighboring or around the world, while maintaining plausible deniability for the incursions.
Read his entire post.
And, indeed, this is the kind of high tech terrorism that will not be a big issue until there is a massive attack — much as despite years of warnings two administrations managed by both parties about an attack such as the one that occurred on 911, politicians and government officials seemingly yawned and shunted reports aside to take up seemingly more pressing matters. But the matter they shunted aside became pressing once it happened as predicted. But there are signs the Obama administration is taking this threat very seriously.
A note on Avlon: he has served as adviser to former President Bill Clinton and former New York Mayor Rudy Giuliani (during 911) and was also director of speech writing and deputy director of policy for Rudolph Giuliani's presidential campaign. He has written a MUST READ BOOK about independent voters and centrists in America that details the history and power of centrism in America, Independent Nation: How Centrism Can Change American Politics.
Here are some more links and quotes on cyberterrorism:

–US faces growing cyberattacks: USA Today
–Cyber war has far-reaching potential, real effects
–Advisor: U.S. needs policy to defend cyberspace
–DHS relooking at how to classify cyber incidents
–Jim Kouri, CPP, fifth vice-president of the National Association of Chiefs of Police:
The cyber threat confronting the United States is rapidly increasing as the number of actors with the tools and abilities to use computers against the United States or its interests is rising. The country's vulnerability is escalating as the US economy and critical infrastructures become increasingly reliant on interdependent computer networks and the World Wide Web. Large scale computer attacks on US critical infrastructure and economy would have potentially devastating results.

Cyber threats fall into two distinct categories: threats affecting national security that emerged with Internet technology, such as cyber terrorism, foreign-based computer intrusions and cyber theft of sensitive data; and traditional criminal activity facilitated by computers and the Internet, such as theft of intellectual property, online sexual exploitation of children, and Internet fraud.

In both categories, cyber attacks, intrusions, illicit file sharing, and illegal use of cyber tools are the basic instruments used by perpetrators. Domestic and foreign terrorist organizations, foreign intelligence actors, and criminal enterprises are increasingly using encryption technology to secure their communications and to exercise command and control over operations and people without fear of surveillance. The Federal Bureau of Investigation must be able to identify and penetrate the command and control elements of these organizations and actors.

Recognizing the international aspects and national economic implications of cyber threats, the FBI created a Cyber Division at the headquarters level to manage and direct this developing program.
Read it in its entirety.
–Georgetown University's Dorothy E. Denning's testimony before the House in 2000:
Cyberterrorism is the convergence of terrorism and cyberspace. It is generally understood to mean unlawful attacks and threats of attack against computers, networks, and the information stored therein when done to intimidate or coerce a government or its people in furtherance of political or social objectives. Further, to qualify as cyberterrorism, an attack should result in violence against persons or property, or at least cause enough harm to generate fear. Attacks that lead to death or bodily injury, explosions, plane crashes, water contamination, or severe economic loss would be examples. Serious attacks against critical infrastructures could be acts of cyberterrorism, depending on their impact. Attacks that disrupt nonessential services or that are mainly a costly nuisance would not.

Cyberspace is constantly under assault. Cyber spies, thieves, saboteurs, and thrill seekers break into computer systems, steal personal data and trade secrets, vandalize Web sites, disrupt service, sabotage data and systems, launch computer viruses and worms, conduct fraudulent transactions, and harass individuals and companies. These attacks are facilitated with increasingly powerful and easy-to-use software tools, which are readily available for free from thousands of Web sites on the Internet.

Many of the attacks are serious and costly. The recent ILOVEYOU virus and variants, for example, was estimated to have hit tens of millions of users and cost billions of dollars in damage. The February denial-of-service attacks against Yahoo, CNN, eBay, and other e-commerce Web sites was estimated to have caused over a billion in losses. It also shook the confidence of business and individuals in e-commerce.
–Australian Government's Institute of Criminology:
In today's world, where computers and communications systems are linked, it can truly be said that "everything depends on software." It is bad enough that this has proven irresistibly seductive to pranksters. The potential damage which can be inflicted on our infrastructure – systems such as air traffic control, power, telecommunications, and the like, by a malicious person sitting at a keyboard on the other side of the planet, is mindboggling. So significant, in fact, that considerable attention is being given around the world to its military applications.
This has a long list of useful links.
–An assessment from the U.S. Institute for Peace:
# The potential threat posed by cyberterrorism has provoked considerable alarm. Numerous security experts, politicians, and others have publicized the danger of cyberterrorists hacking into government and private computer systems and crippling the military, financial, and service sectors of advanced economies.
# The potential threat is, indeed, very alarming. And yet, despite all the gloomy predictions, no single instance of real cyberterrorism has been recorded. This raises the question: just how real is the threat?
# Psychological, political, and economic forces have combined to promote the fear of cyberterrorism. From a psychological perspective, two of the greatest fears of modern time are combined in the term "cyberterrorism." The fear of random, violent victimization blends well with the distrust and outright fear of computer technology.
# Even before 9/11, a number of exercises identified apparent vulnerabilities in the computer networks of the U.S. military and energy sectors. After 9/11, the security and terrorism discourse soon featured cyberterrorism prominently, promoted by interested actors from the political, business, and security circles.
# Cyberterrorism is, to be sure, an attractive option for modern terrorists, who value its anonymity, its potential to inflict massive damage, its psychological impact, and its media appeal.
# Cyberfears have, however, been exaggerated. Cyberattacks on critical components of the national infrastructure are not uncommon, but they have not been conducted by terrorists and have not sought to inflict the kind of damage that would qualify as cyberterrorism.
Read it all.
–What are the real risks of Cyberterrorism?
Some attacks are conducted in furtherance of political and social objectives, as the following examples illustrate:
Go to the link to read them.

Cartoon by Arcadio Esquivel, Cagle Cartoons, La Prensa, Panama
The above cartoon is copyrighted and licensed to appear on TMV. All Rights Reserved. Unauthorized reproduction prohibited.
Donate to The Moderate Voice
Share This