Cartoon and Column: NYC Terror attack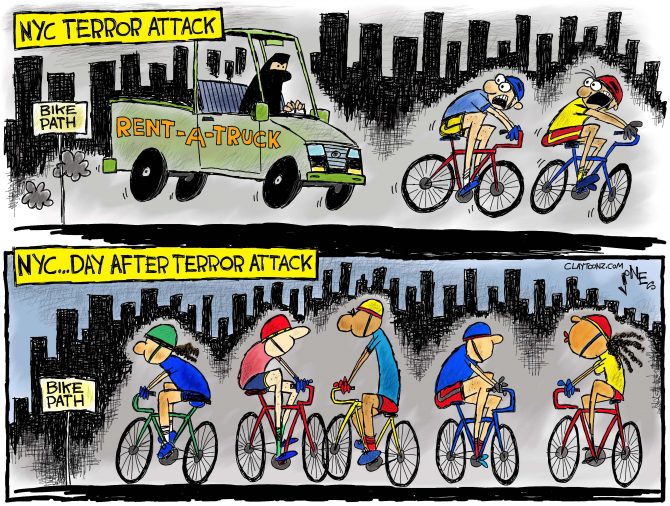 If you want to attack a city, instill it with fear and terror to the point the citizens there change their way of life, you might want to pick a place that's not New York City.
You always hear how we won't let fear change us, but that's not always true. We use fear to enact bans on refugees, suspend Constitutional rights, and even how we look at each other. But, when you hear them say that about NYC, it's not just wishful thinking, like when you say "we're not going to let Russia hoodwink our stupid people into voting Republican." In NYC, the people are not going to change how they live.
They're going to go to concerts, plays, little leagues, ride bicycles, eat New York style pizza, and flip each other off while ignoring rats on the subway…just like they do every day.
For that matter, I don't see you changing the people in Paris and London either.
In case you haven't noticed, the places you can't intimidate are blue areas. You can scare Donald Trump, Republicans, and people who vote that way. But, you're not scaring us. Hell, terrorists hit Virginia and the state got bluer.
People who commit terrorism are cowards. I don't say that just because everyone else says it. They truly are. They believe they will die and go to Heaven, thus not having to deal with the consequences of their actions. That's the very definition of cowardice.
I'd recommend to cowards that they avoid New York City and the rest of the United States in general. There must be a better use of your time than trying to scare people who don't scare easy.
Clay Jones can be contacted at [email protected]