Who Will Be Riding On Hair Force One In January 2017?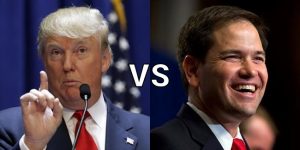 It Is Too Little Too Late For Marco Rubio
Ted Cruz Was Still Born In Calgary Canada
The Cosmetic View From The Virgin Islands
By JOHN McCARTHY/TMV Columnist
It's interesting that the nattering nabobs of negativity say that Cruz and Rubio can't win the Republican nomination but Kasich and Carson are still allowed up on the debate stage.
Carson is barely outpolling Bush nationally for fifth place in the G.O.P. bloodsport nomination race despite the fact that Jeb! suspended his campaign eight days ago — just weeks after re-uniting with his famous last name.
It definitely was not a good omen for Bush when after the first televised debate on August 27 one of the national TV commentators said that his performance made his brother former President George W. Bush "seem well-spoken" by contrast.
Self-described Stolichnaya-addled shock jock Don "Call Me The I-man" Imus called it for Trump way back in May 2015, just before his TV show on Fox Business News was discontinued and before The Donald had even declared his official interest in running for President of the United States.
Of course, at the time, I figured Imus was just looking for a free weekend stay at the Trump Tower on one of his frequent forays into the Big Apple – and the squawks from the New York City tabloid press when Trump declared didn't seem to bode well for the erstwhile Aryan candidate (now endorsed by David Duke and his legion of KKK supporters).
Whereas the New York Post made the June 16 announcement seem like a real estate deal with a picture of the White House on the front page and gold letters spelling "TRUMP" above it, as if the AirBNB listing had gone to DT in the Manhattan MLS system. The New York Daily News was more bold, dressing Trump in full clown regalia and shouting "Clown Runs For Prez."
Marco "Domo Arigato Mr. Roboto" Rubio took to the campaign trail again this weekend challenging Trump's claim that he took a $1 million loan from his father and turned it into a $10 billion fortune. Rubio and Ted "Calgary" Cruz each claim publicly that Trump got $200 million from his father and could have made more money on it by investing it conservatively.
The truth, they say, as always, is to be found somewhere in the middle of their muddle. Experts say that Trump inherited $40 million from his father. (So why the $199 million difference? Is it voodoo economics that makes them all correct?)
The Reagan 11th commandment of "Thou shall not speak ill of any fellow Republican" was thrown out with the bathwater by the G.O.P. billion-dollar baby at the beginning of the campaign while the rest of the formerly 16-man field rather weirdly stuck to it even as their poll numbers dwindled.
Now the remaining candidates who have a chance are trading low blows in a race to see how low the campaigns can go. On Saturday, Rubio said Trump has the "worst spray-on tan in America," made fun of the way the businessman's face looks, said DJT "wet his pants" during the last debate and claimed The Donald is flying on "Hair Force One." Ah, kindergarten! Remember how much fun that was?
On Friday, after New Jersey Gov. Chris Christie (who this writer picked to be the next POTUS with a prediction on May 24, 2015) endorsed Trump, the New Yorker described the watery extent of Rubio's meltdown backstage at Thursday's debate, repeating his claim that Marco has a problem with excessive perspiration which was greatly exacerbated by the dressing down Christie gave him on the national stage one debate back. Trump added that during the most recent debate, Rubio was applying makeup to his face backstage "with a trowel."
I bet even Broadway performers have a non-disclosure rule about not relating what the actors do backstage prior to show time. That the show goes on is all the audience really cares about — isn't it? What happens backstage should stay backstage. No? Trump with his business roots in Atlantic City and Las Vegas should know better.
Trump took great pains to explain to a Bentonville, Arkansas audience how Rubio's claims that he is a con man are not grounded in fact. Donald stressed to the people gathered that the now defunct Trump University has many satisfied customers and that those who have come forward recently just barely got in under the statute of limitations. He identified the judge in the federal civil court case as being "Hispanic" and said he should recuse himself.
But what I found most strange about Trump's explications about an allegedly corrupt New York attorney general and meetings with President Obama prior to the filing of the charges against him and the greedy private attorneys who had wickedly encouraged former Trump University "students" to try to get their money back was the way he pronounced the word "film."
The Donald said the word as if it were a two-syllable word as in "FILL-im." Maybe that's an Upper East Side, New York blue blood kind of thing. Note to self: "Ask CNN's Anderson Cooper if Mr. Trump is using the proper upper class New York pronunciation of the word 'film.'"
The billionaire told an audience of live Southern people and millions on TV that he has the woman who started the class action lawsuit against him "on fillim" saying that she was completely satisfied with the course she took at Trump University. It was very thoughtful of the people who founded Trump University to put people on camera right after they were admitted to class — on videotape — kind of the way a waiter asks you how the food is right after you take your first bite.
You have to wonder what Don Imus makes of all this. Although he pledged his support to Trump in May 2015 before His Aryanmessness officially threw his hairpiece into the ring, the I-Man openly detests Chris Christie on his SiriusXM show and the disgraced disc jockey should be on the politesse most wanted list when it comes to insensitivity to weight problems.
Which might make it difficult for "Imus In The Morning" to have the Trump-Christie ticket as a tandem on his surviving satellite radio show.
But the gravitational pull of The New Teflon Don and his solid Bridgegate understudy might be too much of an attraction for voters on each side of the aisle come November.
If anyone is strong enough to stand by Trump's side come election time, it would be hard to find someone less likely to crack under the pressure of a presidential run than Christie.
Unless of course, it is the man at the top of the ticket.

John McCarthy is the publisher of the Virgin Islands Free Press at http://vifreepress.com You can write to him @ [email protected]
https://www.gofundme.com/afng69fg