Not just great cars. Great advertising too!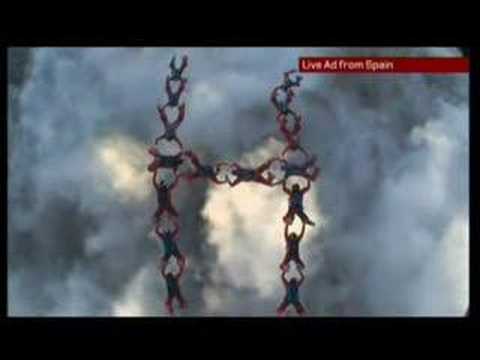 Live TV advertisements have been making a comeback in the United States, usually with the host of a late-night program promoting the virtues of a specific product — for instance, Jimmy Kimmel and a sidekick doing a skit about Quiznos subs. The idea is to reach people who normally fast-forward through commercials, and at the same time to have the host's popularity rub off on the brand.

Honda Motor, the Japanese automaker, has gone to particularly great lengths with its skydiving stunt in Britain. Instead of having a pair of comedians in a TV studio read jokes from a script, the ad involved 19 skydivers doing a dangerous jump that was subject to the vicissitudes of the weather as well as the synchronization of two airplanes.

Honda and its ad agency in Britain, Wieden & Kennedy, developed the idea to illustrate the tag line "Difficult is worth doing," which is being used to promote a new version of the Accord…. the audience actually grew from just under 2.1 million at the start of the spot to more than 2.2 million when it ended three minutes later, said Becky Mew, a spokeswoman for Channel 4.

The ad required considerable logistical coordination for Wieden & Kennedy, Channel 4 and Starcom, Honda's media buying agency. They had to ensure that the skydivers had sufficient practice and that the planes involved took off on time. The spot also required a dispensation from British advertising regulators, who typically preview all television ads (though in this case they saw only a script).
Via Duncan @ The Last Minute, "Brilliant way to make a 'viral' ad…"
Related Trivia: A plane used in the ad crashed the following week.
Donate to The Moderate Voice
Share This