Government's Economic Misinformation Campaign Peaks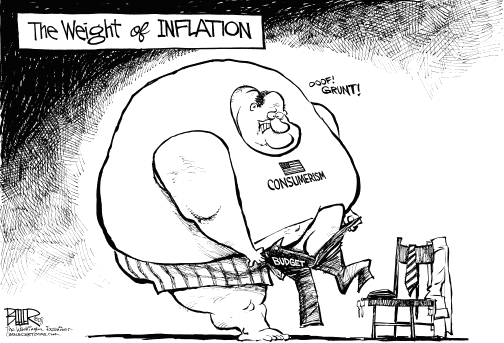 Government's Economic Misinformation Campaign Peaks
Americans are pretty used to getting bogus economic information from their government and the barons of Wall Street. But today, May 14, 2008, this misinformation campaign may well have peaked. We were informed that inflation during April was "modest," and only increased a piddling .02 percent.
How is this possible, you might ask? Or at least, you might ask that if you lived in the real world rather than Economist Land. Here's the answer. A truly incredible one.
Food prices went up more than at any time in the last 18 years during April. Housing, medical care and clothing costs were also all up substantially. Natural gas prices shot up, too. But gasoline, according to the number crunchers charged with feeding us economic data, gasoline prices dropped by a hefty 2 percent during April and that was the prime cause of the overall modest inflation increase for the month.
Gas dropped 2 percent, you exclaim? Are they nuts. It was way up. Anyone who bought gas during April knows that.
Well, yes. The average price of gas did, in fact, increase by a whopping 5.6 percent during April. But, according to the Commerce Department, which is charged with fudging numbers in this realm, on a seasonal basis it really dropped 2 percent. Got that?
Far be it from me to gainsay the wisdom in this statistical approach. Personally, I don't know anyone who buys gas on a seasonal basis, only on a daily basis. It might be worth noting, however, that this kind of thing makes the people playing so very, very cute with official numbers look like con artists. And generally speaking, this is not a good way for supposedly professional economists to look.
Or Americans will begin taking them even less seriously than is already the case.
Cartoon by Nate Beeler, The Washington Examiner
Donate to The Moderate Voice
Share This