Around The Campaign 2008 Sphere March 30, 2008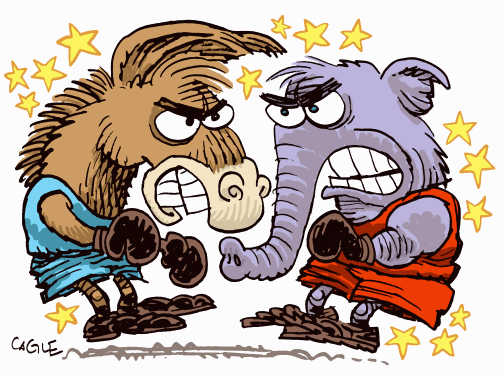 Is Hillary on the ropes? Is Obama facing a lull before another storm? Is he too wounded to win the election? Is that guy smiling John McCain (yes)? Here's another edition of our linkfest offering you an Internet roadmap to various sites. NOTE: Links and quotes do not necessarily represent the viewpoints of TMV or its co-writers.

BARACK OBAMA HAS A NEW POLITICAL AD and Dean Esmay has the video and givesyou his take on it.
WARNING: FOX NEWS POLITICAL COMMENTATOR DICK MORRIS COULD BE DANGEROUS TO YOUR CAMPAIGN 2008 PERCEPTIONS according to John Amato. A MUST READ. Morris can indeed be fun to follow, but his predictions are often way off-base and he clearly has an ax to grind against his former employers, the Clintons. At times he seems like the quintessential "disgruntled employee." (Does that mean at one time he was a "gruntled" employee?). Political scientist Larry Sabato, who is quite accurate in his predictions, once noted that Morris is….accuracy challenged.
SO WHY IS JOHN EDWARDS STILL ON THE FENCE IN THE OBAMA CLINTON FACE OFF? Apparently because Obama blew it.
AN ARTICLE SAYS CLINTON ADVISERS WILL URGE HILLARY TO QUIT THE RACE IF SHE LOSES INDIANA and Allahpundit in a post that needs to be read in full has a theory about what's really happening:
The most recent Indiana poll I can find puts him up 15 points, although it was taken a month before the Wright thing exploded. Combined with his 20-point lead in North Carolina, I'm starting to suspect people in the party are lying back simply to give her one last courtesy hurrah in Pennsylvania in the expectation that she'll then flame out in Indiana and North Carolina and they can bring down the hammer full force.
Perhaps but Clinton has insisted now that she will fight all the way through the convention. If the clamor is coming from within her campaign and from outside of it, her political legacy — and future prospects as a Democratic Presidential candidate — will be slim. She could even face a primary challenge in New York if she runs for re-election. But THIS LADY has not sung yet.
VOTE FOR YOUR FAVORITE FEMALE BLOGGER and by the way TMV's own Jill Zimon is on the list. Vote here.
IF YOU CAN'T UNDERSTAND WHY JAMES CARVILLE COULD CALL GOV. BILL RICHARDSON A JUDAS then be sure to read John Cole who steps back and tries to tell you here what makes Carville tick and what ticked him off.
REPUBLICAN JOHN MCCAIN IS PARTLY-RUNNING ON HIS IMPRESSIVE WAR EXPERIENCE but has that always helped in Presidential campaigns? Apparently not.
AND MCCAIN COULD BE IN FOR A LONG, DIFFICULT RIDE IF THE IRAQ WAR WORSENS as noted by The Gun Toting Liberal.
HAVE THE REPUBLICANS LOST THE WEST? It certainly appears that way….
WHAT'S THE PHRASE FOR OBAMA AND CLINTON? How about "Pentagon-huggers."
THE RACE FOR THE LIBERTARIAN NOMINATION is getting interesting…
HILLARY CLINTON IS BEING CALLED A LIAR FOR THE BOSNIA DEBACLE but some believe Obama is a liar too.

WILL BUSH AND CHENEY ONE DAY BE PROSECUTED FOR WAR CRIMES? Andrew Sullivan thinks so and gives specifics why HERE. Prediction: They won't be prosecuted but history will judge them very harshly all over the world. Historians will pass on using the spin control name for these techniques and will use the traditionally-accepted word beginning with "t" which does define these techniques…since many of these methods have been used for years and called exactly that. Historians ignore government spin masters and partisan bloggers.
Donate to The Moderate Voice
Share This