MSNBC's David Shuster "Pimp" Comment About Chelsea Clinton Causes Suspension And Reflects Cable Media Culture
MSNBC correspondent David Shuster's use of the phrase "pimped out" in referring to former first daughter Chelsea Clinton's modest political activism has led to his apologizing, his suspension by the network, a major blog and commentator furor — but it also reflects a shoot-at-the-lip cable broadcast news and talk show culture that characterizes the increasingly-popular cable channels.
And howls of outrage from the Clinton campaign, coupled with suggestions that Hillary Clinton would never debate on MSNBC again, show how cable news talk can go over the line and itself become a political issue — an issue that can perhaps impact public perceptions of a candidate and of the news media itself.
First, in case you were on Venus and missed it, this You Tube shows you Shuster's apology/non-apology (it's phrased in a way so that it was not enough to get him out of hot water) and gives you a good chunk of the offending broadcast so you can view it in context: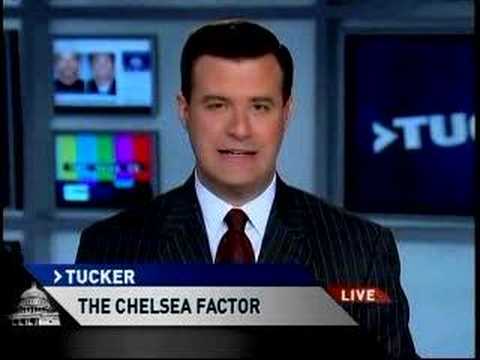 Some thoughts:
(1) Shuster's raising the issue was itself silly. Family members of candidates have been out on the hustings and working for family members for generations and/or running on their family connections. A few examples: the Roosevelts, the Kennedys, the Bushes, the Clintons, the Gores, the Kerry family… Moreover, Chelsea Clinton just a month ago came under fire in the media for not saying anything at campaign rallies. There is not the slightest thing unseemly about her working for her Mom — particularly since she is a young woman now and not a pre-teen or teen. BOGUS ISSUE to start with.

(2) His use of the phrase was dumb because, unless he needs to get wax cleaned out of his ears, there have been enough instances now of people using flippant language and getting themselves into career hot water. Some instances have been over racial language. Using sexual language linked to prostitution when describing a candidate's daughter is giving your critics a gun to shoot you with.
(3) His comment about Huckabee won't convince some Hillary supporters that it was a compliment. Watch it again and it can be argued that there was a touch of sarcasm in the way he said it. Additionally, in the segment he says basically that she doesn't have a right to work for her mom until she sits down and talks to a reporter in an interview. When did THAT REQUIREMENT come about? That's the first we've ever heard of it.
(4) He's the latest instance of a media type who has gotten a big break to host a show and took it and ran with it — and slipped into a more casual, opinionated style that he could never use if he was still reporting straights news. It's all part of our early 21st century BROADCAST MEDIA CULTURE.
Just as weblogs have now evolved largely into extended op-ed pages, so has much of television cable news evolved into talk radio transplanted into a broadcast news setting. It stems back to the creation and success of Fox News, which grafted radio talk onto the newcast model. MSNBC has been struggling for years, but it recently began making some modest gains in its programs as in many ways the anti-Fox. It's edgy, but often a bit more to the center or the outright left. Shuster was subbing on Tucker Carlson's show, which is a conservative news talk show.
There are several media types who joined cable talk and adapted their once-more-staid styles to the flippant, edgy style of cable talk — which is derived from talk radio which created the media role model now known as Fox. MSNBC has slowly built a lively team of talkers who often had more sedate careers in their earlier incarnations.
Chris Matthews was a superb print columnist who found his often controversial broadcast talk voice. Keith Olbermann was a topnotch sometimes controversial sportscaster who took a while to find his present HIGHLY outspoken and controversial voice at MSNBC where he has become the prime nemesis of Fox News' Bill O'Reilly.
The excellent reporter and go-getter Dan Abrams was General Manager at MSNBC for a while before returning to his own show — and he started doing menial jobs with NBC Sports,then working his way into sports reporting, NBC News and then Court TV. He now hosts his own show and his present style is lively and blunt cable news talk style.
All of them became "edgier," "livelier," and used (even if unconsciously in some cases) a media model with its roots in talk radio and cable talk pioneer Fox. It puts a premium on lively talk, talking — often shouting — heads, controversy and pushing the envelope on discussion.
You can almost sit in your living room and personally watch cable talk show hosts' evolution as they first come on the air and gradually find their (flippant) voices as they adjust to the tone and tenor of cable talk — which ain't any relationship of how things are discussed in the real world of news coverage.
In the talk radio world, those of us in San Diego have watched the evolution of our former Mayor Roger Hedgecock from mayor, to an early stumbling and often ineffectual talk show host to someone who is now as slick and professional in terms of being a first-class broadcaster as Rush Limbaugh or Ed Schultz.
So in effect, this could have been Shuster's "big break" to his next career move — perhaps getting his own show on MSNBC eventually…which won't happen now.

(5) The outrage from the Clinton camp is real. The Clintons have always tried to protect Chelsea and as she dips her toe into the waters of real world political campaigning, they probably went ballistic to hear someone use a word associated with prostitution to describe what is CERTAINLY her GENUINE and HEART-FELT desire to help her mother win.

(6) The controversy won't hurt Hillary Clinton. MSNBC will bend over backwards and do somersaults now to show that it doesn't hate Hillary, Hillary Clinton's as a caring mother will be enhanced, and the Clinton family will (rightfully) appear as victim in this news story.
The bottom line: Shuster is suspended, when he comes back he won't be on the fast track to his own show (at least not on MSNBC) and he never would have used those words on a report he was doing for NBC Nightly News or MSNBC.
He had fallen into, got sucked into, and was consumed by the cable TV talk radio culture which increasingly resembles the no-holds-barred world of stream-of-consciousness weblogs.
Except most of us who do weblogs would not be so dumb as to use the phrase Shuster did and virtually invite denunciations — particularly when the "issue" raised was a silly non-issue that should not have been raised in the first place.
But, then, we don't get big salaries from networks.
P.S. There's one silver lining in this controversy for MSNBC: It shows that at least one person is watching Tucker Carlson's show.

ALSO READ THESE MEDIA REPORTS:
–Howard Kurtz's Washington Post story is a virtual treasure chest of facts and must reading as an upsummer on this controversy. Here is part of it 4 U:
In case there was any doubt, using a prostitution metaphor for the daughter of a presidential candidate is not a good career move.

MSNBC suspended correspondent David Shuster yesterday for an undetermined period for making a disparaging on-air remark about Chelsea Clinton. Meanwhile, officials in her mother's campaign raised the possibility of punishing the news channel by boycotting future debates.

While filling in as a host Thursday, Shuster was discussing the 27-year-old's role in Hillary Rodham Clinton's campaign with two guests when he asked: "Doesn't it seem as if Chelsea is sort of being pimped out in some weird sort of way?"

Howard Wolfson, the campaign's communications director, called Shuster's remark "disgusting," "beneath contempt" and "the kind of thing that should never be said on a national news network." Wolfson appeared to suggest that Clinton is reconsidering an agreement this week to participate in an MSNBC debate Feb. 26 in Cleveland, saying: "I at this point can't envision doing another debate on that network."
Kurtz then reports on Shuster's' apology — but you can see how Shuster blew it with his employers:
In a statement, MSNBC spokesman Jeremy Gaines called Shuster's language "irresponsible. . . . NBC News takes these matters seriously and offers our sincere regrets to the Clintons for the remarks." As for the scheduled debate between Clinton and Barack Obama, Gaines said network executives were talking to the Clinton camp "and we are hopeful that the event will take place as planned."

After Shuster made the remark on "Tucker," Clinton spokesman Philippe Reines contacted him and said the reference was offensive. Shuster e-mailed back that he was referring to the fact that Chelsea Clinton is making calls to convention superdelegates but refusing to talk to the press. After Shuster continued to defend himself, Phil Griffin, MSNBC's top executive, called Reines yesterday to apologize.
Wolfson also made it clear to Kurtz that Chris Matthews apology to Hillary Clinton last month makes the Clinton campaign wonder if there is a "pattern" here.
–Obama's camp even turned thumbs down on Shuster's comments, the AP:
Wolfson pointed to what he called a pattern of tasteless comments by MSNBC anchors about the Clinton campaign. Weeks ago, "Hardball" host Chris Matthews apologized to the former first lady after suggesting her political career had been made possible by her husband's philandering.

Shuster told The Associated Press he has tried to reach Clinton to apologize.

Bill Burton, a spokesman for Obama, called Shuster's comments "deplorable" and said they had no place in the political process.
–The Politico reports that Shuster dragged his feet about apologizing (which is credible if you watch his on-the-air apology):
Before MSNBC's David Shuster was suspended by the network Friday for on-air comments he made about Chelsea Clinton, the television reporter engaged in a heated correspondence with a spokesman for Hillary Rodham Clinton in which he defended his appearance and refused demands to apologize.

A copy of the e-mail exchange between Shuster and Philippe Reines, a longtime Clinton aide, was obtained by Politico and is reprinted here.

On Thursday, Shuster guest-hosted Tucker Carlson's MSNBC show, "Tucker," and in referring to Chelsea Clinton's role in calling superdelegates on behalf of the Clinton presidential campaign, he asked whether she was "sort of being pimped out in some weird sort of way?"

Later that night, he heard from an outraged Reines, who called the remarks "absurdly offensive."

Shuster was unrepentant. He told Reines his commentary was justified because of the contrast between Chelsea Clinton's overt political role and the aggressive way campaign aides "jump down the throat" of reporters who seek to question her about it.
It is still a non-issue. Bottom line: relatives have campaigned for family members for years and most of them are NOT grilled by or agree to long interviews with reporters. They just work for the relatives. A NON-ISSUE.
He was more contrite the next morning, apologizing on Joe Scarborough's MSNBC show, "Morning Joe."

But that didn't satisfy the Clinton campaign. Communications director Howard Wolfson told reporters in a conference call that Shuster's comment was "beneath contempt."
–Be SURE to go to THIS LINK on The Huffington Post for more details and a slew of videos. Earlier in the day he fills in for MSNBC's Joe Scarborough (one of yours truly's favorite cable hosts) and cuts Scarborough off — and is berated on the air by the host for it.
A CROSS-SECTION OF OPINION FROM WEBLOGS:
As the whole world knows by now, Shuster's ill-conceived and crass remark about the former First Daughter has rocked the race for the White House; the high visible newsman has been suspended by MSNBC, and the Hillary Clinton campaign has gone so far as to say it won't debate Barack Obama on the cable network (one was scheduled for later this month.)

Make no mistake, what Shuster said was pretty stupid and in bad taste. But was it the worst thing ever said about Chelsea Clinton in the public arena?
He then mentions a truly disgusting joke by John McCain (go to the link). BUT what anyone else said or did is NOT the issue here. It is Shuster. It's irrelevant who said what earlier. Shuster is also employed as a newsman and is supposed to have a different kind of credibility than a politico (or radio talk show host).
It may surprise everyone but I actually wasn't bothered by them. The phrase is ubiquitous, I use it all the time and although it is a loaded term my initial impression was that in the wake of all the truly awful sexist stuff that's come down the pipeline from MSNBC over the course of this campaign, much of which I have personally railed about, this just didn't fall into that category.

At first I thought it might be because I know Shuster and don't think he has the women's issues that many on MSNBC seem to have, and maybe that was affecting my assessment of the situation. But I wrote a post recently about Ben Affleck appearing at a press conference for the SEIU in Boston, and shortly after it went live someone involved in helping me put together the story sent me an email wondering what the hell I was thinking linking to a headline that said something on the order of "Boston Mayor Pimps For Healthcare Workers." I wasn't sure what they were upset about either at the time, but after a moment I realized that the term probably didn't strike others as being as inert as it did me so I changed the link.
I think we've had enough of the sexist remarks coming from MSNBC pundits and other counter parts in the media. I'm equally appalled that other top level Democrats have not called these pompous talking heads out on this. The rampant and pervasive sexism that has surrounded Hillary Clinton's bid for the White House disgusts me as a woman and the mother of teenaged daughter in his first year in college.

When does it stop? I know I sure as hell would be outraged if someone said something like that about my daughter, and anyone who thought Hillary Clinton and her campaign would sit back and let Shuster get away with this was dreaming.
What? MS-NBC biased? Oh heavens, could that possibly be? Before the Left gets particularly outraged by that particular idea, let's recall that this is the network that airs Keith Olbermann, who saw Peter Finch's performance in Network and didn't realize it was satire. Their supposed news anchor spends every night ranting about conservatives and Republicans, daily issuing them the title of "The Worst Person In The World", which ignores people like Richard Ramirez, Ali Khameini, Osama bin Laden, the Castro brothers, and so on.

And yet, Republican presidential candidates have regularly appeared on MS-NBC, despite the almost relentless bias against them on the cable channel. They haven't even demanded Mr.Meltdown recuse himself from the proceedings. Apparently, they don't feel as though the pettiness and rancid commentary at MS-NBC can knock them off their stride. Hillary feels differently — shouldn't that say something about her candidacy?
–Ann Althouse argues this is all a tempest in a teapot. Read her post IN FULL but here is part of it:
Really, how bad is it to say "pimped out"? Is it "nappy-headed hos" bad? Did anyone think Shuster was literally calling Chelsea a whore or even making any reference to her womanly virtue? "Pimped out" is a common colloquialism these days. According to the Urban Dictionary, which gives a good read on how young people use words, the connotations having to do with exaggerated fashion and style predominate.

Even if the clear associations with prostitution remain, we often make figurative references to prostitution in speech, and the cause of feminism is not served by requiring special limitations when we're talking about women. We ought to be able to call a female publicity hound a "media whore."
Chris Matthews, David Shuster, Andrea Mitchell – these are all people who've shown themselves unable to "report" or offer opinions on Hillary Clinton or her campaign in a responsible way, and the network has obviously failed to put pressure on them to do better. MSNBC needs to either force them toward some semblance of fairness, or disallow them from talking about Clinton.

And Hillary Clinton is absolutely right to call them on this. There's just one thing: Apparently, she's still willing to debate on Fox, a network that rose to prominence bashing her and her husband. So, good start, but keep on going.
–skippy (who write in lower case):
we suppose schuster's suspension (say that three times fast!) was designed to placate sen. clinton, and to assuage her to appear on the debate.

she may want to reconsider boycotting…she's in a tough enough struggle w/barack "to the future" obama to let him have that much airtime all to himself.
–James Joyner has a MUST READ post that must be read IN FULL. Here is a tiny taste of it:
I'm no fan of Shuster. Indeed, he's a total and utter hack and MSNBC should be ashamed they can't find a more serious journalist to put on their air.

But these remarks aren't worthy of tut-tutting, let alone firing…Shuster's analysis is rather silly — it's pretty common for adult children of candidates to be trotted around during the campaign — but his word choice is completely unobjectionable unless one's campaign is exploding and desperate to make political hay….

And, frankly, Matthews was exactly right in his remarks. Hillary Clinton got a huge bounce in public sympathy after the Lewinsky affair, without which her successful Senate bid and multi-million dollar book deal simply wouldn't have happened.
With all the evil and despicable comments that have come out of the mouths of Pimpin_for_Dummies2 MSNBC correspondents towards Republicans and their family members, one would think that the Clinton's would need to take a number and get in line for an apology. Where are the apologies from Chris Matthews, Keith Olbermann and the rest for their remarks toward Republicans?

The irony is once again we are talking about a Clinton story where the use of the English language is in question. Its deja-vu all over again. Instead of depending on defining what is, is … The Clinton's are up in arms over the word "PIMPED OUT". Amazing, seeing that these are the same people who had parents across America have to discuss what "oral sex" was with their 10 year olds not to long ago. However, when the comments are made toward the Clinton's, that means war.

Once again the Clinton's show us that its all about them, not the American people. We also see the double standard of politics in the US. Hillary Clinton goes to war with MSNBC over the comment made by MSNBC's David Shuster for suggesting the Clinton campaign had "pimped out" 27-year old Chelsea by having her place phone calls to Democratic Party superdelegates on her mother's behalf. The Clinton's didn't seem to care too much when the nightly news got an R rating discussing the exploits of Bill Clinton and Monica. However, once again Hillary is seizing on this opportunity and playing the victim.
Over the last eight years the media has collectively dragged President Bush through a rhetorical mud hole over and over again, with each member of the media trying to top the rest with the most vitriolic denunciation of his administration. Yet through all that not one reporter was ever suspended for saying something nasty about the President. In fact, if that had happened, the media establishment would have been beside itself in denouncing the move and its "chilling effect" on the free press.

But you make one comment about Chelsea Clinton and you'll soon find yourself covering dog shows in Buffalo.

If you ask me this outrage over Shuster's comment is feigned, at best, not to mention a calculated part of the Clinton campaign strategy. I don't think Shuster is in cahoots with the Clintons, but the Clintons are undoubtedly behind his public flogging.

How better to distract from Barack Obama's rising star than to focus the nation's attention on poor, helpless Chelsea being called a hooker by some reporter?
MSNBC's David Shuster learned the hard way what can happen when you go face-to-face with the Clinton machine and its power over the establishment….

The Clinton machine roared back in characteristic fury. Hillary Clinton threatened to never appear on MSNBC again and David Shuster, an otherwise excellent reporter, was summarily suspended by the network. Even Keith Olbermann got in on the controversy by reading a carefully scripted talking point on-air in the form of an apology to the Clintons for his colleague's remark.

While Shuster's words were arguably poorly chosen, Chelsea Clinton isn't a child requiring protection — she's a 27 year old investment funds manager who willing entered the rough and tumble world of national politics by agreeing to stump for her mother's campaign for president.
This is par for the course for the cowards in the mainstream press…Shuster, of course, mistook his role with NBC as being one involving journalism. In fact he, like all the other reporters for NBC, had been pimped out to the Clintons long ago. To be used as they saw fit. David learns a lesson about "journalism" in modern America. The hard way.
Donate to The Moderate Voice
Share This