Iowa Caucus Voters Rejected Party Establishments And Embraced Generational Change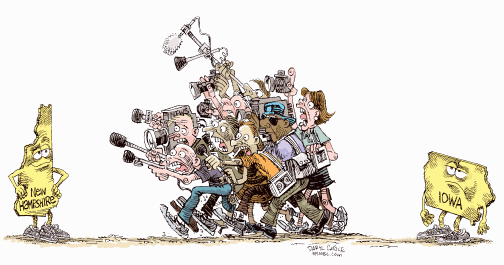 Iowa caucus voters yesterday delivered a message that they wanted to try something new, weren't about to follow their parties' establishments' desires or info machines — and wanted a kind of generational change in politics that meant not just new faces but a new way of talking about politics.
It was not a partial message. It was a resounding one:
(1) Winners Democratic Senator Barack Obama and Republican Mike Huckabee both won by margins that were NOT squeakers. They won by margins that qualified as a message.
(2) Obama and Huckabee both talk politics (at least most of the time) in a language that is not typical of Democratic or Republican politicians. They are NOT the kind of candidates that the smug Sunday morning talking heads discuss and give that inside-the-beltway smirk that suggests "We know what they're saying is just campaign spin and horse excrement, but this is the way our game of politics is played!" Obama was up against the Clinton machine; Huckabee up against the White House, many conservatives and GOP icon talk show host Rush Limbaugh. And voters embraced them.
(3) Obama and Huckabee both represent, in the way they discuss politics, a DIS-continuation of the 1960s drug culture/Vietnam War polarization and demonization of government as an entity for easing social problems.
And what will happen next?
Most likely, the entrenched establishments of both parties will begin to scramble.
The powerful and highly potent Clinton political machine will try to squelch or contain Obama next week in New Hampshire, where polls shows Hillary Clinton is way ahead.
There will probably be a mass pile-on against Huckabee by establishment-GOPers, from talk show radio hosts, conservative columnists and most likely some unflattering materials linked or openly provided to friendly news outlets.
As our co-blogger The Talking Dog noted in THIS POST earlier, it's more likely to work in the Republican Party than in the Democratic Party. Most Democrats who supported candidates other than Obama can live with him; many Republicans can't stand Huckabee and the party is increasingly-splintered. TTD noted that it's easier for someone to come of "out of nowhere" to get the Democratic nomination than the Republican nomination.
Look for a Stop Huckabee Movement centering on Romney OR (increasingly likely) John McCain. But are old calculations outdated? Is the GOP now suffering as much "Bush fatigue" as some Democrats felt "Clinton fatigue" at the end of President Bill Clinton's term? And were both Bush and Clinton-era fatigue partially to blame for Ms. Clinton's non-inevitable showing?
According to The Politico, Huckabee's win has left the GOP in bad shape:
Mike Huckabee's startling, not-even-close victory over Mitt Romney and the rest of the GOP field in the Iowa caucus means the Republican Party is in for a wildly unpredictable ride in the weeks ahead.

Here's what's certain: Romney's dethroning has created a big opening for a John McCain revival in the New Hampshire primary next Tuesday.

The Iowa results, with a victory for a populist social conservative deeply mistrusted by many people in the Republican establishment, also virtually guarantee that the nomination contest will not simply be a battle over personalities and credentials. Instead, the race will now be a deep and probably intensely negative fight for the direction of the party in the post-Bush era.

Here's what still utterly uncertain: Who will emerge from this demolition derby? Iowa's historic role is to winnow the field. In 2008, it has the effect of expanding the number of credible top-tier contenders. There are now five people who can conjure at least somewhat plausible paths to the nomination.
The Democratic contest is likely to be decided much sooner. And woe to a Democrat who goes super-hardball on Obama, using tactics or innuendo: exit polls showed he picked up a whopping number of young voters. In this vote young voters DID turn out for him to vote — suggesting that they are responding to him the way another generation responded to JFK and Robert Kennedy. Could the Democratic Party risk chasing that turnout away?
One Iowa caucus aspect that'll be discussed — and debated and in some quarters reviled — will be the role of the independent voter.
Before the vote, the Des Moines Register reported that "thousands" of independent voters were planning to show up to caucus with the Demmies — in numbers probably twice as large as than for the Republicans. And, in the end, it was widely-reported by various talking heads on TV newscasts that the independents helped give Obama his large winning edge…and also voted for Huckabee.
FACT: NEITHER party is going to win an election without the independent voters.
FACT: The hard-core partisans of each party sometimes feel independent voters are wishy-washy, feel superior to partisans, are ignorant because they don't completely buy partisan agendas. The phrase "so-called" independent voters (in other words, they're either closet Republicans or closet Democrats) or "independent" voters with "independent" in quotes (in other words, they say they're independent but we know they're really not) are sometimes used.
But the parties NEED THEM to win — which makes it harder for candidates to survive the highly-partisan primary process and run a general election. Writes Blue Texan on the liberal blog Firedog Lake:
Surprisingly, people in the middle don't like it when you lose two wars [referring to Iraq and to various reports that Afghanistan is increasingly at great risk], fail to solve or at least competently address any major problems of the day, and preside over flat middle class incomes degraded further by record gas prices and rising health care costs. Weird but true!
And in New Hampshire?
Despite the wishes of partisans (that independent voters would go away and leave the primaries only to the party faithful) independent voters will play a huge role in New Hampshire next week — and Hillary Clinton's once-fat lead has been steadily diminishing:
In New Hampshire, the candidates must woo independents, who represent about 40 percent of the state's voters and can ask for either a Republican or Democratic ballot. Historically, they have participated in the primary where "they can have their voices heard," said New Hampshire Secretary of State Bill Gardner.

The lead Clinton has maintained in New Hampshire for most of the year has recently been shrinking. A CNN/WMUR poll conducted Dec. 27-30 showed Clinton at 34 percent, Obama at 30 percent, and Edwards at 17 percent.

Those numbers may shift as a result of Clinton's Iowa showing, said Steffen Schmidt, a political science professor at Iowa State University in Ames. "This is a dark cloud over her campaign," Schmidt said.
If Clinton loses there, she is surely in big political trouble. Polls have shown McCain on the ascent there.
So what did the Iowa caucuses prove?
That Hillary Clinton is not inevitable.
That a black man can run an aggressive campaign, not play the race card, and get wildly enthusiastic support from white voters, independent voters and the young voters that everyone says never really come out to vote so they really don't count (just like some feel the independents don't count…which they don't…until Election Day).
That a slick campaign involving tons of money, lots of energy, and changing positions so often that it qualifies as a new kind of "change" candidate could not help someone like Mitt Romney (who was a great governor of Massachusetts in his previous moderate Republican incarnation).
That a new kind of Republican that wasn't descended from the Bush political family or even Barry Goldwater could emerge seemingly out of nowhere running a campaign on meager funds but lots of personal charisma, showmanship and (with a few notable exceptions) seeming candor.
That for one evening it seemed as if some voters brushed aside party establishments' preferences and opted for two candidates who could change the language of American politics by weaning political debate off the politics of rage and polarization (you know..rage…the kind of thing that gets talk radio audiences and blogs readership..).
It may eventually turn out that this will have been for just one evening — but it showed it could happen.
HERE'S A CROSS-SECTION OF WEBLOG OPINION:
–Glenn Reynolds aka Instapundit:
NOW I'M WATCHING OBAMA'S SPEECH, and before he started talking my first thought was "what a great suit." What is it, Canali? Brioni? But the speech is good, too. "You have done what the cynics said we couldn't do." But while the speech is good, his facial expressions are curiously still — not usually like him. Good on TV, but probably better on radio. But what's surprising is how closely his speech parallels Huckabee's.
The contrast between the two speeches – Clinton's and Obama's – was instructive. She was fine – but seemed to purloin the entire Obama message. The idea of the Clintons as a unifying force for change is not exactly persuasive. "Ready For Change"? A desperate new mishmash.

As for Obama? Maybe you saw it. Simply put: he sounded like a president. The theme was not just change; it was a new unity. And as a black man, he helps heal the past as well as forge the future. This really was history tonight. To win so many white voices, and bring together so many minorities, and use the unifying language that leaves the toxins of race and partisanship behind: This was the moment America stopped being afraid. This was the America we have missed and have found again.
(Sullivan has SEVERAL excellent posts so go to the TOP of his site and scroll down and read them ALL).
–Ariana Huffington has an extensive post that must be read in full. A small part of it 4 U:
Barack Obama's stirring victory in Iowa — down home, folksy, farm-fed, Midwestern, and 92 percent white Iowa — says a lot about America, and also about the current mindset of the American voter.

Because tonight voters decided that they didn't want to look back. They wanted to look into the future — as if a country exhausted by the last seven years wanted to recapture its youth..

….So voters in Iowa remembered the past and decided that they didn't want to go back. They wanted to move ahead. Even if that meant rolling the dice.

Again, this moment may not last. But, for tonight, I am going to savor it — and cross my fingers that it may stand as the day that fear as a winning political tactic died. Killed by an "unlikely" candidate — as Obama called himself again and again — who seized the moment, and reminded America of its youth and the optimism it longs to recapture.
Read it from beginning to end.
–Pajamas Media has A GREAT ROUNDUP of news-outlet and blog reaction.
Hillary Clinton has run into a serious buzz saw on her way to the coronation. Not only did she not win the state, but she lost to the wrong candidate. Barack Obama now threatens to steal away a nomination that the Clintons thought they had in the bank less than three months ago.

….Hillary has reaped the harvest of two months of self-inflicted wounds, starting with her collapse on drivers licenses for illegal aliens, and through some bizarre attacks on Barack Obama in the aftermath. The question will be whether she can recover from the rapid decline. The answer: she's no Bill Clinton.
–Dick Polman has a post that MUST be read IN FULL about the winners and losers. A tiny taste:
[On Obama]He's the "change" candidate unless and until somebody else swipes the label. That won't be easy, because now he looks like the leader of a burgeoning movement, and that's catnip for independents and non-establishment Democrats who have long yearned to shake things up.

…[On Huckabee]Huckabee probably can't take New Hampshire, but his decisive Iowa win puts him in play in South Carolina later this month, not simply because the religious right is strong there, but because his populist anti-Wall Street pitch might attract blue-collar Republicans. A lot of big-business Republicans are horrified by Huckabee; the question is, can they agree on an alternative?

…[On Mitt Romney]:The guy was downright humiliated. GOP voters took a long look, they smelled a phony, and they made him pay. All those flip-flops, all the stuff he simply made up, all the negative ads he ran on TV…he came off like a typical politician, which is a deadly image at a time when the grassroots in both parties seem anxious for something completely different.

…[On Hillary Clinton]What a disastrous night….Granted, Hillary has the money and moxie to battle Obama to the bitter end, and it should be noted that several past candidates (Ronald Reagan and George H. W. Bush) have lost Iowa but won the White House. The problem is, the Obama challenge is historically unique, and she risks being subsumed by forces beyond her control. If his Iowa momentum gains velocity in New Hampshire, even the Clintons could be hard pressed to stop it. Barring a comeback, she could well find herself quoting Ralph Waldo Emerson, the 19th-century essayist, who wrote: "Events are in the saddle, and ride mankind."
It's quite extensive so read every word. Polman is one the best political writers…ever.
–Ann Althouse did live blogging. Her concluding comment:
What a night! It feel historic, doesn't it? Not just for the reason stated by Juan Williams (see update #10), but because the old, predictable candidates were upset, upset by 2 fresh, new individuals who, it seems, invented themselves and succeeded by revealing what they were to us.
–The All Spin Zone offers its reaction in pictures.
Tonight Barack Obama is a rock star, and for this night at least, everyone who wants to see in him the ghost of John F. Kennedy in 1960 doesn't have to squint too hard. Just like JFK, Obama is charismatic and utterly unqualified to be President. The former's inexperience and reckless foreign policy miscalculations very nearly brought us to a world-wide nuclear Armageddon; will the latter's result in the first radioactive mushroom cloud over an American city?
–Middle Earth Journal:
On the Republican side John McCain is the winner because Mitt Romney is the loser. As we noted earlier McCain is really the only Republican anyone likes. Yes the Huckster won but he will not be the nominee. As I said earlier he is the Republican's worst nightmare – a social conservative and an economic populist. I think the latter is a big problem for the Republicans. The talking heads will talk up the evangelical meme but the reality is a majority of Americans don't see the "great economy" that is hyped by the administration and the corporate press. That said this is probably the Huckabee's first and last win. But it is a big loss for Romney and so the real winner is John McCain – the last man standing.
"Ready for Change?" What's wrong with this picture? What do you think of when you think "change?" Madeleine Albright? The Big He? Failed Dem presidential candidate Wesley Clark? Not exactly fresh face material. Was there anyone on stage besides Chelsea who doesn't carry an AARP membership card?
That's what I want to know. Where were you last night? Your kids may ask you in 20 years: "How did it feel to experience history?"…..Democrats had a nearly EIGHTY PERCENT increase in participation (and 30 percent on the GOP side). This is a great sign for democracy, and I wanna thank the people of Iowa for rolling out and representing. I think this also validates Obama's point about bringing more people into the process.
–Tammy Bruce commenting on the vote and the The Politico report:
Uh, the GOP was in disarray before Iowa, illustrated by the Summer of Shamnesty and GWB being more concerned with Mexico's well-being than with ours. Considering Republicanism died in the 2006 election, and the "party leader" George W. Bush is a liberal who ended up turning Reagan Conservatism on its ear, we shouldn't be so surprised the GOP is confused after Iowa. We, the People, have been confused by them for years. If they actually had some sort of leadership, didn't have such contempt for the people, and weren't more concerned with Saudi Arabia's profits than our homeland security and sovereignty, maybe they'd have their act together.
–Political scientist Steven Taylor has an EXCELLENT SUMMARY of where he believes the candidates stand. (We'll ruin it if we excerpt so go to the link yerself…)
Barack Obama may be riding the momentum of a caucus win into New Hampshire, but the real winner in tonight's Iowa caucus was young voters.

It's been a long and rocky road for young voters – in the media and in the party – For four years, the media has declared (incorrectly) that young voters were the downfall of Howard Dean, whose over-reliance on an "unreliable demographic" ushered in his defeat in the 2004 caucus. This, despite the fact that youth turnout at the caucus increased that year. For the last year, we've heard how Obama's strategy was foolhardy, and even from the campaign we heard that the youth vote would be "icing on the cake." It turns out, it was the cake.

According to estimates by CIRCLE (pdf) youth vote turnout at the caucus tripled tonight, rising from 4% to 11%. Within the Democratic caucus, over 46,000 young people participated, and young voters comprised 22% of all caucus-goers. According to entrance polls by CNN, 57% of those 17-29 year old caucus goers stood up to caucus for Barack Obama. Tonight, they drove his campaign to victory.
Is there some deep-seated concerns about Romney's faith, or was this just a result of Mike Huckabee — a former Baptist Pastor — having better credentials? Regardless, Romney's path is now very difficult. He will have to contend with McCain in New Hampshire and Michigan, and Huckabee and Thompson in South Carolina …
–The Blog of the Moderate Left has a GREAT RUNDOWN on where each candidate in the race now stands.
Contrary to the punditocracy I've heard tonight, this primary will not be about race. It will be about issues, gender and most critically, it will be a generational fight.
Today voters of both American political parties said NO to the insider establishments of their political parties. Almost twice as many Democrats as Republicans turned out to vote in Iowa– a 50/50 state. That's huge, and it should scare the bejesus out of the GOP. And only 30% of the Democrats (at latest count) went with the insider candidate, Hillary Clinton (although feel free to add Biden's 1% to her 30% if you'd like to get an aggregate vote for the Insider Establishment).
Donate to The Moderate Voice
Share This