Bush Libby Commute Solidifies Bush's Status As Polarizer In Chief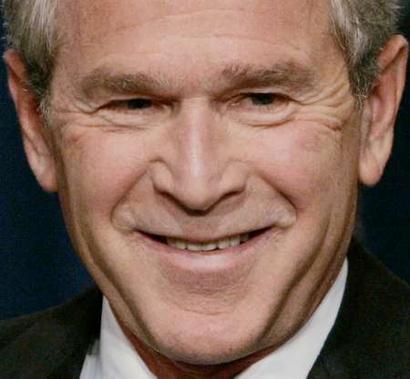 Hasn't it come time to say it?
In the history of the American republic, it's difficult to find a President who has proven to be as consistently polarizing and seemingly dismissive of the feelings of Americans who do not belong to his party — or, specifically, to his own party's "base" — as President George W. Bush.
Bush's "surprise" – or was it? — decision to commute the sentence of former White House and Vice President Dick Cheney aide Scooter Libby sparked an instant firestorm yesterday. There was the legal component (the get out of jail free card…the President's power to do that without any challenge) and the political component.
But on a host of issues it has become crystal clear that rather than being "a uniter not a divider," George Bush has proven to be a serial polarizer whose decisions and political style seem to consist of rubbing his ability to fully exercise Presidential powers (that he exercises to the max) in the faces of his opponents as he tilts on decisions to give his most loyal followers what they seek.
The motif of his adminstration (to domestic and foreign critics) is: "I have the power to do it and I'm going do it and what can you do about it?"
But the problem for George Bush and the Republicans: his opponents now don't only include Democrats.
In fact, if you look at an instant poll conducted by Survey USA (h/t Political Wire) after Libby's sentence was commuted, it shows one more instance of a White House that is now operating with very little public support — and support that is likely to shrink in coming months:
21% of Americans familiar with the legal case involving former White House aide Scooter Libby agree with President Bush's decision to commute Libby's prison sentence, according to a SurveyUSA nationwide poll conducted immediately after the decision was announced.

1,500 Americans were surveyed. Of them, 825 were familiar with the Libby case. Only those familiar were asked to react to the President's action. 17% say Bush should have pardoned Libby completely. 60% say Bush should have left the judge's prison sentence in place.

32% of Republicans agree with the President's decision, compared to 14% of Democrats and 20% of Independents.

26% of Republicans say Libby should have been pardoned completely, compared to 21% of Independents and 8% of Democrats. Conservatives split evenly: 31% say Libby should have been pardoned. 35% say the judge's sentence should have been left in place. 31% agree with the President's decision to commute the prison sentence, but to leave the fine and conviction in place. Reaction to the President's decision may evolve over time.

This poll attempts to measure a first reaction to the news, before many individuals would have had a chance to be influenced by political spin applied to the story.
Here's the text of Bush's Libby clemency decision announcement.
How did Bush make the announcement? According to the Washington Post, it was a decision made largely alone — not in the typical way such a decision is made…in the American democratic system:
For the first time in his presidency, Bush commuted a sentence without running requests through lawyers at the Justice Department, White House officials said. He also did not ask the chief prosecutor in the case, Patrick J. Fitzgerald, for his input, as routinely happens in cases routed through the Justice Department's pardon attorney.

"Executive clemency is the president's exclusive power under the Constitution, and there are precedents for exercising that power without going through the pardon attorney process," said Bush spokesman Tony Fratto.
And — once again — the Post chronicles a President who essentially dismisses the feelings of Democrats or his opponents:
The White House appeared to be calculating that no matter what he did to keep Libby out of prison, Bush would not make Democrats happy, and if he did nothing, he would infuriate his strongest conservative supporters. As it was, some conservatives thought that Bush should have pardoned Libby and ended his legal battles…..

….William Kristol, editor of the conservative Weekly Standard and a leading advocate of pardoning Libby, described yesterday as "a very good moment" for the president. "By acting here, he is showing to conservatives the kind of leadership that made conservatives loyal to Bush once and could make them loyal once more," Kristol said.
So, in the end, it was largely a political decision to please his conservative base.
But, aside from upset and delighted talking heads and upset and delighted politicos and bloggers, will it matter? Time Magazine doesn't think it'll make that much difference:
And politically the move will probably change little. Those who suspect the worst about the Administration's role in the Plame case are not likely to become any more motivated than they already were against Bush and the Republicans. On the right, the Republican base, which demanded mercy for Libby, will be placated. Had Bush not acted, they would have turned on him, weakening the last pocket of support he has. And for those Republicans who think Libby is getting off easy, Bush's lengthy written statement — stressing that Libby still must serve probation and pay a hefty fine — may not be enough to settle the queasiness they feel about the whole affair. But few will flee to the Hillary Rodham Clinton for solace.
Some thoughts on Bush's action:

(1) The decision to commute likely wasn't entirely spontaneous. The rapidity at which the White House made the announcement suggests this had been in the works and ready to go for some time.
(2) Bush split the difference. On one hand, he had Democrats who wanted Libby to serve every second he had to serve. On the other, some conservative Republicans who wanted him completely pardoned. Bush didn't pardon him but he did keep him out of jail. And he did it while arguing he wasn't tinkering with Libby's fine or probation.

(3) The attention over the Paris Hilton story may actually hurt Bush with the man and woman on the street who don't follow politics. The Libby case and law may be confusing to many, but the first impression is that Hilton had to serve 23 days….and Libby will walk. So, in the end, some will ask, who was more privileged?
(4) The Republicans will have trouble running again as the "law and order" party (even if its candidate appeared in "Law and Order") for some time. The sentence commute leaves a smell of corruption, cover-up and favoritism that all but the President's most loyal supporters can sniff. This is Hollywood "high concept" stuff: you don't have to know the case or be a political junkie to suspect that a) Libby got off because Bush (or more likely Cheney) didn't want a loyal associate to serve time in jail and b) Bush's decision was made for blatantly political reasons (after the debacle of immigration reform which angered his party's base he's "making nice" to his base).

(5) The Republican party may not truly recover from the Bush era until something happens (like a stunning defeat) where it can become evident to many voters that the Bush operatives have been either purged or demoted in the party and new blood has taken it over. But, in the end, Republicans will have to decide if this model of the Republican party is the one Ronald Reagan fought to create — or whether what Reagan might have wanted even matters in the 21st century (particularly if the real goal is to hold onto power no matter what).
(6) Look for the administration to yield absolutamente nada to the Congress or press for the rest of its term on issues such as warrantless wiretaps or other controversial matters. Clearly, it's an administration that plays by its own rules, sets the rules and dares anyone to challenge them. Who has the power now to force the administration to play by more established rules and norms?
(7) Bush now seemingly surpasses Richard Nixon as the most polarizing President in recent American history. Nixon polarized Americans on a few key issues and some just didn't like him. Bush has been a polarizer on many more issues. He hasn't played to a "silent majority" but to a clamoring noisy base and conservative pundits. He seemingly runs a government by the base, of the base, and for the base — which isn't exactly what the founding fathers had in mind.
(8) Somewhere Millard Fillmore and Warren G. Harding must be smiling. With the immigration bill defeat, the continued bad scene in Iraq and the decision to keep Libby out of jail — plus a host of other controversial policies and actions — it's likely Bush will join an exclusive club and be ranked as one of the worst Presidents in American history.
Some say he's not quite there.
But he still has nearly two more years to go…….
BUT THAT'S JUST OUR VIEW. HERE'S A CROSS SECTION OF OTHER VIEWS:
–Glenn Reynolds: "My prediction: Bush will rise in the polls as estranged conservatives warm to him in light of lefty indignation."
Under the circumstances, it's clear that Cheney was involved. When there are no normal channels of governance in this White House, it means the fusion of Cheney-Bush acting as extra-legal agents of their own power. We really no longer have the rule of law operating. We have the privileges and lies and policies of two men. The law is no competitor. And shamelessness is their ally.
–The Democratic Daily: "We all should have seen it coming and perhaps we did… True to course, Bush while on vacation has pulled another fast one on the American public and it's a doozy!"
–Smofbabe: "The credibility gap in relation to the Bush Administration is approaching Grand Canyon proportions now that Bush has just commuted Scooter Libby's prison sentence."
Unfortunately, like Solomon, Bush will probably find neither side satisfied. Critics of the administration and Plame-conspiracy activists want a scalp, and thought they'd enjoy the sight of Libby walking into Club Fed for a spell. Conservatives who believed that the entire investigation was bogus from the start want Libby cleared altogether. The $250,000 fine will stick their craw most especially. Don't expect conservatives to let up on a full pardon, which will allow Libby to clear the felonies from his record, until Bush leaves office.

If Bush wanted to take any action — and I would have advised against it — this is as far as he should go. It allows Libby to remain free while he pursues his appeal, but it makes it clear that the White House won't undo convictions for official misconduct. It strikes a balance that few will appreciate now, but later will accept as wise, as far as it goes. If Libby has a good case for reversal, let the courts make that decision.
The President's powers here are absolute. And whether Scooter Libby's original sentence was exactly correct is an interesting question I can't answer; while I have a rough sense it was in the right ballpark, I didn't follow the case closely enough to have any particular views of that.

Nonetheless, I find Bush's action very troubling because of the obvious special treatment Libby received. President Bush has set a remarkable record in the last 6+ years for essentially never exercising his powers to commute sentences or pardon those in jail. His handful of pardons have been almost all symbolic gestures involving cases decades old, sometimes for people who are long dead. Come to think of it, I don't know if Bush has ever actually used his powers to get one single person out of jail even one day early. If there are such cases, they are certainly few and far between. So Libby's treatment was very special indeed.
All hail Emperor Bush! Scooter libby who was convicted by the jury in plame's case, now we learned today that he was commuted of his charges by president.Don't forget though… Scooter was just the fall out guy. The truly guilty (Rove/cheney) in this incident were never charged in the first place.Outrageous, This pardon is absolutely outrageous.
–My DD has this roundup of Democratic Presidential candidate reactions.
–Powerline: "This strikes me as an excellent resolution. To my knowledge, it was first advocated by Paul's friend Bill Otis, a former federal prosecutor, in an op-ed in the Washington Post. The idea quickly gained support. I also think the President's commutation of Libby's sentence will go over well with the party's conservative base and will contribute, to some degree, to a restoration of Bush's standing with conservatives."
–Political scientist Steven Taylor:
I was not surprised that Bush acted (and I will not be surprised if Bush eventually pardons him) but I was rather surprised at the swiftness of the action. The conventional wisdom seemed to be that Bush would let Libby twist in the wind for a while, but I supposed when one's approval ratings are Nixonian, what does one have to lose? Further, the base that is sticking with Bush wanted Libby to be pardoned, so this should placate them for the moment. Given the way Bush values loyalty, I suppose that there really oughtn't be any real surprise here.
The probation office's recommendation would have required Libby to go to jail for 15 to 21 months. Bush rejected the probation office's recommendation as well. Bush's unprecedented special consideration for his special assistant and the chief of staff for the Vice President is proof positive that this President does not believe in equal treatment under the law.

More than issuing strong statements, it's time for Congress to investigate this commutation. Grant Libby immunity and find out everything that was behind the leak, behind the lies that took us to war and that started this whole case in the beginning, and behind this commutation.
You do the crime, you do the time. The jury said Scooter Libby did the crime. He should do the time. The Republican Party is going to pay a huge, huge price for this….Don't kid yourself: this sort of thing is very significant to swing voters. It's like the Foley business in the last election. Yes, we were already going to get beaten in 2008 because of Iraq. But now, we're going to get slaughtered. This particular convicted felon wasn't worth it.
This was a witch trial. America should be ashamed that it allowed this "special" prosecutor to ignore his mission — finding out who blabbed to Bob Novak that Joe Wilson's wife was CIA — and instead the prosecutor went after Karl Rove and Scooter Libby. Richard Armitage, who actually leaked the information, walked. Disgusting…..Pardon Libby. If Bill Clinton can pardon that international fugitive from justice Marc Rich, then Bush can pardon an innocent man.
Remember when candidate Bush openly mocked a Texas prisoner he had just put to death? When he pursed his lips and squeaked "please don't kill me" in imitation of Karla Faye Tucker, who had appealed to Governor Bush for clemency? The same Karla Faye Tucker who became the first woman to be executed in Texas since the Civil War? The repentant born-again Christian who spent 14 years on death row and didn't ask for a pardon, only clemency? The self-same Karla Faye Tucker who prompted tough guy law enforcement-loving George W. Bush to push back his Greenwich, Connecticut cowboy hat and spew: "It's tough stuff , but my job is to enforce the law." The same man who signed Karla Faye Tucker's death warrant?

This believer is rough justice just couldn't let Scooter Libby trade his fine pinstripes for those shabby prison clothes, could he? What was it he said, again? Oh yeah – "…I have concluded that the prison sentence given to Mr. Libby is excessive."
For Bush, this gambit comes at the perfect time, though I'm not sure how helpful it will be for Republicans in the long term; the President's decision to commute the sentence should take the spotlight off of his Immigration Reform Bill debacle, at least for the time being — but it will also turn the public conversation to political favoritism, and already, Harry Reid and Chuck Schumer are positioning themselves for high moral dudgeon….

……This falls short of a pardon — and I suppose there's still a chance that Bush will grant Libby the full pardon before exiting the White House, should Libby lose his appeal on the conviction. But if the President was going to take the kind of sustained heat he's about to get from the press and Congressional Democrats, anyway — and believe me, they'll be falling over themselves to get in front of a camera to talk about the Republican culture of corruption — he should have just done the right thing and pardoned Libby completely.
I don't know whether this will hurt or help the President politically, but I'm pretty confident it won't generate the outrage it deserves. This is an act of extreme hubris, and it will serve to normalize behavior that just shouldn't be acceptable in a democracy. Presidents should not be in the business of pardoning members of their own administration. It reeks of corruption and it undermines faith in the system.

If the President thinks 30 months is too stiff a sentence for the crimes Libby was convicted of (and for which he showed no contrition), then he has a moral obligation to take the steps necessary to correct similar injustices that have occurred or will occur in the future. He should start reviewing all the sentences of people convicted of similar crimes and push for legislation to reduce the relevant sentencing guidelines. I can virtually guarantee you that won't happen, though. After all, the guiding principle throughout this affair has been that it's only unjust when it happens to Scooter.
–Upstart: "It's news like this that makes me feel especially anarchistic. My government continues to make me feel ashamed in ways I've never known. America is failing."
In conservative circles, there's a standard approach to law and order: we need tougher sentences, inflexible mandatory-minimums, and harsh punishment for those found to have broken U.S. law. But if you help expose the identity of a covert CIA agent during a war, lie about it, and are convicted by a jury on multiple felony counts, those standards no longer apply. Perhaps we should call this what it is: "amnesty."

I suspect a standard conservative defense will be, "But it's not amnesty; Libby is being punished. He has to pay a fine." First, when it came to immigration policy, asking lawbreakers to pay a fine was still called "amnesty" and it was considered unacceptable. Second, Libby's fine will be paid for by his well-connected, wealthy Republican friends who generously contributed to his legal defense fund. His "punishment" is non-existent.
–Red State: "Now, we get to hear what Hillary Clinton thinks about the proper uses of the pardon power…. Come to think of it, we can also hear Mrs. Clinton discuss whether losing your high federal office is insufficient punishment for perjury.?
–The Huffington Post's Bob Cesca:
The Republican-American pundits and bloggers are, of course, applauding this action by the president for some reason, which is weird since the same set of googly-eyed Cotton Mathers wanted President Clinton at least impeached and, at most, castrated after he was caught lying to a grand jury about oral sex. However, in the case of Scooter Libby, justice is simply too unfair and mean.
–The All Spin Zone looks at this decision in the context of a psychological profile. This post must be read in full but here's a tiny piece of it:
The worst case outcome for this personality profile is a spiraling deterioration in behavior that has been sparked by a triggering event…often initiating a chain of linked negative events which are coupled with the absence of the normal willingness and wherewithal to enact and enable a process of self-correction. Obfuscation soon trumps objectivity and disaster is often inevitable.

Whether the presidency of George Bush will meet with the same fate as that of Richard Nixon remains uncertain. Notwithstanding, both men became victims of their own fears and a preoccupation with avoiding failure…a preoccupation that likely set them on a path of unfortunate and unenlightened self-destruction. In the end, fear left unchecked and unwound becomes reality unhinged. The door of denial that shields the psyche therefore tumbles to ground.
–Andrew Sullivan II. We don't usually include TWO quotes from one writer in a roundup, but Sullivan's last entry deserves inclusion here. He's responding to a David Brooks column:
It is hard to think of an action more contemptuous of the rule of law – except for so many decisions made by this lawless president, acting as a monarch. De facto pardoning or commuting of a sentence was once a royal prerogative that even kings reserved for those they didn't know, convicted clearly unjustly, whose sentence had often largely been served. And yet Bush uses it in office for a friend, hours after the failure of his appeal, to protect his own political and legal liability for jeopardizing intelligence and compromising national security.

What more do we need to know? These people think they are above the law. This president thinks he is above the law. The vice-president believes he is above the law. And when democratic leaders act as if they are the law unto themselves, and are prepared to upend the justice system to serve their own political ends, it's time for a revolt. Sorry, David. But this won't be forgotten – ever. It's a final straw, a call to wake up before these criminals get away with it one more time.
FOOTNOTE TO READERS: Each writer who gives his/her opinion believes he/she is right.
Donate to The Moderate Voice
Share This